This post may contains affiliate links for your convenience. If you make a purchase after clicking a link we may earn a small commission but it won't cost you a penny more! Read our full disclosure policy here.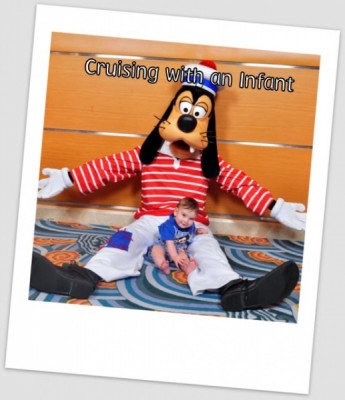 Some people wait until their children are old enough to remember the details (or old enough to carry their own luggage!) to take a cruise or to make that first trip to Walt Disney World. By waiting you can miss out on some amazing adventures and photo opportunities. Disney Cruise Line caters to all ages, even the tiniest of travelers.  With the right combination of preparation and patience, a Disney cruise can be an amazing adventure for your entire family.  
My son went on his first cruise at 7 months and his second and third cruises at 18 months. These are some of the things I learned on those trips.  
Age – Infants must be at least 6 months old to sail with Disney Cruise Line.  For cruises or 10 days or longer, babies must be at least one year old.  Always check

DCL's website

for any updates or changes to this policy.

Make Special Requests – Either call DCL directly or have your MFL travel agent request any of these items and they will be available in your stateroom.
diaper genie

pack and play

bed rails

bottle warmer

bottle sterilizer

high chair (request ahead and it will be set up for you in the main dining rooms)
Dining –  The dining staff is amazing about catering to your little one. Let your servers know each night what you would like to have for the baby to eat the next night. If it is available on the ship, they will have it cooked and pureed for you and ready when you arrive for dinner the next evening.  Fresh pureed vegetables are also available through room service.  
For breakfast and lunch, I found a travel food mill to be a great tool to make my own baby food puree from the wide selections available. This saved some room and weight in my suitcases.    
Request to be seated on the outside of the dining rooms.  You can make this request through DCL or have your travel agent request for you.  Although they cannot guarantee this request, the dining staff do their best to accommodate. You will find seating near the walls to be less noisy and chaotic than the middle of the rooms.
 Strollers – The hallways of the ship are narrow and many of the crowded public areas are a bit difficult to navigate with a large stroller. A smaller umbrella stroller is preferable. For many activities, a baby carrier would be easier to manage. If you choose not to bring your own stroller, there are some available at guest services on a first come, first served basis.  These can be used both on the ship and for excursions. There is no fee to use the stroller unless it is not returned at the end of your journey;  if not returned, your room will automatically be charged for the cost of the stroller.




 Photos – There are some amazing photo opportunities to capture this experience for your little one. You may wish to consider purchasing the photo package, which will allow you to take all of those amazing photos of your little one home. By allowing the professional photographers to capture the moment for you, you eliminate the stress of trying to do so yourself.

Purchasing ahead of time

can save you 15% off of the purchase price.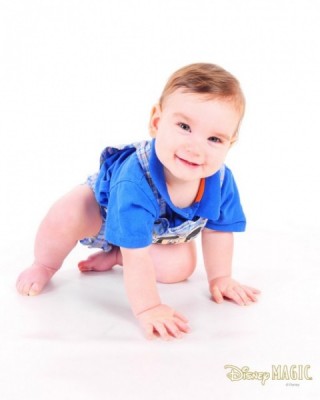 Pools – The pools and hot tubs are off limits to the not yet toilet trained travelers.  There is a splash pad available on each of the ships;  swim diapers are required. Nemo's Reef on the Dream and the Fantasy is a much larger play area than the water play areas available on the Magic and the Wonder.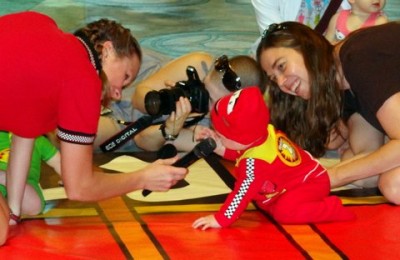 Jack Jack's Diaper Dash – If your little one is crawling, you won't want to miss Jack Jack's Diaper Dash.  This adorable and hilarious event typically happens on a sea day in the atrium and is only open to babies who are crawling.  
Naptime – A room with a verandah can be a huge asset if your little one needs a nap. Room service is included in the cost of your cruise, so take advantage of that feature and enjoy the view while your baby sleeps. Or, if you have indulged a bit too much in that amazing DCL food, there is a walking/jogging track available. You can get a little exercise while your little one naps in the stroller.   
 Nursery – A nursery is available onboard for any adventures you wish to take without your little one. He or she is also welcome to explore the kids clubs during scheduled open house times.  It may be beneficial for both you and your baby to visit the nursery during one of their open house times to see the space and meet the staff. Although the kids clubs for those 3 and older are included in your cruise price, there is an hourly fee for the nursery.    
 Shows – The evening shows are fantastic and you will not want to miss them.  If your little one is too tired to stay up for the show, you can put him or her to bed and watch the show through the tv right in your stateroom.  
Supplies – Packing enough diapers, swim diapers, wipes, etc. can take a lot of extra space in your luggage.  You may wish to consider using the DCL's online delivery service.  You can shop ahead of time for the items you will need, and they will be waiting for you in your stateroom when you arrive.   
For more details and updates, make sure you check out DCL's "Traveling with Little Ones" section of their website.
Have you traveled with a little one onboard Disney Cruise Line? What are your tips?  

Incoming search terms:
https://www themouseforless com/blog_world/cruising-with-an-infant/