This post may contains affiliate links for your convenience. If you make a purchase after clicking a link we may earn a small commission but it won't cost you a penny more! Read our full disclosure policy here.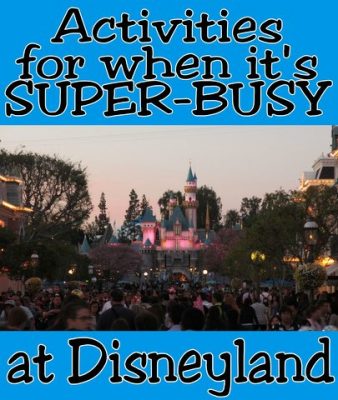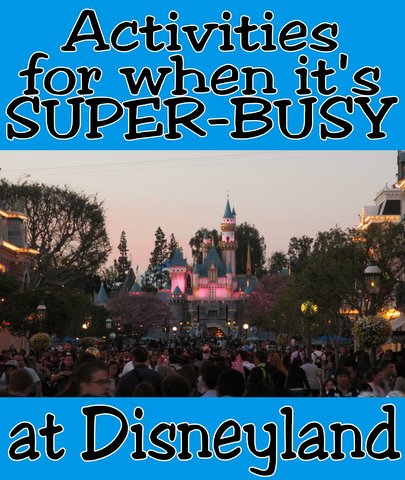 We're heading into spring break season, which means heavy crowds will be descending upon Disneyland as families take advantage of school vacations to visit the Mouse. When lines get long and patience gets short, it's a good idea to have a back-up plan to waiting in endless lines. We'll tell you what to do when it's super busy at Disneyland!
1. Always, always, always get there early. The busiest days have the longest park hours and it's tempting to sleep in, but arriving at the parks before opening gives you the biggest bang for your buck. Fewer people will make the effort to be on time for an 8:00 a.m. opening, giving you shorter lines for the first hours and a chance to collect FastPasses quickly.
2. Take in a show. Many shows have only the brief wait until the next performance, even on the busiest days. The Tiki Room, Great Moments with Mr. Lincoln (both air conditioned!), and Mickey and the Magical Map come to mind to rest your feet and take a break from lines. Pop-up entertainment doesn't draw a crowd until it starts — read your Times Guide to be there five minutes before it starts and have a front-row seat without a long wait.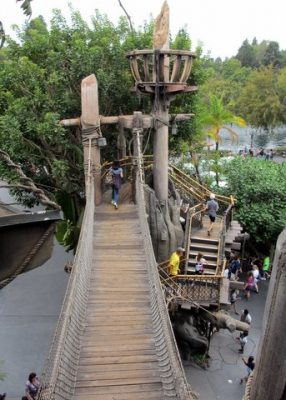 3. Go at your own pace. Walk-through attractions are your friend when the park gets crowded. You don't even have to wait for a showtime, and most people don't think of these as priorities. Climb the stairs of the Tarzan's Treehouse, scope out the Star Wars props in the Launch Bay, catch all of the gags in Toontown, or wander through the Sleeping Beauty castle walk-through.
4. Take a ride. The Disneyland railroad has always been a favorite of mine. When it re-opens this summer, I'd rank it near the top of my restful attractions for a hectic day. Make a loop of the park while you decide where to go next. Make a second loop if you're relaxed or someone falls asleep. Alternately, take a ride on one of the Main Street vehicle like the double-decker bus or trolley. Many people don't know where to line up (signs are posted on both ends of Main Street) and won't think to try until a vehicle arrives.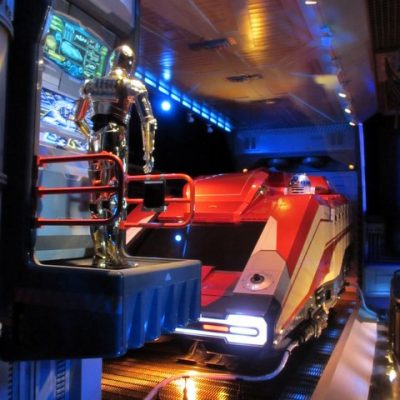 I enjoy the line and pre-show for Star Tours almost as much as the ride itself!
5. Pick the right lines. Ultimately, you're going to end up in queues. Pick the right choices on a busy day. Using the official Disneyland app will help you estimate what kind of a wait you'll have. Choose rides that have a good wait-to-experience ratio — a longer ride at the end of the line. Some lines are air-conditioned or at least covered to keep you comfortable — be in those lines at 2:00 p.m. Or find an interesting queue to keep you entertained while you wait. I love the details of the Star Tours line, and Mickey's House has plenty to look at while you wait for your audience with the big cheese.
6. Dine in style. On busy days, the lines for counter-service food can stretch as long as the ride lines during peak eating times. Eat at off hours, or get a reservation ahead of time at a table service restaurant. You might not pay that much more than a fast-food meal (depending on what you order), and you'll spend your hour sitting in relative comfort rather than queueing for food.
7. Make it a game. Hunt for Hidden Mickeys, using a book if necessary. Split into teams for a scavenger hunt. Download a Disney version of Head's Up on your phone to play in line. Have a prize for whoever guesses the color of your Radiator Springs Racers car.
8. Shop in the afternoon. Near park closing, the gift shop lines will be the longest ones! Pick out and buy your souvenirs during the heat of the day and have them sent to the front of the park to hold (or sent back to your onsite hotel). Or get a locker to hold your treasures along with jackets or food.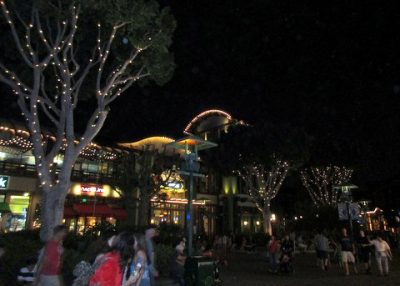 Downtown Disney can be an attraction of its own
9. Escape! If you're staying close to Disneyland, return to your hotel during the busiest, crankiest part of the day and take a nap or a swim. Return for the longer evening hours refreshed. If you don't feel like trekking to your hotel, visit Downtown Disney for shopping, eating, or hanging out in the lobby of the Grand Californian Hotel.
With a little preparation and a good attitude, you can have fun at Disneyland on even the most crowded days of the year. When you know what to do when it's super-busy at Disneyland, you'll have a magical day!
Do you know what to do when it's super busy at Disneyland? What are your strategies? Share yours in the comments.