This post may contains affiliate links for your convenience. If you make a purchase after clicking a link we may earn a small commission but it won't cost you a penny more! Read our full disclosure policy here.
Do you want to know what I think is one of the best breakfast options at Walt Disney World? While Mickey Waffles are pretty much at the top…what is one of the next best choices? The Croissant Doughnut that can be found at the Refreshment Port in World Showcase at Epcot.
Never heard of the Refreshment Port? That's certainly understandable. Refreshment Port is sort of this unassuming kiosk that's located in the World Showcase Plaza area, close to Future World. It can be found on the side nearest to Canada. The quick service kiosk features two prominent dishes.  One is chicken nuggets (ok) but the second is the croissant doughnut. (Otherwise known as the cronut.)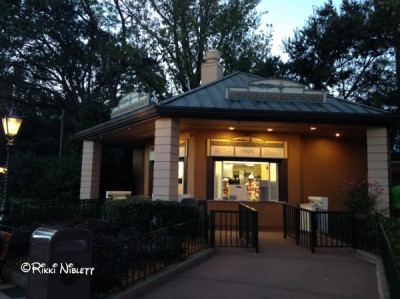 The croissant doughnut is as incredible as it sounds, by the way. It is this light, flaky delightful doughnut make from croissant pastry. Then, it is liberally coated with sugar crystals. The inside of the croissant doughnut is kind of doughy, while the outside has a bit of crunch from the frying process. The croissant doughnut is certainly a treat that whether you are enjoying it for breakfast or an any time snack, you won't want to share.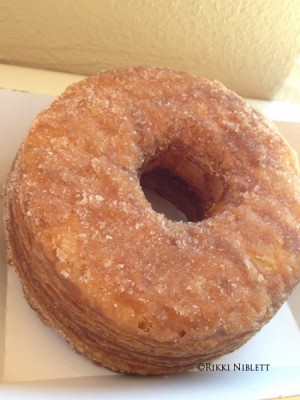 Oh, by the way, did I mention that semi-recently Disney has taken this treat up to a whole other level? Now you can add soft serve ice cream on top of your croissant doughnut! Wait…they took something awesome and made it BETTER?! How is that possible?!
Pair this treat with some coffee in the morning, or in the evening with hot chocolate mixed with Godiva Chocolate Liqueur and you have got the perfect match to walk around World Showcase with.
While there are so many great dessert and pastry choices at Epcot, especially around World Showcase, to choose from, I can honestly tell you, that you do not want to pass up grabbing the croissant doughnut on your next vacation. It is SO worth the calories! (Plus…you're at Disney and calories don't count, right?)
What do you think about the croissant doughnut? Have you tried it and is it a must get for you too? Share your thoughts in the comments section.