This post may contains affiliate links for your convenience. If you make a purchase after clicking a link we may earn a small commission but it won't cost you a penny more! Read our full disclosure policy here.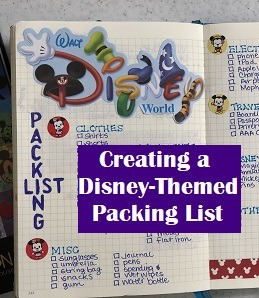 I'm not sure about you, but when we book our next Disney vacation, I get so excited! I'll bet you agree that any type of Disney trip is exciting. From the start, my mind starts thinking about all the things I want to do, as well as the new things that we will get to do on our trip. To help plan our trip, I found that making a travel journal, which includes a Disney-themed packing list, allows me to enjoy the time looking forward to our next vacation.
Journals do not need to be complex. All you need are notebook paper and some pens. To add personal or Disney touches, incorporate colored drawings, stickers, and decorative tapes. Be as creative as you want. Bound journals are also an option because they can be used to document special memories both during and after the trip. A bound journal also allows plenty of space to add special photos and notes for future trips after you return home. Any type of journal ends up being a great souvenir.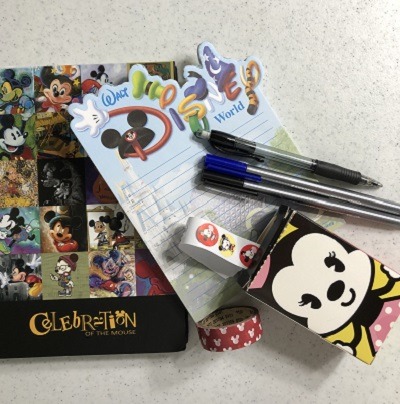 There are many types of things you can include in your travel journal before you leave. For example: packing lists, travel plans/itineraries, things to do and see, places to eat, FastPass+ reservations, etc. For this post, let's look at the packing list.
To get started, think about which packing categories work best for you and your family: Clothes, Accessories, Hair & Beauty, Toiletries, Health & Medical, Electronics, Travel Essentials, Kids Items, Souvenirs and, of course, Disney Essentials. There may be other categories that meet your family's needs as well. You can create a combined family list or a separate list for each person in your family (like I do). Give the kids some notebook paper and let them decorate their packing lists with drawings and doodles of their own. There are a lot of options.
I find that creating the packing list early on makes it much easier to get things together and in the suitcases without worrying I will forget something. I also like creating the list well ahead of packing time because as I think of things, I add them to the list.
Alternatively, if you take the packing list with you on the vacation, you can recheck the list while packing for your return home. If you've added a Souvenir category, you can fill in the items purchased during the trip. Rechecking the list before leaving the room helps to ensure you have everything and nothing is left behind.
Also, once you make that first packing list, it can serve as a quick reference for future trips, especially if you update it with those items you wished you had packed for this trip but did not.
To begin my packing list, I cut out the top portion of a notepad I purchased at Walt Disney World on a prior trip. I pasted the cutout at the top of the page and added the "Packing List" title down the left-hand side. Then I listed the items I plan to pack under their categories. The "Trip Details" section helps remind me how many of each item I need throughout the trip. Using different pen colors, Disney stickers and decorative tape made it a fun project. It's that easy.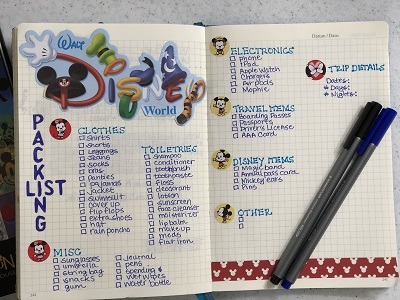 We'll look at additional items that can be included in your travel journal on future posts. In the meantime, have fun creating your packing list for your next Disney vacation.
Don't forget to check out the Disney Travel Journal for Adults on the Mouse For Less for more packing list ideas and printables for your journal.
Have you created a Disney-Themed Packing List? What tips do you have? Let us know in the comments, or on Facebook or Twitter!
Did you like this article? Make sure to share it with your friends! Check below for easy ways to share!
Want to visit a Disney Destination? Contact The Magic for Less Travel for more information and a free, no-obligation quote.