This post may contains affiliate links for your convenience. If you make a purchase after clicking a link we may earn a small commission but it won't cost you a penny more! Read our full disclosure policy here.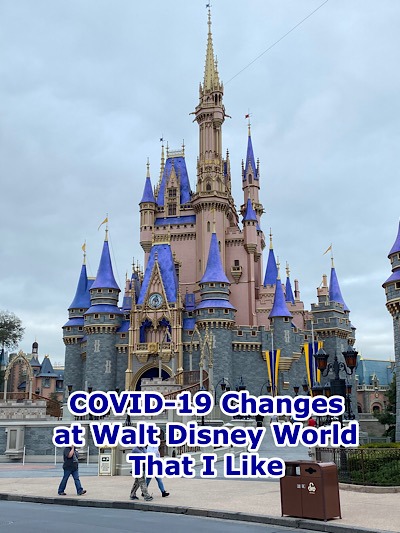 Businesses across the U.S. have made changes in response to the global pandemic–Disney is no exception. This article shares the COVID-19 changes at Walt Disney World that I like. I'll also share a few that I don't like.
COVID-19 Changes I Like at WDW
Security/Bag Check Changes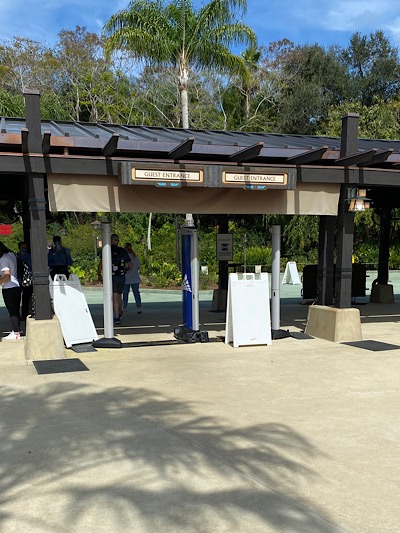 Gone are the long lines and security guard inspections when entering a WDW park. Now, after completing a temperature screening, guests move to the security check. Signs indicate all items should remain in your bags while walking through the metal detectors. However, it's noted that umbrellas should be removed from bags and carried through directly in front of you. Most guests appear to walk through without issue. If the metal detector identifies somethings odd, a Guest is asked to go to a side table for an additional inspection.
I like the changes made to the security/bag check process–especially because I do not need to remove my backpack when walking through the metal detector. The process is quicker and there is less crowding, in my opinion.
Ticket Scanning Changes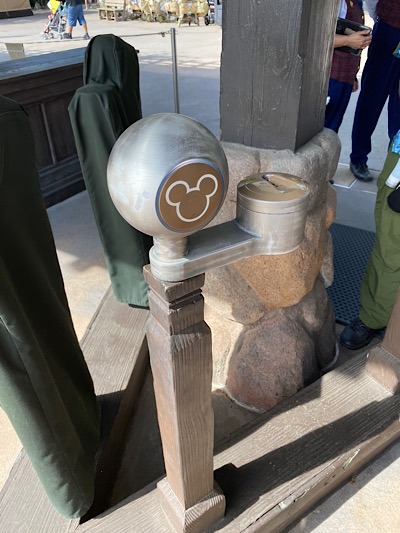 After guests leave the security check, it's on to ticket scanning. Biometric scanners are no longer being used when scanning a MagicBand or theme park ticket card. This change allows for less touching of public surfaces.
I like the changes made to ticket scanning. Entering the parks is more efficient without fingerprint scanning because sometimes scans could take multiple attempts to correctly register. It was also difficult for younger children to reach the fingerprint scanners.
Physical Distancing in Attraction Queues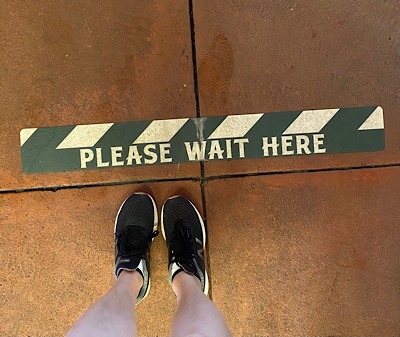 When visiting WDW before the pandemic, Cast Members often asked guests to "fill in all available space" in the attraction queues. That is no longer the case. Disney placed physical distancing markers in the queues to encourage guests to maintain approximately 6′ between parties.
While this change leads to lines extending outside of the original queues, I like that I no longer feel my personal space being compromised by others when waiting for an attraction.
Show Seating Changes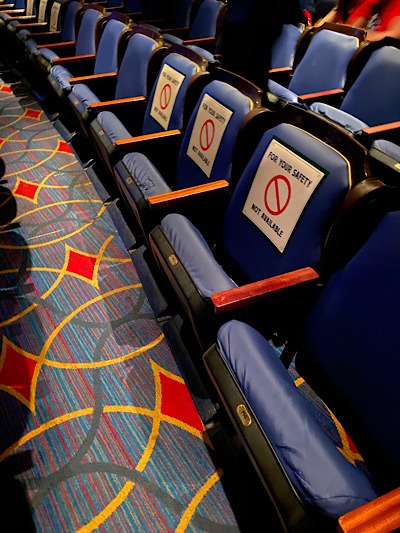 It's disappointing that not all of the shows in the parks are on the schedule. However, I am happy that there are some shows currently entertaining Guests. Disney promotes physical distancing in show theaters by staggering seating (e.g., every other row and within rows). The unfortunate result of this change is that wait times are increased because not as many people are permitted in the theater as before.
One of the things I like about this change is that staggered seating allows for better, more unhindered views of the stage/screen. That's a decreased chance of sitting behind someone who forgets to remove their Mickey or Minnie ears.
COVID-19 Changes I Don't Like at WDW
Face Coverings
I understand the importance of wearing a face covering. I always wear one in public–even outside of WDW. Wearing a face covering doesn't really bother me. What I don't like is that I cannot see other people's facial expressions. I want to see the smiles! I also think that those familiar smells that I've become accustomed to in the parks are diminished when wearing a face covering.
Park Reservations
In addition to valid theme park admission, a park reservation is required to enter a WDW park. This change helps Disney control crowds. Reservations are based on the type of theme park admission (e.g., theme park tickets guest, Disney resort guest, and Annual Passholder). When reviewing the reservation calendar, days may be unavailable for a specific ticket category. While possible, it may be difficult to change park plans if there is no availability for your admission type. I have also observed days when one or more parks were unavailable for certain admission types, particularly around holidays.
Let's look at an example. Perhaps a family prefers one park over another on a rainy day. Prior to the park reservation system, this family could quickly change direction on a rainy morning and head to their preferred, rainy-day park. Now, the family first needs to check the park reservation calendar to confirm whether they can switch parks. In my opinion, park reservations can make days less flexible and require more pre-planning.
There have been a lot of changes as a result of the global pandemic. I've shared the COVID-19 changes at Walt Disney World that I like and a few I don't. What recent changes do you like at WDW? Share in the comments or on Facebook or Twitter!
Did you like this article? Make sure to share it with your friends! Check below for easy ways to share!  
Want to visit a Disney Destination? Contact The Magic for Less Travel for more information and a free, no-obligation quote.

Incoming search terms:
changse at WalT Disney Worls
disney world covid changes
disney world new cast member guidelines disappointing chsnge
is disney requiring fingerprints during covid
walt disney world travel and covid