This post may contains affiliate links for your convenience. If you make a purchase after clicking a link we may earn a small commission but it won't cost you a penny more! Read our full disclosure policy here.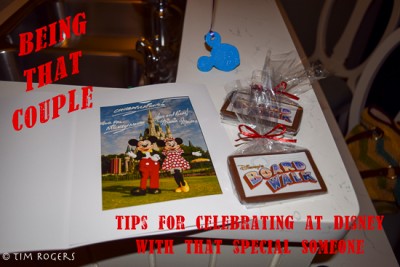 We know that Walt Disney World is a great place for visitors of all ages to feel like a kid. What might not be as obvious, is that Disney World can also be a romantic place, and a place for couples to really express themselves as a unit. In celebration of Valentine's Day, here are some tips for being that couple – the nauseatingly cute one – while visiting Walt Disney World.
Tip 1: Go for a special occasion – and get a button!
Disney can be a great place to celebrate just about anything, and it's also one of those places where you are encouraged to let everyone know about your celebration. One of the ways Disney accommodates this is with celebration buttons. You can get these while checking in at your on-property hotel, at guest relations, or at many shopping locations. While you may have seen the more common buttons, for birthdays and 1st visits, they also have specific buttons for weddings/honeymoons, anniversaries, and customizable ones for any situation.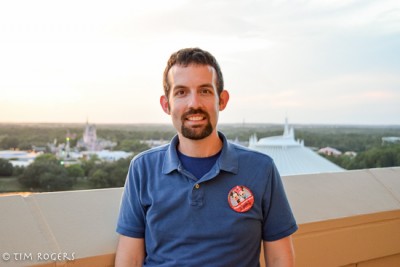 Wearing one of these buttons at Disney World is almost like an overload of good feelings coming your way. While nearly every cast member will congratulate you, many guests will as well. While my wife and I were there celebrating our 5th anniversary, another couple celebrating their 40th saw our button, congratulated us, and we had a really nice conversation.
Bonus Tip: Add your celebration to your hotel and dining reservations – you might get some extra surprises throughout your trip!
Tip 2: Get matching outfits
Here you have a bunch of options. First and foremost, think about what you already have and things that define you as a couple, even it is not obvious to everyone. For example, in this picture from our anniversary trip, my wife and I are each wearing shirts for our favorite baseball teams (and former division rivals) the Astros and Cardinals. While Sorcerer Mickey was possibly the only one to actually notice and "comment" on our outfits, it was something fun to do together.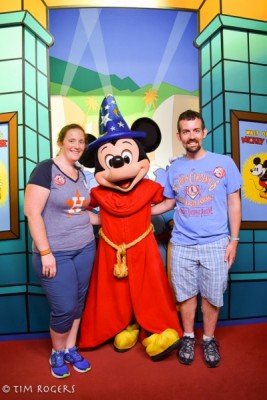 More to the point, there are many ways to get couple specific shirts for your trip. In most of the on-property stores they have matching shirts like this (with variation).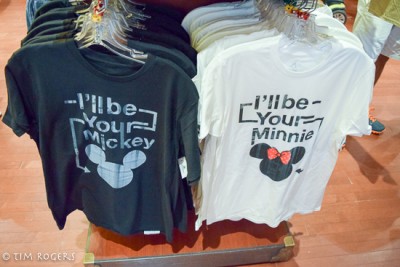 I have also seen, let's say, substantially similar shirts to these at those kiosks that seem to exist in everyone's local mall. While not as "official," those might save you some money and let you plan in advance.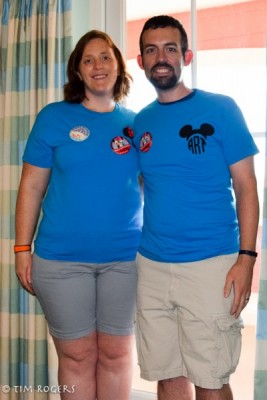 Additionally, these days getting customized shirts is incredibly easy. My wife ordered the shirts in this picture on etsy and they are embroidered and very nice. You can also get personalized screen printing from the store in Disney Springs or now on the Disney Store online site .
Tip 3: Hit up the PhotoPass Photographers
First, I would encourage everyone to use at least some of the PhotoPass Photographers during their trips. They usually are set up by memorable or desirable locations, and will take pictures not just for Memory Maker, but with your phone or camera as well.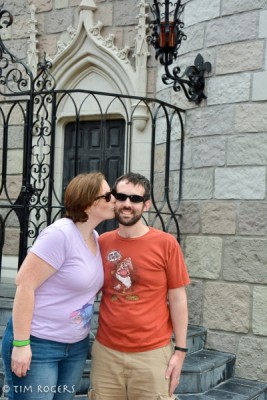 That said, if you are doing a special trip, evening, or just moment as a couple, the PhotoPass Photographers can really create some special shots to remember it by. This is especially true if you do one or both of the first tips so they have some clues that you are celebrating each other.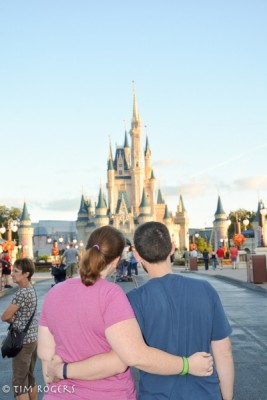 Besides just capturing a nice moment, they also might add in Magic Shots or have you do special poses. Regardless, you'll have something to permanently remember your trip by.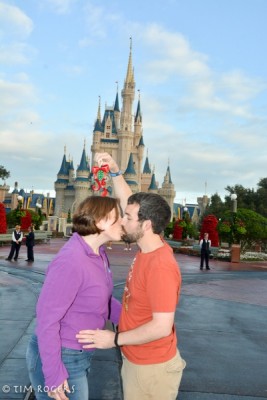 Tip 4: Try out Disney Bounding
Full confession – I actually haven't done this, but I want to include it because I've seen plenty of fantastic examples and it can be another great way to have fun with that special someone. For those unaware, Disney Bounding is essentially creating your own outfit out of "normal" clothing that is inspired by or meant to give the impression of your favorite Disney characters. You can see some examples here.
While subtle, it can be fun to plan with your partner, exciting when others notice what you've done, and has the new added bonus of not counting as a costume per Disney security.
Tip 5: Do a special meal
Whether you are going on a whole trip as a couple, or are trying to find some time during a larger family or friends excursion, I would highly recommend planning and designating a specific special meal to celebrate an occasion or just you as a couple.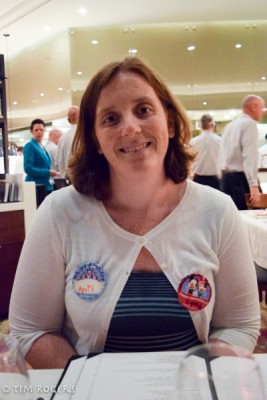 This can be everything from a late dinner at California Grill to see Wishes, to a quiet getaway to Jiko, or even a character meal for one of your favorite characters or a special location. Whatever it is, don't be afraid to let the restaurant cast members know that you are celebrating – they like celebrating with you and you might get some surprises.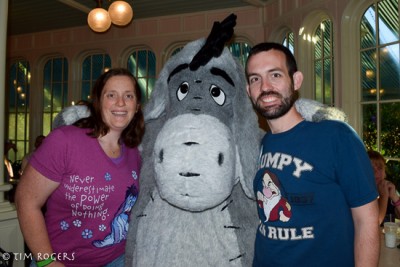 Disney World is obviously a great family location, but hopefully these tips can jump start your imagination on making it a great couples location for you. The biggest thing to remember is that at Disney World, being that couple, the one dressing alike, drawing attention to their anniversary, and really just making a big deal about themselves, is not only allowed but encouraged. Take advantage while you can!
What are your best tips for being THAT couple at Walt Disney World? How do you celebrate your special someone? Share in the comments.
Incoming search terms:
https://www themouseforless com/blog_world/couple-tips-celebrating-special-someone-disney/