This post may contains affiliate links for your convenience. If you make a purchase after clicking a link we may earn a small commission but it won't cost you a penny more! Read our full disclosure policy here.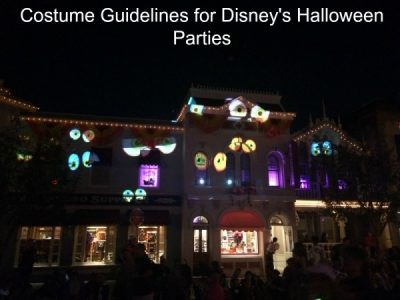 Mickey's Halloween Party in Disneyland
One of the best parts of attending either Mickey's Not So Scary Halloween Party in Walt Disney World or Mickey's Halloween Party in Disneyland is getting to dress in costume! If you have tickets to either of these events, you may be wondering what to wear. No matter if you visit the West or East coast, Disney has some specific guidelines for you to follow:
CHILDREN UP TO AGE 13
Children 13 and under may wear costumes with masks as long as the masks do not cover the entire face, and that the child's eyes are always visible.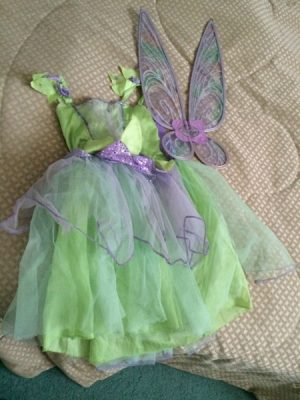 Plastic wings are acceptable accessories for adults and children
ADULTS 14 AND OVER
Guests may not pose for photos with guests who are not in their traveling party, nor can they sign autographs. Costumes must be family friendly. (This is Disney, folks.) Costumes may not contain weapons that can be mistaken for an actual weapon. (Shorthand: lightsabers and plastic pirate swords are okay. Guns of any kind are not.)
Capes are allowed but must be waist length or shorter. Head gear or hats are fine as long as the face is not covered. No masks for grown-ups, folks.
No sharp or pointed objects can be part of the costume. Any costume that drags on the ground is prohibited. And if you wear a costume with many layers, you may be subject to an additional security search.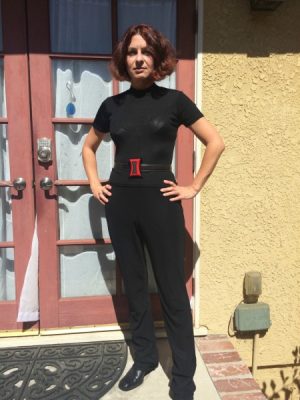 This Black Widow costume followed the rules because there are no weapons
At first glance, these guidelines may seem restrictive. However, there are actually many different costume options available to you. When we attended Mickey's Halloween Party last year, we saw an amazing array of costumes.
Our favorite tended to be the groups of people who dressed as a team. There was the family where Mom was Princess Leia, Dad was Han Solo, the son was Anakin, and the daughter was Rey. We saw a couple of Avengers families. The entire cast of Peter Pan caught my attention. And my personal favorite of the evening? The Dad who dressed as Nick from Zootopia, with a little baby wannabe elephant in his stroller.
Although, naturally, Disney costumes are quite prominent, there is no rule saying that your costume MUST be Disney related. We saw a stunning group of young people dressed as their favorite characters from Game of Thrones. And several families dressed as their favorite – gasp – DC superheroes! (You know, that comic book film and TV franchise that is NOT owned by Disney.)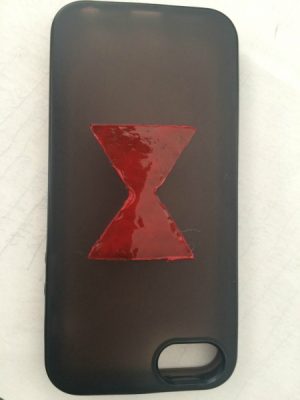 I customized this phone case with nail polish to go with my costume!
If you have a member of your traveling party who would rather have his blood sucked out by leeches than be caught dead in a costume, never fear. Plenty of people attend the parties dressed in their street clothes. In fact, my husband is very costume adverse, so the only thing out of the ordinary that he wore was this sticker I made for him: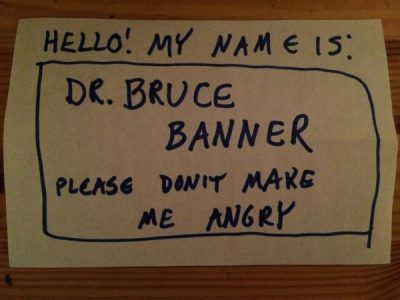 What other tips do you have for picking our your costume for one of the Halloween Parties? Share them in the comments.
Did you like this article? Make sure to share it with your friends! Check below for easy ways to share!
Incoming search terms:
https://www themouseforless com/blog_world/costume-guidelines-disneys-halloween-parties/