This post may contains affiliate links for your convenience. If you make a purchase after clicking a link we may earn a small commission but it won't cost you a penny more! Read our full disclosure policy here.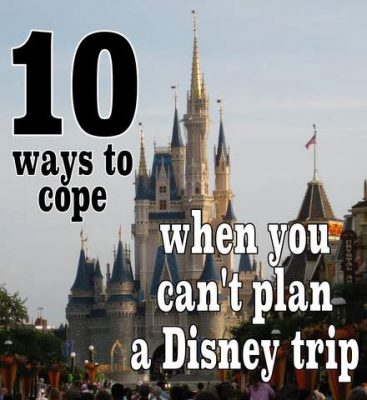 My countdown app is blank. Trip funds for this year have been allocated, and it doesn't look like a visit to Disneyland or Walt Disney World is in the cards. How can I stand the waiting, not knowing the next time I will "leave today and enter the world of yesterday, tomorrow, and fantasy?" If the Mouse is nowhere is sight, we've got 10 ways to cope when you can't plan a Disney trip.
1. Talk Disney with your people
You probably know someone who shares your love of Disney. Whether it's a neighbor, relative, or even your own children, someone will want to discuss what's going on in Orlando or Anaheim. I have even been known to strike up a conversation with a stranger carrying a Mickey purse or wearing a Walt Disney World shirt. If you can't find anyone nearby, check out the enormous online community with fan forums, blogs, and social media dedicated to all things Disney.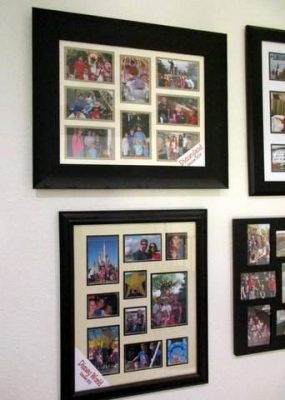 2. Look at photos from a previous trip
Get those pictures off of your camera or phone and let them entertain you! Display your favorites in a collage or picture slideshow. Text a snapshot to one of the people who went on that trip and reminisce about how much fun you had together.
Up to $75 Disney Gift Card!
Deal
Book a Disneyland package of $1500* or more and receive a $25 Disney gift card. Packages of $3000 or more receive a $50 Disney gift card. Packages of $5000 or more receive a $75 Disney gift card. Gift cards are accepted at many Disneyland Resort locations and can be used to pay for shopping, dining, and so much more. We are sure you will find a way to put this to good use!   Read More
More
Less
3. Help someone plan a trip
Even if you're not a travel agent, you can be helpful to someone going to Disneyland or Walt Disney World. Demystify FastPass+, explain resort options, or warn them what your same-age child found scary. If you're not part of the planning, just share in their excitement and make them promise to send you pictures on their trip.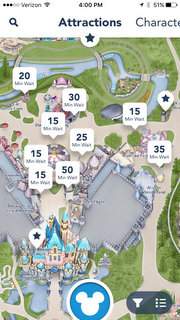 4. Stalk attraction wait times
This might seem like a downer when you can't be in the parks, but hear me out. Ask yourself, "if I were are Disneyland right now, what would I want to be doing?" "I would want to be eating a churro, while standing in the 25-minute line for Indiana Jones Adventure. It looks like a slow day, so maybe I can get a FastPass for Space Mountain afterward." The Disneyland and Walt Disney World apps also have menus and maps to study.
5. Wear a Disney shirt
At the risk of having someone like me come up and start talking to you, throw on something you'd wear to the parks. It will bring back the memory of where you wore it, and also bring a smile to your face. We all want to "believe in magic" and "never grow up," like my shirts say.
6. Count down to when you can plan a trip
Maybe you don't have a countdown going, but you can look ahead to when you will be able to plan. Maybe that's after graduation, or resolving a health challenge, or when your spouse returns from a deployment. Counting down to those events can make the future countdown seem closer.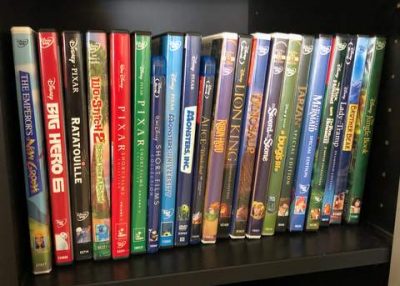 7. See a Disney movie
There is always a Disney movie playing in theaters. If you've exhausted the big-screen options, pull out the DVDs. Have a movie marathon of all three Toy Stories, all five Pirates of the Caribbean, or even all eight Star Wars movies! Or take on a movie challenge of seeing all of Disney's animated films while you wait out your non-Disney days.
8. Make a Disney craft or recipe
Find an idea you like from a blog or Pinterest and make something fun for yourself or your home. Every holiday you decorate for calls for a little Mickey magic. Try out a homemade version of the Grey Stuff from Beauty and the Beast to remind you of tasting it in the parks. Or hunt down which local frozen yogurt shop serves Dole Whip!
9. Learn more about the world of Disney
Check out what your library or bookstore stocks for Disney books and travel guides. Read a book of Disney trivia or a biography of Walt Disney. Read Disney fan blogs or follow the Disney Parks on social media. Ride your favorite attraction via Youtube video, or check out an overseas Disney park that's on your bucket list.
10. Save for your next trip
Since money ranks as a top reason why most of us aren't at Disney more often, save toward a future visit. Count your savings in Mouse-sized units — "eating at home tonight saved me enough for five Mickey bars." Make a savings chart and mark off $100 increments as they add up. Or purchase one Disney gift card every time you go to the grocery store. Ask for Disney money for a birthday or Christmas gift.
While there are definitely more than 10 ways to cope when you can't plan a Disney trip, we hope we've inspired you to think positive while you wish and wait for your next visit. Some day my trip will come!
What are some of the ways you cope when you don't have a Disney vacation on the books? Let us know in the comments, or on Facebook or Twitter!
Did you like this article? Make sure to share it with your friends! Check below for easy ways to share!
Want to visit a Disney Destination? Contact The Magic for Less Travel for more information and a free, no-obligation quote.