This post may contains affiliate links for your convenience. If you make a purchase after clicking a link we may earn a small commission but it won't cost you a penny more! Read our full disclosure policy here.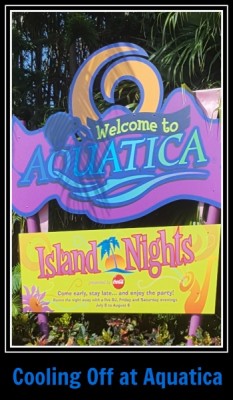 Summer may be winding down, but temperatures are still hitting the 90s in Florida. What better way to cool off than by visiting a water park? I've had the pleasure of visiting several of the Orlando area water parks in the past, but this summer I got to try something new: SeaWorld's Waterpark, Aquatica.
As with most theme parks, it is best to plan your visit ahead of time. I found this to be especially true for Aquatica. I quickly discovered that it was much cheaper to purchase tickets and upgrades online rather than at the front gate. Many of the upgrade options are still available at the park, but the prices are higher. Purchasing online also gives you the added bonus of skipping the line of people waiting to buy tickets when you arrive.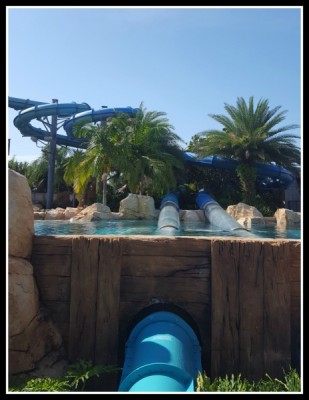 Ready to slide!
Buying tickets online was a little more complicated than I expected. The system itself is easy to navigate, but there are a lot of different upgrades available to customize your visit. Cabanas, all-you-care-to-eat dining, and quick queue are all options you can choose. If you're considering any of these, do yourself a favor and buy them online. We didn't purchase any of these and later on we kind of wished that we had. More on that later…
We arrived at Aquatica around the time of park opening and were asked if we wanted to pay a fee for closer parking. At the suggestion of the parking attendant, we decided not to. I really appreciated his honesty because we were pretty close to the front of the lot without paying anything additional.
We made our way into the park and were excited to hit the slides! We all wanted to do something together, so we hopped in line for the HooRoo Run. It didn't take us long to figure out that we had already made our first mistake.  We should have gotten wet first because it was really hot!
As we waited in line for over 30 minutes, we watched as guests who had purchased the quick queue option passed us by. (Disney fans: think Fastpass for water slides) We finally made it to the top and loved the ride down!  All 3 of us sat in a large tube and traveled down the slide laughing. We wanted to go again and decided to purchase the quick queue pass right away.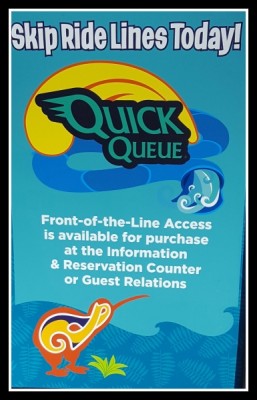 We had a hard time figuring out where to make our purchase. There weren't a lot of signs to direct us, but we finally found out where to go. Halfway through the line we were informed that the unlimited quick queue was sold out and only the limited version was available.
Now we were really confused. Two different quick queue options? What was the difference? I looked around for a sign explaining the two passes, but didn't find one. All we found was a sign directing guests to ask for more details. We remained clueless.
We made it to the front of the line and were told that the limited quick queue allowed you to skip the line of each slide one time. The cost was $30, double what it cost to buy online ahead of time! Once again, we made the decision NOT to purchase the quick queue and made a mental note to buy it ahead of time on our next trip. Our time in line was not wasted though, because we were able to pick up a bracelet to use to make purchases.
We went back to exploring the park and decided to check out the lazy river. There are two rivers at Aquatica, one that is "lazy" and one that is not-so-lazy. The first river we visited was Loggerhead Lane.  This was the more traditional lazy river that moved slowly and guests sit in a tube and relax. The river travels through a fish tank tunnel and past the Dolphin Plunge tank. So cool!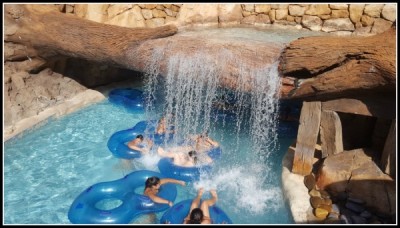 Loggerhead Lane
Next, we tried to the not-so-lazy river. There are no tubes allowed in this one and a fast current moves you along. You have the option to wear a life vest or go without one. I am a strong swimmer, so the first time around I just swam. On the next go around, I tried the life vest. I actually liked it better in the life vest because I could float and let the current move me without much effort.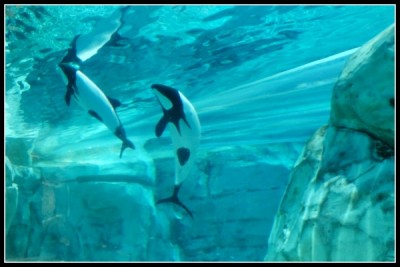 Commerson's Dolphins
After that, we took a break for lunch and visited the Waterstone Grill. They had a good variety and it was quick and easy. Paying with the bracelet was nice. No need to handle wallets and wet money. I spent about $15 on my lunch. This is where I think the all-you-care-to-eat dining option may be a good choice for some families. Breakfast, lunch, and dinner are served, so if you are there all day, you could certainly get your money's worth.
Now that we were relaxed, cooled off, and full, we went back to the slides. We really enjoyed each one. The lines were long and I didn't get to go on as many as I would have liked, but we had a great time.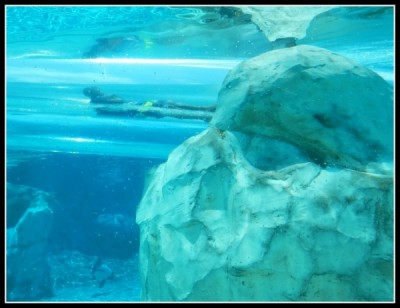 The Dolphin's Plunge Slide Goes Underwater!
We finished our day in the wave pool. This was also fun, but the water was very warm and not as refreshing as I was hoping for. Still, no day at a water park is complete without a visit to the wave pool!
My first visit to Aquatica was definitely a learning experience. Here are some quick tips that I hope will be helpful to other new visitors:
Check the rules and policies about food and drinks before trying to bring anything into the park.
Make ticket and upgrade purchases online before you visit the park.
Bring flip flops or water shoes to wear as you go from slide to slide. The ground was really hot!
Get to the park early if you can. Crowds grew as the day went on.
Bring sunscreen and don't forget to reapply several times throughout the day.
Relax and have a great time!
I will definitely pay another visit to Aquatica. Maybe I will see you there!
Do you have any helpful hints for other guests?  Share them with us in the comments!
Incoming search terms:
https://www themouseforless com/blog_world/cooling-off-aquatica-waterpark/