This post may contains affiliate links for your convenience. If you make a purchase after clicking a link we may earn a small commission but it won't cost you a penny more! Read our full disclosure policy here.
I received two Cool Gear water bottles free of charge for review purposes.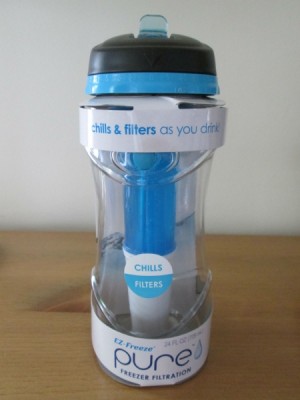 When we travel to Walt Disney World, it's always during the hottest months of the year and it's important to stay hydrated.  I was thrilled to receive two filtered water bottles to review to see if they would be good to use on vacation as well as for walks in the neighborhood, hikes in the woods, and for an everyday water bottle to use during work.
I received two filtered bottles from Cool Gear Inc. to use.  They are nearly identical except for color, shape, and straw angle.  The green bottle has a straight design and straighter straw than the straw on the clear bottle. The bottle with the clear style is slightly curved, making it a little easier to grip.  The straw portion of the clear bottle is slightly tilted more than the straw on the green bottle.
I usually use an unfiltered water bottle at home and disposable water bottles on vacation, so this was the first time I used filtered water bottles.  I liked them!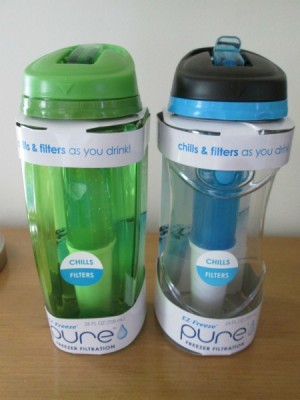 The bottles came well packaged, with brown paper topping the box so they would be secure in shipping.
These 24 ounce bottles are environmentally friendly to use when compared to disposable plastic water bottles.  They are also a good investment as it's less expensive to fill them with tap water than to buy flats of water bottles.   These bottles each came with a filter that filters up to 100 gallons of water, which is approximately four months of use.  If you need additional filters, they are available to buy from Cool Gear Inc.  The filter reduces the taste and odor of chlorine in  tap water.   Each bottle also comes with a freezer stick that will keep your water cold for a long time.  The plastic is BPA free.
Before the bottles are used for the first time, a little preparation is needed.  Simple to follow instructions were included inside the packaging.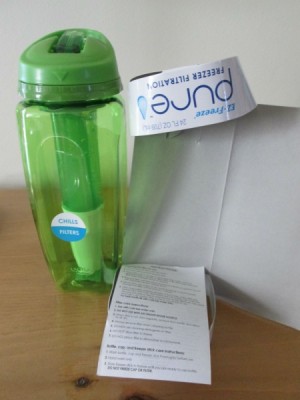 In short, you take off the cap, the water filter, and the freezer stick to gently wash before use.  The directions say "hand wash only."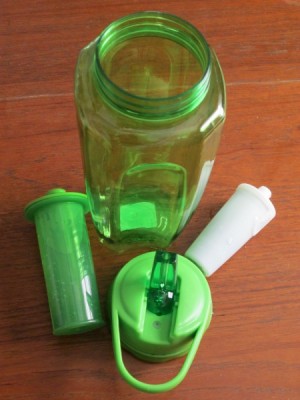 The freezer stick is the only part that goes in the freezer.  This is true for every time you use the water bottle, so it's important to remember to use just the freezer stick (not the lid) in the freezer.  Before you use the filter for the first time, you soak it in a small bowl until it bubbles, and then let tap water run directly through it.  The instructions in the package will lead you through these steps.  Once you're finished with getting the filter ready and your freezer stick is cold, you just reassemble the water bottle and you're good to go!
Our local tap water does not have a chlorine taste, but I have found Florida's tap water to have a strong chlorine taste to it and I imagine that the filter will come in handy to improve the taste of tap water at Walt Disney World.  In the parks, you can go to any counter service location and ask for a free cup of ice water.  This would be a good way to refill your water bottle throughout the day, and the filter would make the water taste better than if you were drinking it through the paper cup and straw.
This water bottle does not fit into the side pocket of my regular park bag, which is a messenger bag.  However, it's possible to clip the bottle to a strap or the side of a bag. I like the handle where you could clip the bottle because when I walk a few blocks at home I just carry the bottle along with my fingers and it's easy to carry.   I know that my teens could easily clip these on a strap and would enjoy using the water bottles.
When I used the bottles outside today, it was 60 degrees.  The freezer stick did stay cold for a long time.  The freezer stick is big enough that I think it would work as well as or better than ice in the Florida heat.  I liked the freezer stick much better than I like having the ice bang around in my usual water bottle.
One feature that is not shown in the photos is that near the lid there is a numbered grid.  If you are keeping track of how much water you are drinking each day for health purposes, you can use a counter on that grid to mark each time you refill the bottle.  That's a handy feature to have!
So far, I have used these water bottles for an outdoor walk and for around the house.  I think they'd be nice to have on hand for vacations and for using at home!
Cool Gear Inc. has offered to give one of our readers two bottles like what I received.  They will be given away as part of a prize pack in our 15th birthday celebration!  This giveaway will start at 8 am on March 31, 2014 and end at 8 am on April 7, 2014.  You can enter this giveaway at http://a.pgtb.me/cQltc7.
Disclosure:  I received the bottles free of charge for the purpose of this review.  I received no other compensation, nor was I required to write a positive review.  All opinions are mine.
Incoming search terms:
https://www themouseforless com/blog_world/cool-gear-water-bottle-review/
what does a freezer stick do for a water bottle
https://www themouseforless com/blog_world/cool-gear-water-bottle-review/#:~:text=Simple to follow instructions were that goes in the freezer
are coolgear water bottles good ones
cool gear
cool gear water bottles with tap
freeze stick water bottle meaning
https://www themouseforless com/blog_world/cool-gear-water-bottle-review/#:~:text=The freezer stick is the the lid) in the freezer
intitle:water bottle intitle:review