This post may contains affiliate links for your convenience. If you make a purchase after clicking a link we may earn a small commission but it won't cost you a penny more! Read our full disclosure policy here.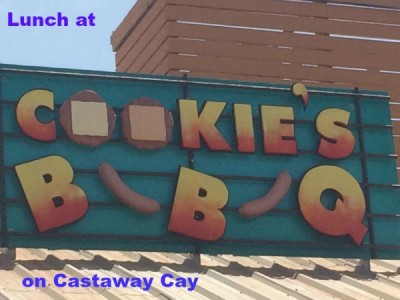 Welcome to Cookie's!
One of the great things about a Disney Cruise that stops at Castaway Cay is that you can easily eat on the island without spending any additional money. Of course, if you want a cocktail or a beer, you're going to have to pony up. But if you want soft drinks, ice cream, or lunch, you're covered.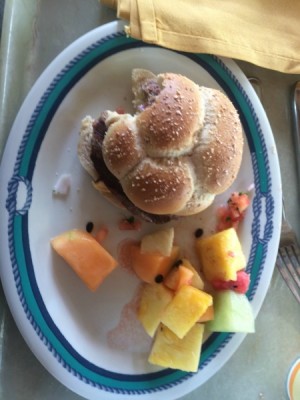 my lunch
There are two buffet style restaurants on the island, Cookie's, and Cookie's Too. Both share identical menus and décor; the only difference is the location. On our Castaway Cay day, we had lunch at Cookie's.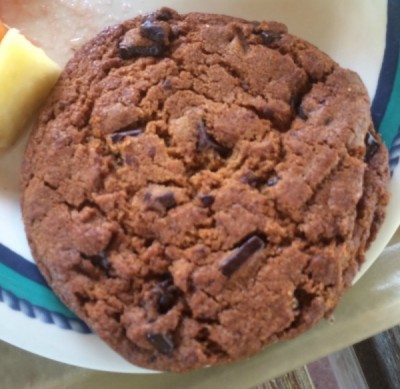 What do you get for dessert at a place called Cookie's?
Cookie's is a casual open-air restaurant, with a buffet featuring barbecue favorites and their signature cookies. Seating is at picnic tables under shade. Nearby are soda machines and the all-important self-serve, soft serve ice cream. (The flavors during our visit were the same as on the ship: chocolate, vanilla, chocolate/vanilla swirl, banana, strawberry, and banana/strawberry swirl.)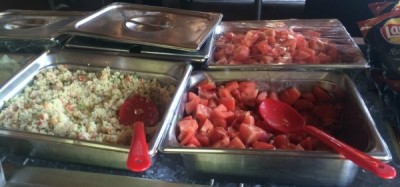 couscous and tomato salad
Burgers, veggie burgers, ribs, grilled fish and hot dogs were offered, as well as a tasty salsa. Sides included fluffy couscous, salads, cole slaw and a tasty tomato salad. Corn on the cob and baked beans are also available, and were found next to the barbecued chicken.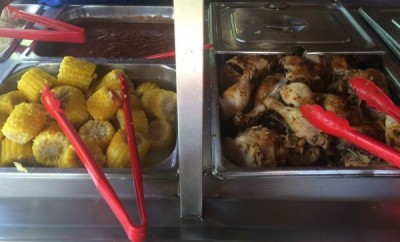 corn on the cob, baked beans and barbecued chicken
For dessert, they offered cute, tiny little loaf cakes and fruit salad comprised of melons and pineapple. They also offered banana bread, and you can't have a place called Cookie's without cookies – huge, soft, delicious cookies.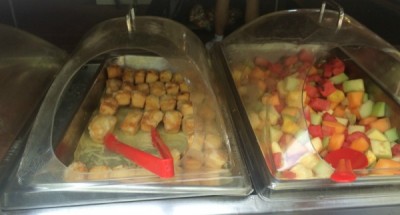 Dessert options
My burger was cooked medium, and I prefer mine rare, but it certainly didn't taste like it had been sitting under lights all day. It was flavorful and large. The cold salsa and fruit salad were perfect on a hot humid Bahamian day. I would add that I wish there were more cold options, just because we were all sweltering.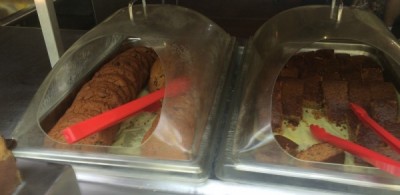 more desserts, including their famous cookies
On to the chocolate chip cookie! I was saving myself for soft serve ice cream (again, anything to cool off) but I couldn't go to a place called Cookie's and not taste their cookie! So I bribed my daughter to let her give me a taste of hers. The enormous cookie was delicious!
When I finished my lunch I filled up again on some diet soda with plenty of ice and served myself up the tallest banana-strawberry cone I could. My technique definitely got better as the cruise went on, and it's comforting to know that if yours completely falls off the cone, there's no charge to try again.
Cookie's is rather basic and I would have loved to see more cold salads available. However, it was wonderful to step out of the water, towel off, head to Cookie's in our bathing suits, eat a hearty meal, and head back into the water.
Have you experienced Cookie's BBQ? Share your thoughts on the comments.
Incoming search terms:
https://www themouseforless com/blog_world/cookies-on-castaway-cay/
castaway cay barbecue
castaway cay cookies one