This post may contains affiliate links for your convenience. If you make a purchase after clicking a link we may earn a small commission but it won't cost you a penny more! Read our full disclosure policy here.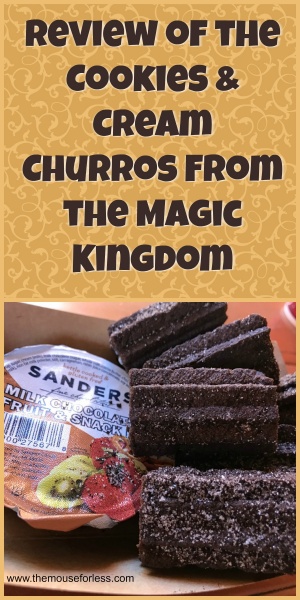 Earlier this year, I learned that Tortuga Tavern located in Adventureland at the Magic Kingdom introduced a new treat, in addition to the turkey legs and hot dogs the quick service restaurant offers on a daily basis. Churros! But not just a normal cinnamon coated churro, but a cookies and cream churro! What?! Ok…this sounded amazing! I was all in.
So, on my recent trip, I headed over to the restaurant, (which, by the way, Tortuga Tavern has limited hours), was excited to snag a bite.
The treat was served to me and looked super yummy. I was impressed with the number of churro bites you got with your serving for the  money. The churros were served with a chocolate sauce and had a distinct coating of sugar.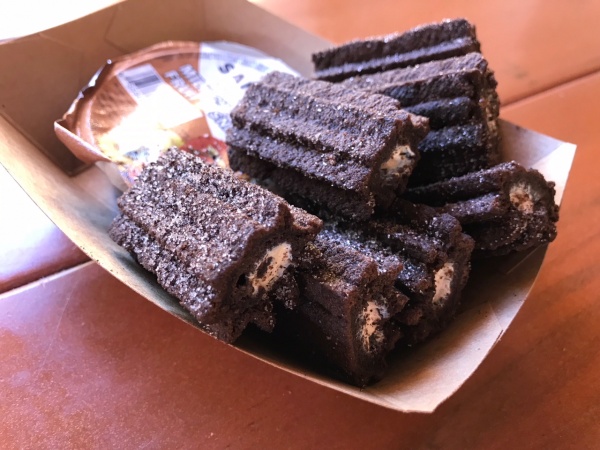 Then, I took a bite. Now, I try to be completely honest with you all. These churros….they were not good. Not good in the slightest. They were dry, had very minimal flavor (I didn't get much of a hint of either chocolate or vanilla cream), they were hard, and basically, inedible. Dipping it in the chocolate sauce didn't help much either. The chocolate sauce was served room temperature….it would have been better if it had been warmed up. Honestly, after I took one bite, I seriously thought about throwing the whole thing away. And I don't do that with food. Even if something is just ok, I'll eat it. This wasn't even marginally ok.
With so many other great treats available at the Magic Kingdom, do yourself a favor and avoid these churros at all costs.
Have you tried the churros at Totuga Tavern? What did you think? Do you agree with my assessment or am I WAY off base? Share your thoughts and why in the comments.
Did you like this article? Make sure to share it with your friends! Check below for easy ways to share!