This post may contains affiliate links for your convenience. If you make a purchase after clicking a link we may earn a small commission but it won't cost you a penny more! Read our full disclosure policy here.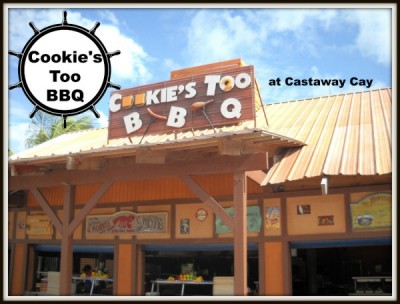 Castaway Cay is Disney's private island in the Bahamas, and it is a wonderful port to visit when sailing on the Disney Cruise Line.  What's not to love about this tropical paradise?!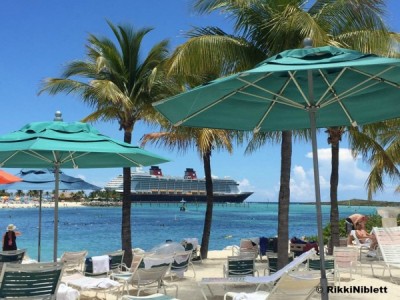 One of the nice things about visiting Castaway Cay is that your food and most non-alcoholic beverages on the island are included with the price of your cruise.  After you build up an appetite from swimming and building sandcastles, you can eat right on the island without having to worry about additional costs.
There are a few food locations on the island, and we picked Cookie's Too BBQ because of its convenient location near our beach chairs.  There was a lot of seating available.  Some families opted to carry their food to the beach for a picnic near the water, but we preferred sitting at a table in the shade.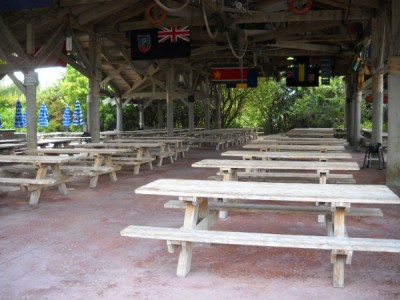 Beverages are self serve, and because of health concerns guests are asked to use a fresh cup for each refill.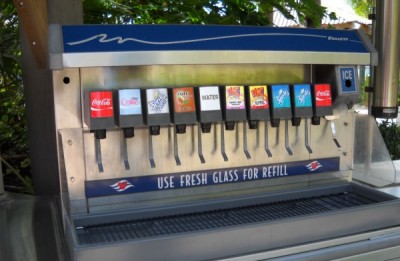 There is a soft serve ice cream machine near the beverage station.  All you can eat ice cream on a tropical island is awesome!  Flavors can vary, but on our cruise we had vanilla, chocolate, banana, and strawberry.  Banana was my favorite.  You can be creative with the ice creams.  My daughter often combined strawberry and banana on one cone.  You can make a root beer float, or get a couple of cookies from Cookie's Too BBQ to make an ice cream cookie sandwich!
Cookie's Too BBQ is a buffet that is part self serve and part cast member served with the foods.  As a semi-germophobe, I was happy to see that hand sanitizer was available not only at the ice cream station but also upon entering the buffet line.  The Disney Cruise Line is serious about keeping their food facilities clean.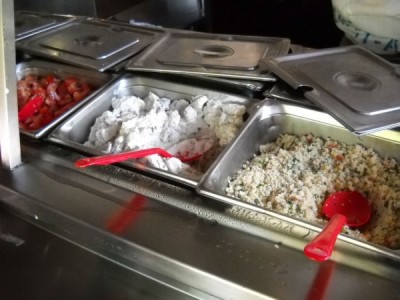 The buffet is filled with salads, side dishes, and meat options such as hamburgers, hot dogs, chicken, seafood, and barbecued ribs.  I opted for a hamburger, which was prepared by a cast member for me as I told her which toppings I wanted.  I also helped myself to a taste of chicken, ribs, and salads.  Everything we tried was delicious!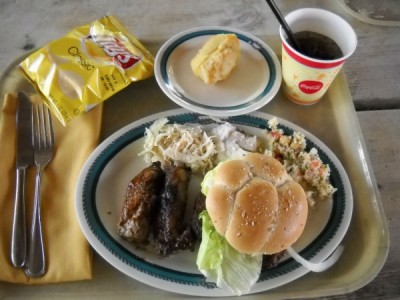 There are a few desserts here, and the signature item at Cookie's Too BBQ is of course a cookie!  This wasn't just any old cookie, though.  It was a huge, and I mean huge, chocolate chip cookie!  My daughter and I got one to share, and enjoyed it.
Eating at Cookie's Too BBQ was like having a delicious picnic in a beautiful tropical setting without having to do any of the work to organize it.  You come hungry, and leave satisfied!
Have you been to Cookie's Too BBQ?  What is your favorite food here?  Tell us in a comment below.  
Incoming search terms:
https://www themouseforless com/blog_world/cookies-bbq-castaway-cay/
castaway cay bbq
DCL castaway cay bbq ribs recipe