This post may contains affiliate links for your convenience. If you make a purchase after clicking a link we may earn a small commission but it won't cost you a penny more! Read our full disclosure policy here.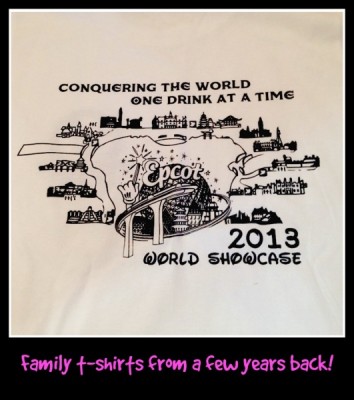 So you're headed to Walt Disney World. WooHoo! I'm jealous! What's that? You're an adult and your Disney crazed friend talked you into going and you think Disney is just for kids? Oh, no no no my friend. You couldn't be more wrong. Allow me to guide you!
Let me just tell you that I've been to Disney a few (and by a few, I mean a bunch) of times as an adult and it's fantastic! You make your own rules, you decide how much time you want to spend in line for Peter Pan's Flight, and best of all, you decide what adult beverages you'd like to consume and where. Yes, adult beverages! Keep reading.
Let's start with Magic Kingdom. There's not a lot of adult beverages to be had in Magic Kingdom. You can enjoy a cocktail at Be Our Guest Restaurant, but only during dinner service. Other than that, it's a dry park. But that doesn't mean you and your pals shouldn't go. The magic of Magic Kingdom is like nothing you have ever experienced. The entire park is enchanting from the iconic Cinderella's Castle to Pirates of the Caribbean to Wishes, the fireworks show. Hold on, I need to grab a tissue…just the thought of Wishes brings me to tears. Anyway, I guarantee you'll have a magical, memorable time in Magic Kingdom.
Moving on to Disney's Animal Kingdom and Disney's Hollywood Studios. I'm going to address both of these parks at the same time because there's not much to say other than yes, you can get adult beverages at both parks and yes, both parks are fantastic! Currently, Hollywood Studios is undergoing some big renovations (think Death Star/Wookie big) so many Disney-insiders are calling it a "half day park." You'll want to factor that in to your planning. Sorry, back to the adult beverages. As I said, they're available in both parks so when your friend drags you to see Fantasmic! (and YES you want to see that, trust me!), you won't be at a loss.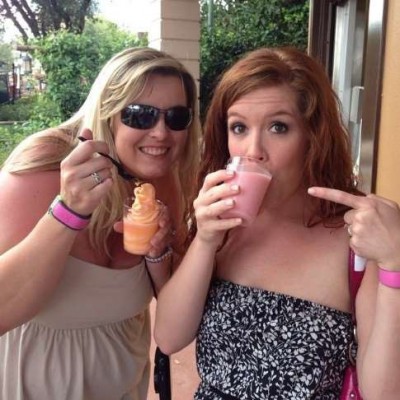 Me and my cousin enjoying frosty, delicious cocktails in Epcot!
Now we come to it. The "adult" park; Epcot! You've heard the term "drink around the world", yes?  Well, Epcot is where that phrase originated. Ok, maybe not, but whatever. If adult beverages are what you seek, Epcot is where you want to be. Epcot is separated into 2 sections, Future World and World Showcase. Future World is where you'll find rides, shopping, some dining options, and exhibits. World Showcase is made up of countries and each country features shopping, dining, and…that's right, you guessed it! Cocktails!
World Showcase is the holy grail of Disney drinking. And here's the best part…you can walk around the park with your drink in hand! So while the views from Germany are awesome (and they are), you can take your stein and keep on cruising if you wish! Personally, my favorite place to enjoy spirits in Epcot is The Rose and Crown Pub in the United Kingdom. The views of the park are incredible, the food and drink is delicious, and the patio seating is beautiful. It's the perfect place to sit and enjoy company while people watching. And believe me, there's no better place to people watch than Disney World. And the airport. But I digress.
Here's the thing. Your Disney crazed friend is Disney crazed for more reasons than just the adult beverages. Allow yourself to be caught up in the magic and wonder. Take pictures with characters (who doesn't love Mickey Mouse?), try on those crazy Minnie ears, ride It's a Small World, "try the grey stuff, it's delicious!" Being an adult is hard work and stressful! You deserve to "Let it Go!" (see what I did there? No? Don't worry,  you will) and be treated like a princess or prince. Or pirate if you're more edgy.
Don't miss the fireworks shows! Seriously. Illuminations at Epcot is my absolute favorite (take advantage of those views from Rose and Crown I told you about) and it's a game changer. You'll eat some of the best food you've ever eaten at Disney and meet some of the nicest people.
What I'm trying to say, friend, is can I go with you? No, no, sorry. What I'm actually trying to say is you're going to have the best time with your Disney crazed friend! I have faith (trust, and pixie dust!) that he/she won't steer you wrong. Just remember when you're in Walt Disney World that "Here you leave today and enter the world of yesterday, tomorrow, and fantasy."
P.S. don't forget to cruise around the rest of themouseforless.com for more tips, tricks, and reviews!