This post may contains affiliate links for your convenience. If you make a purchase after clicking a link we may earn a small commission but it won't cost you a penny more! Read our full disclosure policy here.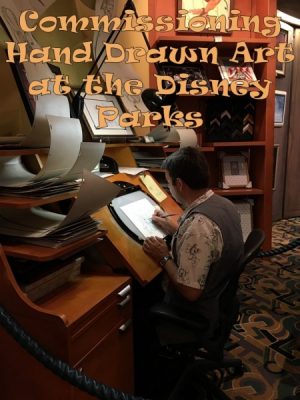 Let's face it, most of us love Disney's artwork. As a child, I always wanted a cell from my favorite movie or a line drawing of my favorite character. Unfortunately, I never seemed to take home the art I had my eye on. Back then, I would walk by the Art of Disney and slowed as I watched other families in the rather pricey shop. Fast forward to today. Now, the kid with little pocket money, saves for her trips to Disney and always drops a few pennies into the 'art' jar.
In this blog, I wanted to touch on how you can take home a unique piece of art for your home. I base this article around the Disneyland Resort, as that's where I went for this set of photos. However, you can commission art at Walt Disney World too.
The most important thing to remember when commissioning art is that it takes time. I suggest going in to the shop as one of your morning activities and expect to pick up your masterpiece in the late afternoon. Generally, the process takes about 45 minutes to an hour depending on your desired product.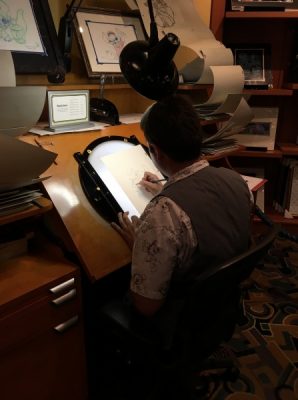 At Disneyland Resort, you have the option of the Disneyana Shop on Main Street USA in Disneyland or Off the Page, in the Animation Building in Hollywood Land, Disney California Adventure. Both shops sell animation cells and art on spec. They are pre-drawn, and you can select what you would like to take home. However, for something more personal, you can commission your own piece.
The Disneyana Shop does both line drawings and animation cells. Off the Page only offers line drawings.
The process for both is similar. You need to go into the shop and locate the large tome of drawings. This will include the Disney approved character positions available at this time. You can combine several characters together if you would like. The price of the artwork relates to the number of characters on the page. Please note that they cannot combine all characters/positions. It is a requirement from Disney Management and the artists need to stay within those rules. Once you decide what you would like to have on your page, then you need to chat with the artist or the artist's representative about the artwork. They will fill out a sheet with the details of your request and any words you would like added to the art.
Up to $75 Disney Gift Card!
Deal
Book a Disneyland package of $1500* or more and receive a $25 Disney gift card. Packages of $3000 or more receive a $50 Disney gift card. Packages of $5000 or more receive a $75 Disney gift card. Gift cards are accepted at many Disneyland Resort locations and can be used to pay for shopping, dining, and so much more. We are sure you will find a way to put this to good use!   Read More
More
Less
After they finish writing up your request, they will price the piece for you. This could be as little as $40 or as much as 'ouch!'. You will need to pay for the commissioned art. Once you have the receipt attached to the request, it's time to go back and meet the artist. Or in my case, say hi again.
Handing the paper to Brian, he told me he was finishing up the art before mine and then would get on my commission. He suggested that we come back no later than 4:00 p.m. It was 10:00 a.m. My daughter and I enjoyed a few attractions and then checked back with Brian to see how the pieces were going.
As a huge Stitch fan, I needed to have the Stitch of the Season. Brian was happy to draw this for me. He was the original artist on the piece. There is a long process to get a new option in the book. The artist draws up their idea and then it has to go through Disney Corp for vetting. Once Disney Management clears the drawing, then the art is added to the book and the artists at the desk learn the finer details of the piece.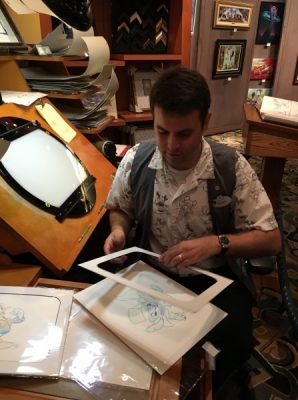 When we got back to the desk, Brain had both of our images finished. He pulled them out for our perusal. Since we were happy, he then put their custom mats and official embossing on them. Then he placed them in plastic sleeves for their transport home to Australia.
You can purchase frames for the art from the shops. They range from $30 for a basic black frame to a bit more for special, Disney inspired frames.
If you would like to have a keepsake of your time at the Parks that is unique to your trip, I highly recommend commissioning an artwork. To make the experience even more special, check the Animation Academy before you pick your character for your artwork. Attend the class and draw your version of the character to frame beside your professional rendition.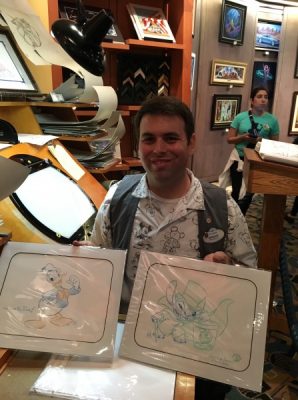 What are some of your favorite unique souvenirs? Let us know in the comments, or on Facebook or Twitter!
Did you like this article? Make sure to share it with your friends! Check below for easy ways to share!
Want to visit a Disney Destination? Contact The Magic for Less Travel for more information and a free, no-obligation quote.

Incoming search terms:
https://www themouseforless com/blog_world/commissioning-art-disney-parks/
disney springs art store drawing
Commisioned art at disney world
commission disney artist personalized disney art
how to sell art to disney
https://www themouseforless com/blog_world/commissioning-art-disney-parks/#:~:text=However, you can commission art masterpiece in the late afternoon