This post may contains affiliate links for your convenience. If you make a purchase after clicking a link we may earn a small commission but it won't cost you a penny more! Read our full disclosure policy here.
It happens to all of us, the vacation ends and you're forced to return to your normal life. Even if you've got a job as a beanbag chair tester at Google or a professional puppy playmate, it can wind up feeling dull in comparison to a Disney vacation. The dichotomy can leave you mopey, uninterested, maybe even a little depressed. You, my friend, have come down with a case of the Disney blues.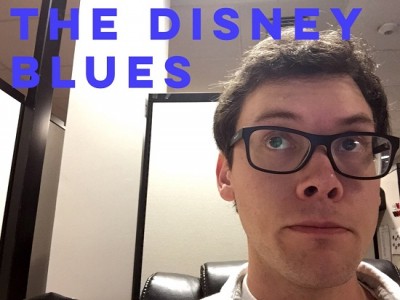 The Disney blues can be defined as that feeling that you get after a Disney vacation and it can drag on for what feels like an eternity. Sometimes it's manifestations are just a nuisance: not wanting to do anything, a yearning to be at the parks, a pit in your stomach, etc. Other times it can mirror symptoms of depression: not wanting to eat, feeling like something's missing from your life, or thinking you'll never be happy again. If you're one of the lucky ones, the Disney blues is something you'll never experience, but for the rest of us, we've got to tackle it head on.
I'm someone that always come down with a case of the Disney blues whether I'm at Disney World for a day or a week. It hits me hardest during dawn and dusk – my favorite times to be at the parks – with a strong desire to be on property. It also tends to manifest itself the day I head back to work. After my first bout of the Disney blues I did a little looking and found it wasn't an isolated incident, in fact, I found a huge community of people talking about it online. Luckily after some trial and error I'd discovered there are a few things I could do to help alleviate my morose mood. Check out the below tips and tricks to help overcome the Disney blues.
Cap off your trip with something you've been looking forward to.
I live a few hours from Disney World so when the vacation's over I hit the road, but before hopping on the highway I always stop at McDonalds, something I only do after a Disney trip. I've done this so many times that it's become a ritual of sorts and is now a part of all my Disney trips. There's even been a few times I've found myself looking forward to a BigMac before even getting to Disney World. Having something to look forward to at the end of a trip, even something small, can help gradually bring you down from the Disney high rather then sending you off a cliff when arriving home.
Sleep it off.
There are two options here, either get home late when your tired and ready to crash, or get home while you're wide awake. If you go with the latter option you're giving yourself a chance to think about your trip without any distance between you and it. That distance is something you need in order to allow yourself to digest the trip for what it was, a magical experience! Instead you might wind up wishing you were still there, looking at the park schedules, and getting into your head. When it is time to sleep you might find you can't which could feed into the next day by making you grumpy and irritable. That in turn can feed into the perpetuation of the Disney blues. But you can solve this by sleeping it off and allowing yourself to decompress from your experience gradually. And what's one way to make sure you fall asleep once you get home? Get home when your ready to sleep!
Schedule a day off to decompress.
I've found that it's best to have a buffer day in-between a Disney trip and going back to work. A buffer day to do something fun you've planned, not to just sit around. Sitting around can lead you to stew and perpetuate the Disney blues, something you're trying to avoid. Instead, have a meal with friends, go on a nature walk, do something you love, preferably something that regularly occurs in your day to day life. Doing something you normally do can show you there is a great big beautiful world outside the berms of the Disney parks.
Exercise.
Go for a walk, hit the gym, run. Exercise can act as an anti-depressant and can help you clear your mind of all the negative thoughts that might be floating around.
Consume Disney media.
It's a little bit of a double edged sword as this can either help you out of your predicament or send you further down the rabbit hole, but watching the Disney channel or listening to a Disney soundtrack can offer a slice of Disney wherever you are. My favorite Disney related media are podcasts, and there are a ton relating to Disney. I'm sure many of you are familiar with the Be Our Guest Podcast, but there are others that dive into the history of the parks, trip planning, Disney artists, custodial, just about anything Disney. Listening or watching Disney media gives you a sense that you're always in the kingdom because it's not just a place, but a state of mind and it's always just a few clicks away.
Plan your next trip.
Put all your new found knowledge to good use and start planning your next trip. It's can be therapeutic and can pay dividends in the future.
It might sound like the goal is to forget about your trip, but that's not the case. It's about getting you to a place where you can look back at the experience in a fond light, creating a positive memory rather then a negative one, and that tends to be harder when you're dealing with the Disney blues.
These are just a few things I found that help me do just that, but comment below and let us know what you do to combat the Disney blues.
Incoming search terms:
https://www themouseforless com/blog_world/combating-the-disney-blues/