This post may contains affiliate links for your convenience. If you make a purchase after clicking a link we may earn a small commission but it won't cost you a penny more! Read our full disclosure policy here.
Columbia Harbour House, located in the Magic Kingdom's Liberty Square, has been one of our favorite quick service food locations at Walt Disney World for years.  We like dining here because of the good food, convenient location, and tranquil setting.
A Colonial-era nautical theme is well woven throughout the dining areas, providing a unique atmosphere for a quick service dining location.  They nail it with making you feel as if you were visiting an tavern that is a stone's throw away from the coast!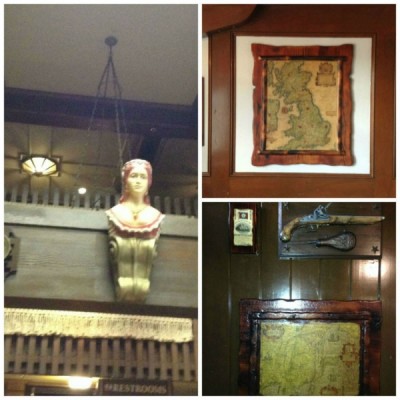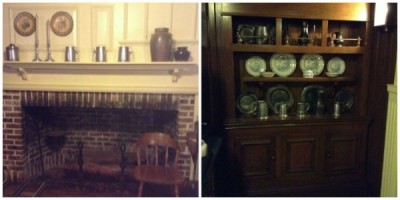 We were delighted to find a Hidden Mickey!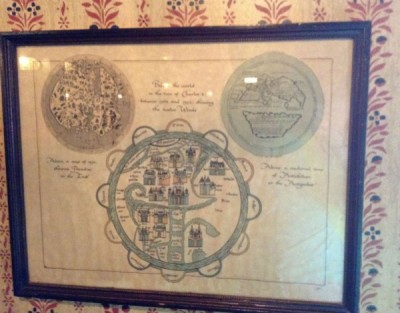 Near the ordering area is a place where you can sit and play a quick game of checkers, a convenient spot for kids (or kids at heart!) to enjoy themselves while you wait in line.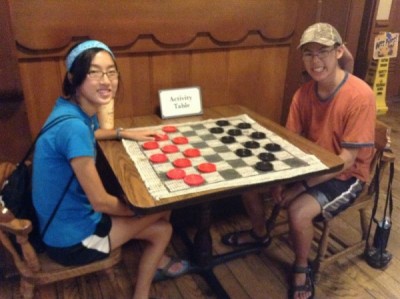 The best tip I can give about eating at Columbia Harbour House is to sit upstairs.  We usually eat at off-times, but even during busier times the upstairs seems to be half as empty as the downstairs area.  You will have to carry your tray up the steps, but there is a full condiment table on the second floor with everything you will need.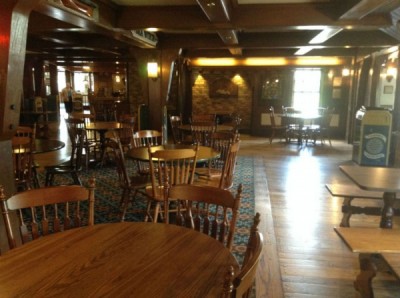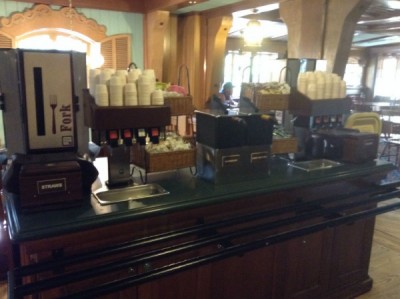 In addition to the quiet setting upstairs, there are a few tables that are next to windows.  These tables are our favorite ones because we can enjoy some natural light and can have a pretty view while we eat!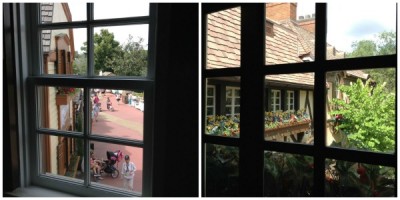 For our recent meal here, I tried the Broccoli Peppercorn Salad.  I've already had the other salad on the menu, and I wanted to try something new.  This salad had mixed greens, vegetables, grilled chicken, broccoli, bacon, and Parmesan cheese.  It was tossed with a creamy peppercorn dressing.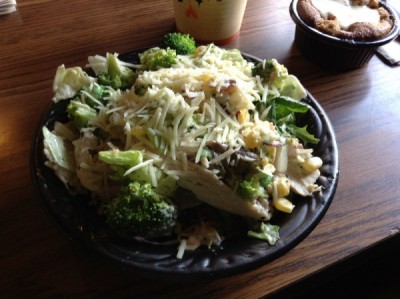 I did enjoy the salad, but it wasn't remarkable enough to become a favorite or an "I have to order this again" entrée.  The dressing had a peppercorn flavor that was not overwhelming, and the amount of dressing tossed into the salad was just right.  All of the ingredients were fresh, and as the name of the salad indicated broccoli was plentiful.  Once I started eating, I was impressed with the amount of grilled chicken that was mixed into the salad!  It was a filling entrée.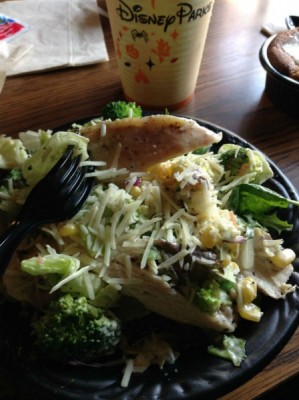 My son was going to get the Lobster Roll, but changed his mind at the last minute to get the Fried Shrimp Platter with French Fries.   I have had fries here during previous meals, and they are always hot and fresh.  He was happy with the shrimp, but I made a note to myself to order the Lobster Roll someday so we can give that a try.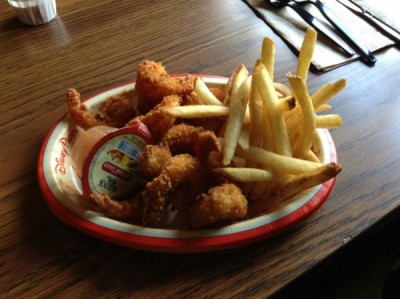 My daughter ordered the adult version of Chicken Breast Nuggets and French Fries.  She liked the meal and was thrilled that honey mustard sauce was available.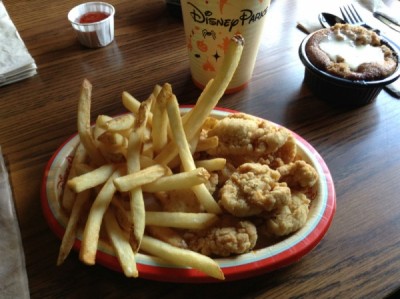 For dessert, I had the seasonal peach cobbler.  Delicious!  I often wish that Walt Disney World restaurants would offer more cobblers and pies for dessert.  This was served slightly warm, and peaches were plentiful!  For a quick service dessert, this one impressed me.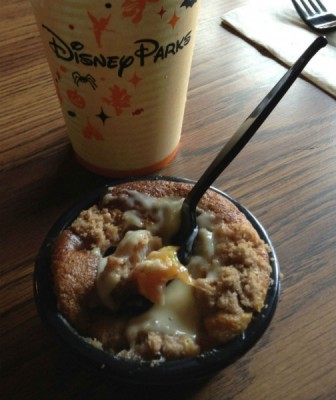 The chocolate cake is the generic cake (well, the Mickey sprinkles do make it a bit magical!) available at a handful of quick service locations.  It is a nice alternative for those not wanting the seasonal cobbler, but a cobbler will call my name every time!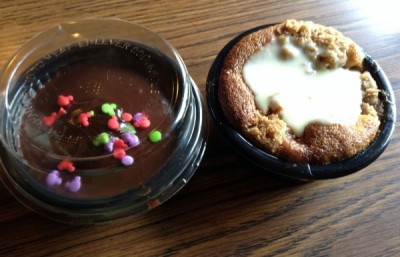 Have you been to Columbia Harbour House?  Please share your experience with a comment!