This post may contains affiliate links for your convenience. If you make a purchase after clicking a link we may earn a small commission but it won't cost you a penny more! Read our full disclosure policy here.
Disclosure: I received a silver plated pearl cage necklace and an oyster pearl free of charge for the purpose of this review.  I received no other compensation, nor was I required to write a positive review.  All opinions are mine.  
This Cinderella Carriage necklace is designed to hold a pearl or small decorative bead, but I think it's pretty enough to use with or without embellishment.  The necklace is designed and sold by AOS Design Inc. and can be found at www.princessofglam.com or www.etsy.com/shop/aosdesign.
The first thing I do when I receive something in the mail is to notice the packaging.  The necklace arrived in plenty of bubble wrap and a padded envelope providing protection against damage while shipping.  It came in a pink gift bag, which makes it ready to go for gift giving and for travel if you take this necklace to Walt Disney World with you.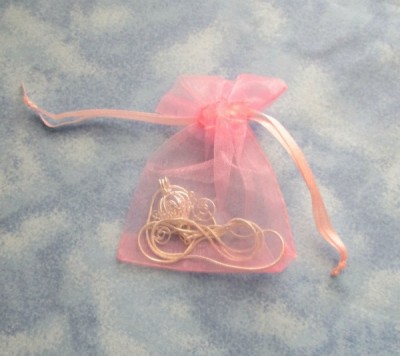 The cage and necklace are silver plated over copper.  The chain, also silver plated, is eighteen inches long.  I prefer a longer chain, but you can use the chain that comes with the carriage or use your own chain.  The best feature of this Cinderella Carriage is the exquisite detail that is in the design!  It's a relatively small carriage, which makes the intricate details of the design all the more amazing!  The curves and hearts in the wheels give the carriage a balance of whimsical and classical features.  It's truly a beautiful necklace, and I think it's appropriate for all ages from young girls to grown women.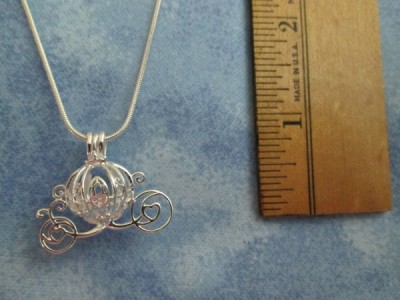 Of course, this necklace can be used for any occasion or for a special gift with or without the pearl or bead, but I think the perfect use for the Cinderella Carriage is to buy the necklace before a Walt Disney World trip.  In Epcot's Japan Pavilion, there is a large department store called Mitsukoshi.   Inside the store, guests have the opportunity to pick a oyster to get their very own special pearl souvenir.  After getting the pearl, there are various settings such as earrings, rings, and necklaces you can buy, though the settings at Epcot can be a little pricey.  If you plan ahead and buy a pearl setting such as this Cinderella Carriage necklace, you're saving money and you're all set with an immediate beautiful setting for your new pearl!  It's a win/win situation to have this necklace in hand if you plan to get a pearl in Epcot.
If you're buying this for your daughter, I think it would be fun to gift the necklace to her at a Princess character meal or after a character meet and greet and then take her to Epcot's Japan to pick a pearl!
My family has not picked an oyster pearl in Epcot yet, but we did open an oyster for this review and we were riveted with anticipation as the shell opened and we saw our pearl!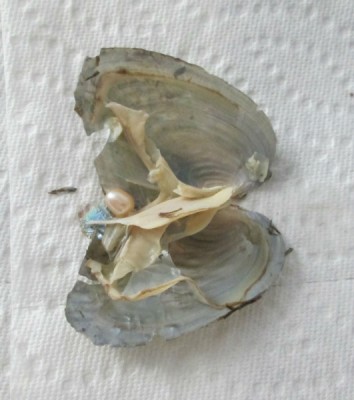 We discovered that you have to take the Cinderella Carriage off the chain in order to place the pearl into the carriage, and that gave us security knowing that the pearl would be safe and not fall out of the carriage.  The carriage can hold a pearl or bead of a size up to 10 mm.  Our pearl fit nicely into the carriage.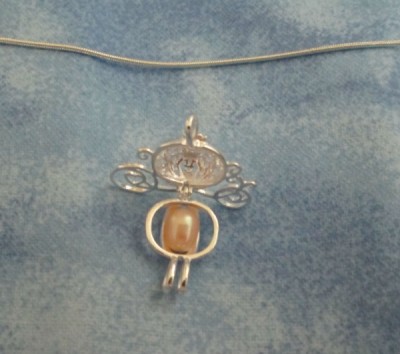 If you do decide to get a pearl in Epcot, it's an experience you'll always remember.  The Cinderella Carriage necklace is the perfect keepsake for your pearl!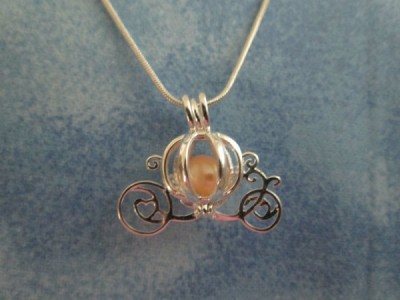 Incoming search terms:
https://www themouseforless com/blog_world/cinderellas-carriage-can-magical-pearl-setting/