This post may contains affiliate links for your convenience. If you make a purchase after clicking a link we may earn a small commission but it won't cost you a penny more! Read our full disclosure policy here.
After dozens of vacations to Walt Disney World, my most recent trip was full of firsts!  My first marathon, my first stay at Disney's Polynesian Village Resort, my first time eating breakfast at 'Ohana, first time having dinner (with 40+ friends) at Kona, among others!
When I pulled the trigger and registered for the Marathon, my husband and I talked about where we should stay.  Typically we stay in our beloved Beach Club Villas but having just been there in November and spending the majority of our time at Epcot, we wanted to focus on the Magic Kingdom a little bit more and figured being on the monorail loop would be very convenient! We are fairly new Disney Vacation Club owners and looked at the monorail resort options – both for point value and availability.  I was surprised that the new Polynesian (studio) Villas came in lower than Bay Lake Towers.  They were definitely cheaper than the Villas at the Grand Floridian.  I was slightly skeptic as I always found the Polynesian decor to be so dark – in the way of colors, not mood!  However, I am a fan of brand-spanking-new so we figured if we could book the Polynesian, we would!
As luck would have it, we were able to successfully book a Polynesian Studio Villa for 4 nights.  Another factor that played into this was that we were hoping to make several advanced dining reservations (ADRs) at the Polynesian between 'Ohana and Kona Cafe as they both offer such amazing breakfast and dinner options.  I also knew from some marathon research that the monorail would be running in those early hours of race day so that I'd easily be able to get to the race start!  Added to the convenient location, the new studio villas were designed to fit a family of five, which we are, with the pull-down twin bed for the fifth person.  While we eventually added an extra night to our trip just a few days before we were due to leave, we stayed the first night at another resort since just three days before we checked in, the Poly wasn't available for an extra night. The morning we switched resorts, we arrived at the Polynesian about the same time we had estimated we would have had we flown in that morning and taken Disney's Magical Express to the resort as originally planned.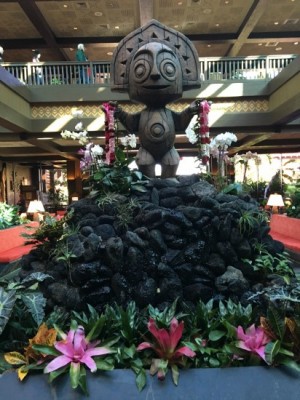 So Friday morning, less than 48 hours before the start of the marathon, we checked in to Disney's Polynesian Villas which shares its front desk and lobby with Disney's Polynesian Village Resort in the Grand Ceremonial House.  I was feeling very festive upon arrival and as soon as we were out of our Uber, I announced to the closest Cast Member who looked like he may possibly greet new guests that we were checking in and it was our first stay…. I wanted my lei!
After receiving our leis, we were escorted inside the Grand Ceremonial House and quickly checked in.  Our room was ready and we had a late breakfast ADR at 'Ohana (serving more as lunch) within 15 minutes so my middle daughter and I ran to drop a couple of bags off in our room.  Our room was located on the 3rd floor in the Tokelau Longhouse.  Even though there was some construction outside of our Longhouse being done on the East Pool, we had no problem with our room location at all.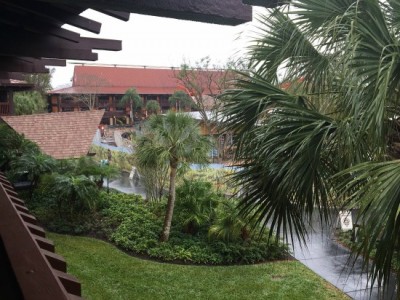 Upon entering the room, I could feel the smile spread across my face!  I could tell instantly it would be great for us.  The room is a very good size and our studio boast two bathrooms (one with a gorgeous rain shower and sink/vanity and the other a tub shower, sink/vanity, and toilet), a kitchenette, a queen sized bed, a queen sized pullout, a pull-down twin size bed, a table and chairs, a closet, and a decent size hallway that you entered!  We quickly explored the room before running off to our 'Ohana meal and I was very excited about the decision we made to stay there.  Off the balcony, you could even see Cinderella Castle!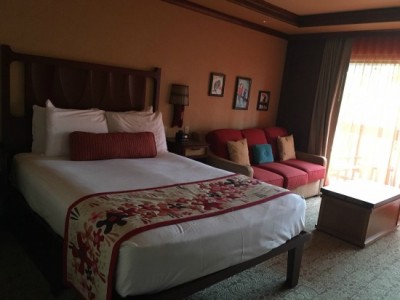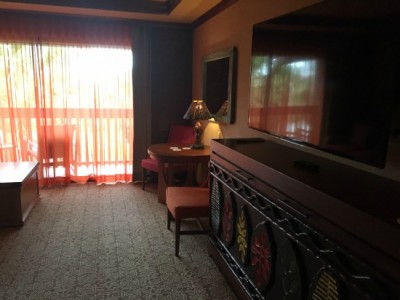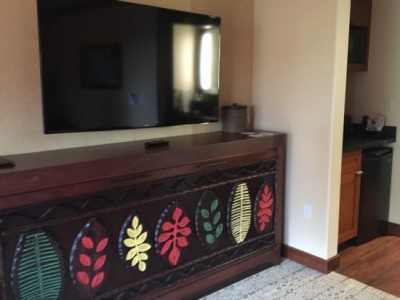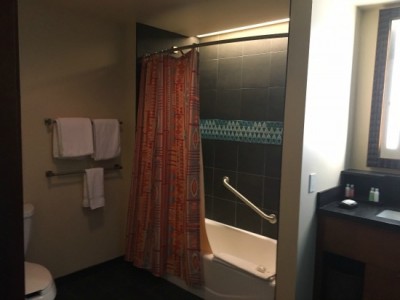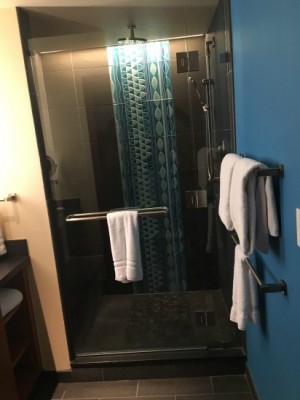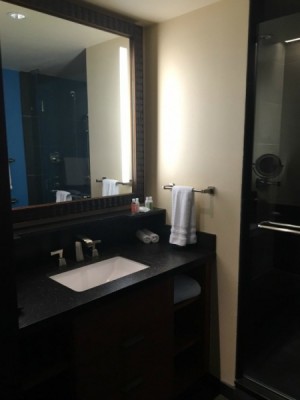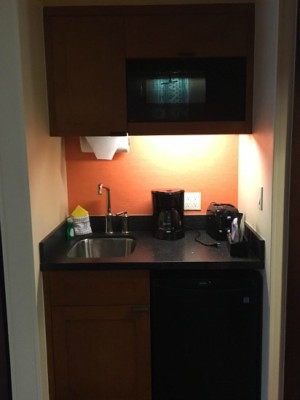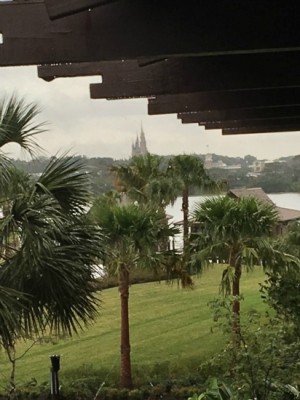 After our delicious breakfast at 'Ohana, we simply walked over to the monorail station and hopped on the resort loop monorail and head to the Magic Kingdom.  Leaving the Magic Kingdom was just as easy, hopping back on the monorail to return to our resort!  I really liked that the DVC section of the Polynesian was right there in the heart of the rest of the resort.  While being separate has its appeal at other resorts, at the Polynesian, I appreciated the short distance to the Grand Ceremonial House where all of the restaurants, monorail, and shops were.  Dinner was super easy to get to as it was also in our resort at Kona Cafe!
After dining with 40 something of our dearest friends, we started to walk back to our room just as Wishes started.  Not only could we see Wishes across Seven Seas Lagoon, we could also hear the music as it was piped in to the resort.  We were able to watch the amazing show from right where we stood at the pool entrance, and be back in our room only a few minutes after it ended. I loved how I didn't feel segregated in our Longhouse but could walk to the end of the hallway and see all of Seven Seas Lagoon, the new Bungalows, the Magic Kingdom, and other Magic Kingdom Resorts.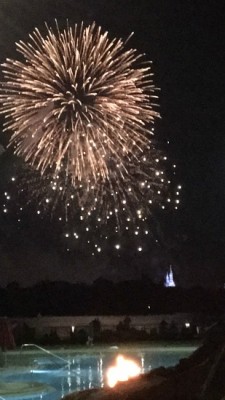 I was so thankful for our resort choice again the next morning.  I planned to chEAR my teammates who were running the half marathon on Saturday morning.  My friend Scott was driving over early and we were going to walk next door for about 5:45 am to meet more friends!  As Captain Cook's is open 24-hours, we darted in there to grab a quick on-the-go bite and coffee for me! Within just a few minutes we were at the Ticket & Transportation Center (TTC) to chEAR on the runners!  The walk wasn't even five minutes, which was perfect since I only had to walk back to meet my family for our breakfast ADR at Kona!  How much more convenient can you get?
We spent that morning at the Magic Kindgom, and left for lunch at the Contemporary's Wave Restaurant, followed by a Be Our Guest Podcast Meet outside of Contempo Cafe!  Since this was the afternoon before my marathon, I knew I wanted to turn in early.  We took the monorail over to the Poly after the meet and grabbed something small to eat at Captain Cook's before heading to our room.
Once back in the room, my husband and I planned the next morning.  I was planning to be up and ready to go before 3:00 am.  The monorail service began at 3:00 am the mornings of the half and full marathons so I planned on taking the monorail to the TTC to switch over to the Epcot monorail and head over for the race start!  (Yes, as Scott pointed out after I was already on the resort monorail, I could have much more quickly walked to the TTC but at 2:45 am and with my first marathon nerves, I wasn't thinking clearly! That's my story and I'm sticking to it.)
My husband and three children planned to meet back at the TTC to chEAR on Sunday morning so it was a quick walk for them.  Post chEARing, everyone walked back to the Poly for another breakfast at Kona!  Do you see a pattern here?  We're walking or hopping a monorail every time we leave or come back to our resort!  It's super convenient, especially with double stroller!  No emptying it out and folding it up!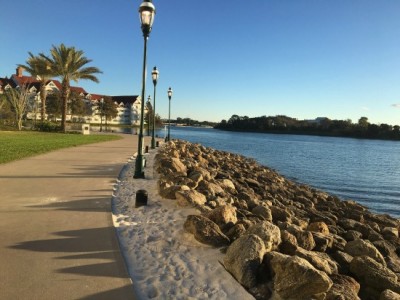 The pattern continues, monorail back, monorail over to Top of the World Lounge (located at Bay Lake Tower, via the Contemporary), monorail back, walk over to the Grand Floridian for breakfast at 1900 Park Fare the next day, monorail to the Magic Kingdom, monorail back, walk back to the Grand Floridian for dinner at Narcoossee's.  It was so easy.  So gorgeous.  So convenient.   While budget is likely the most important factor in selecting a resort for your Walt Disney World vacation, location is huge factor for us.  For marathon weekend, being next to the TTC and on the monorail loop was priceless.
What are your thoughts on Disney's Polynesian Village Resort? Share in the comments!
Want to book your own stay at Disney's Polynesian Village Resort? Get a free, no obligation quote.