This post may contains affiliate links for your convenience. If you make a purchase after clicking a link we may earn a small commission but it won't cost you a penny more! Read our full disclosure policy here.
While Pop Century is probably my favorite value resort, the All Stars are also excellent choices.  Consisting of All Star Movies, All Star Music, and All Star Sports, this resort trio has much to offer thrifty guests.
A great benefit to staying at any of the All Stars is their close proximity to one another.  For example, guests staying at the Movies resort may walk over to Music and Sports and explore their unique outdoor décor.  All Star guests may eat at any of the three resorts' food courts and take a dip in any of their pools – all of which are within walking distance from one another.
Another benefit is that the bus system connects all three resorts.  Therefore, guests waiting on transportation from Magic Kingdom back to the more popular Movies may choose to take a Music bus if none is available in the Movies line.  The Music transportation hub is a short walk away from the Mighty Ducks section of Movies, and in fact, may be slightly closer to some of the Mighty Ducks' rooms than Movies' own bus stop.
Choosing among the All Stars requires taking a look at each individual All Star resort.  Movies is my sentimental favorite.  Like its value cousins, huge icons saturate the grounds.  You will find the greatest abundance of specifically Disney statues at Movies.  Themed after popular animated films, each section includes some of Mickey's most famous friends, and even the big Mouse himself.  I recommend families visiting the World for the first time choose this resort in order to be surrounded by all things Disney.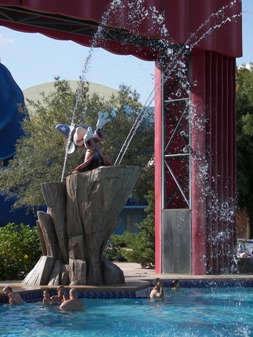 Mickey and his musical friends are at the heart of the resort.  Young guests will not be disappointed in the huge Fantasia pool and its cheesy host.  Toy Story lovers will squeal in delight at the giant Buzz and Woody figures and beg to sit on RC's "lap".  For a challenge, count Pongo, Perdita, and their many Dalmatians. Can you guess how many you'll discover?  Herbie and the Mighty Ducks round out the resort's celebrities
As young guests delight in All Star Movies, the more melodically inclined may prefer its neighbor, All Star Music.  The unique features of this resort include huge instruments, giant cowboy boots, and Broadway billboards.  Although we will be staying at a different All Star's resort on our upcoming visit, my sons are already looking forward to taking a dip in the guitar-shaped pool.
Music is currently the only value resort that offers family suites.  Larger families may choose this type of room, which sleeps six people and includes two bathrooms and a small kitchen area.  Music is also located in the center of the All Stars, making it a convenient location for exploring all three resorts.
All Star Sports, the last of the three resorts, caters to the sports fanatic.  Our family has chosen these quarters for our next Disney vacation.  Our young athletes are looking forward to seeing larger-than-life football helmets, basketball goals, and tennis racquets.  The Surfboard and Grand Slam pools will be visited numerous times. Even this sports mom is giddy about staying here.
All Star Sports appeals to some visitors because the buses stop first at this resort.  If Sports guests fill the bus to capacity, it will drive directly to the park rather than continuing to the next All Stars.  At the end of the day, being at Sports is most convenient because it is the first resort at which guests are dropped off.
Have no fear Music and Movies fans! The number of buses sent to and from a resort (or a resort complex, such as the All Stars) is based on the number of rooms within the resort; therefore, Disney will have many buses available for all guests of the almost 6,000 room All Stars complex.
Disney gives guests on a budget a fantastic assortment of resorts from which to choose and is continuing to take care of their more frugal visitors.  Next year, a new value is slated to be opened.  The Art of Animation, designed around favorite characters Simba, Nemo, Arial, and Lightning McQueen, is certain to be another big hit, making the question of which value resort to choose even more difficult!