This post may contains affiliate links for your convenience. If you make a purchase after clicking a link we may earn a small commission but it won't cost you a penny more! Read our full disclosure policy here.
While some people choose to splurge on their once-in-a-lifetime Disney vacation by staying at deluxe resorts, our family has chosen to seek a more economical plan for our favorite vacation spot so that we can continue visiting the World year after year.  Part of this plan includes staying at a value resort.
As a family of five, we have been forced to upgrade at times to a moderate resort.  However, when the grandparents come along, one child rooms with them, allowing us to stay at one of the values.  We must then decide which to choose from.
Currently, the value resorts consists of Pop Century and the three All Stars (Sports, Music, and Movies), each similar in price and perks.  All value resorts include pools, a food court, a gift shop, an arcade, and a television in the lobby playing favorite Disney cartoons to entertain restless children as parents check in.  Yet enough differences exist to enable guest to select a preference from among the values.  Furthermore, once a resort is chosen, guests may then request specific sections within their selected accommodations.
A relatively large complex, Pop Century consists of sections designed according to decades of the twentieth century, ranging from the 1950s to the 1990s.  Colossal icons representing America's favorite gadgets from the past permeate the grounds.  Many of these giants, such as a jukebox, a Big Wheel, and a can of Play-Doh, are not specifically Disney related.  However, Disney images can easily be found and include  enormous statues of characters from Lady and the Tramp and The Jungle Book and a larger-than-life Mickey Mouse phone.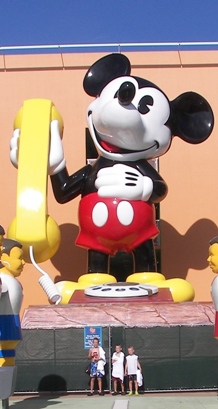 Throughout the resort, "hidden treasures" may be found. One of my favorites is the Twister game, complete with a board built into the ground and a spinner.  A humorous attempt at this game by our boys provided a playful Disney moment on our most recent trip. My husband and I like the oversized Mr. and Mrs. Potato Heads and have been known to strike a pose with this famous couple.  Another treasure is Goofy's Pop Jet Playground.  Both children and adults may dodge water as it propels from the ground.  While our sons are more entertained by the pools, they do enjoy taking a few minutes to splash around with one of their favorite characters.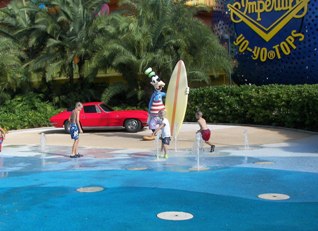 Pop Century offers three themed swimming pools throughout the resort: an enormous bowling pin pool, a gnarly hippy-dippy pool, and a hi-tech laptop pool.  Each allows a refreshing break from the Florida heat and time to relax after a busy day at a park.
Being the newest value resort, Pop also appears to be the cleanest with brilliant and beautiful colors on the buildings and icons.  The brightness contributes to the excitement and joy among its guests.
Only one bus stop per park exists for the entire Pop Century Resort.  While buses are constantly traveling back and forth from parks to Pop throughout the day, a large crowd is likely at each stop, particularly during the morning and evening rushes.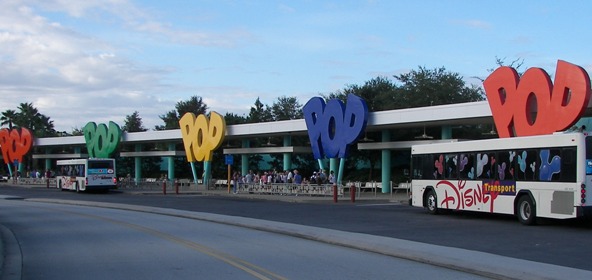 Our family has stayed at Pop Century twice and never noticed an exceptionally longer wait time for transportation than at other resorts.  It appears that Disney sends more buses to and from Pop in order to accommodate its large size.  Even as Magic Kingdom closes at night, it is not unusual to see two buses at a time picking up guests to transfer back to Pop.
The walk to the bus stops may be quite a hike, depending on room location.  On our first trip, we stayed in the back of the 50s section and were ready for a break when we reached the bus stop.  On our most recent trip, however, we stayed in the 90s section and found a relatively short trail to the buses. When choosing which section of the resort to stay in, guests should consider not only the unique themes, but also the proximity of the rooms to important locations like the parking lot, the food court, the pools, and of course, the bus stops.  Note that rooms closest to these popular destinations may cost slightly more than rooms farther away.
Pop Century is special to our family.  We chose this value resort for our first trip to Disney World as a young family and returned again on our most recent trip with aunts, uncles, and grandparents.  While others may disagree, I must choose Pop as my favorite value resort, primarily for the clean, brightly colored appearance and the nostalgic icons throughout the property.