This post may contains affiliate links for your convenience. If you make a purchase after clicking a link we may earn a small commission but it won't cost you a penny more! Read our full disclosure policy here.
From Our Magically Speaking Newsletter Archive – subscribe today!
Ann Dunnington
As I sit here on a bumpy plane ride heading to Atlanta from Fort Lauderdale, it hit me that my next trip to The Walt Disney World resort is only 4 months away.
This was a totally a spur of the moment trip, as this was going to be an "off year" for us. We will be spending a week offsite in the Orlando area, about 30 minutes from the parks. The goal of the trip actually ISN'T a Walt Disney World vacation, but since we are going to be in the area anyway, we have decided to do one evening at the Magic Kingdom for Mickey's Very Merry Christmas Party, and a full day at EPCOT. It has been almost 20 years since I have done an offsite stay with minimal park time like this, and this got me thinking. If I could only do one thing at Walt Disney World, what would I do?
My husband and I both answered the following questions (quite similarly, actually), and, I would love to hear your preferences as well!
If I could only choose one…
Ride at Magic Kingdom
My husband and I differ on this one. For me, it's Pirates of the Caribbean. This is a classic attraction that is an absolute favorite of mine. The dark, cool feel of the queue with that lovely jazz alto flute music, the smell of the water, the classic ship, Tortuga, and prison scenes… it's just an overall wonderfully nostalgic ride for me.
My husband, however, picked the Haunted Mansion. Another classic dark ride, he loves the theming, music, Ghost Host, doombuggies, and all of the little hidden details. I do have to agree, as far as theming goes, this attraction really can't be beat. It didn't make my number one, though, because this ride, no matter how many times I do it, always makes me jump. I could recite the entire script, tell you about every scene, and sing along with the music, but that doesn't take away the spooky factor, which isn't necessarily my cup of tea.
Ride at EPCOT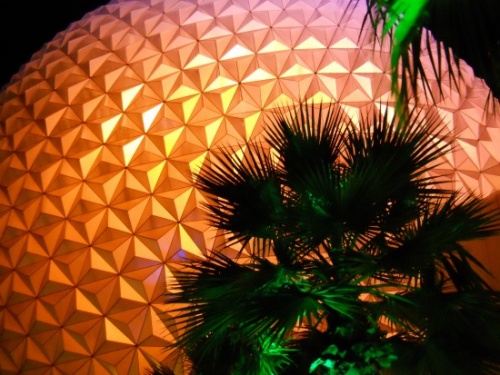 This was a very difficult, yet easy decision for us. EPCOT is by far our favorite park, and though we love most every single attraction with the exception of a few, our absolute favorite is Spaceship Earth. Both my husband and I went to EPCOT as young children, so the nostalgia factor is definitely present. We love the mural at the entrance of the ride, the smell of Rome burning, the music (which was composed by a friend of ours, so maybe we are a little biased), and Dame Judy's narration, not to mention making funny faces for the camera to be played in the video at the end.
Ride at Hollywood Studios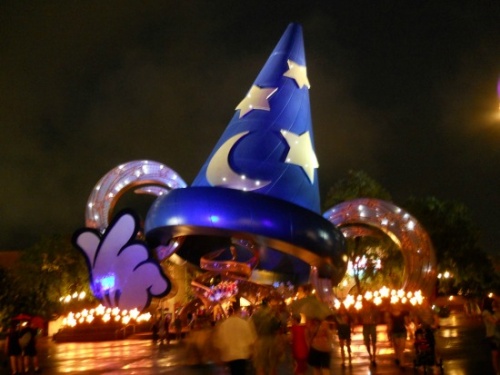 As for our next choice, watch this video…if you dare. So, after watching us ride the Twilight Zone Tower of Terror, would you believe that this is both my husband and my favorite attraction at Hollywood Studios?! Believe it or not, I can now ride this ride numerous times in a row with my arms up! Who woulda' thought?! First of all, the queue! Oh the queue. If you're too scared to ride this ride, at least take some time to walk through the queue and pre show video, and take the "chicken exit", which is a regular elevator that takes you up to the exit. The hotel is so grand, and the theming of the music and lobby decor paints a very realistic picture of what life was like back in 1939. The cast members really help to play the part as well. Once on the vehicle, the suspense builds as you know that the drop is coming, and at the end, all you hear from the guests around you is chatter and laughter. This is my all-time favorite at Hollywood Studios, and my husband agrees.
Ride at Animal Kingdom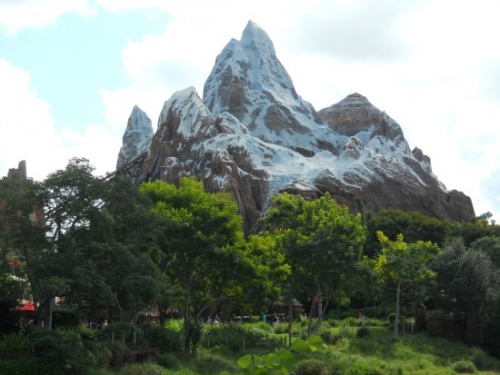 Again, my husband and I part ways in our opinions. My favorite ride at Animal Kingdom is Expedition Everest. The work that Imagineer Joe Rhode did to theme this ride is unbelievable. The queue is like walking through a museum, and it really sets the stage for what is to come. The ride itself is very smooth, not too intense, and though Disco Betty the Yeti is now more appropriate for Soul Train than Expedition Everest with her strobe light, this is by far my favorite ride at Animal Kingdom.
My husband, however, picked something different. He didn't pick a ride, but rather, an area. The Oasis is my husband's favorite part of Animal Kingdom because it's quiet, shaded, and is quite relaxing! You have the opportunity to see exotic birds, reptiles, waterfalls, and beautiful plant life, and can hear incredibly pretty music around you as well. Because of this little sanctuary amongst the busyness that is Walt Disney World, this is my husband's top pick.
Overall Ride
If we could only pick one ride in all of Walt Disney World to ride, my husband and I both agree that Spaceship Earth would be the winner, for the reasons mentioned above. This is part of the reason that we picked to do our full day at EPCOT in December.
Hotel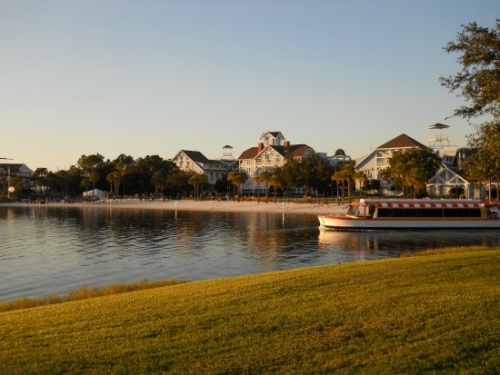 Again, my husband and I agree on this as well. Since EPCOT is our favorite park, we had to choose a hotel that was close by. That left us with The Boardwalk, The Yacht and Beach Clubs, and the Swan and Dolphin. Deciding amongst these was very difficult. However, after thinking it through very carefully, we settled on the Beach Club. Here's why. First, we like to rent Disney Vacation Club points from members that will not be using their points that year. By doing this, we get a really nice hotel room for a fraction of the cost. The Beach Club has DVC rooms, so that bumped it up the list for us. Second, you cannot beat the location to EPCOT. You can walk to the back International Gateway entrance within 10 minutes, and even watch Illuminations from the bridge right outside the resort. Third, three words… sand bottom pool. Fourth, we love the dining options. Yachtsman Steakhouse is one of our favorites, as is Beaches and Cream. So, the Beach Club was the winner!
Restaurant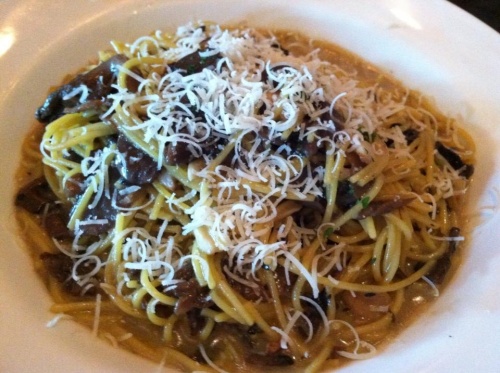 This was difficult for us to choose as well. There are SO many wonderful restaurants on Disney property, all with different themes and signature dishes. We both agreed on one restaurant though that we would return to time and time again. Drum roll please…. the winner is il Mulino in the Walt Disney World Swan. This Italian restaurant was being built during our honeymoon in 2006, so our first actual visit was in 2007. The chefs and wait staff are so knowledgeable about food allergies and offer tons of yummy options to fit every palate. The ambiance is quiet and classy, and the restaurant, being off the beaten path, is generally not crowded at all. This is not a Disney owned restaurant, but you can make reservations through My Disney Experience if you wish. If I could only choose to eat at one single restaurant at Walt Disney World, il Mulino would be it.
Extinct Attraction
So this final question is a bit of a bonus. If we could bring back any one attraction, what would it be? My husband and I have differing views on this. For me, bring back the Dreamfinder! I loved the old Journey Into the Imagination with Figement at EPCOT. The colors, the animatronics, the song, the nostalgia…. has now become about the 5 senses. Are the 5 senses related to imagination?
My husband would want to bring back Horizons at EPCOT.   This classic attraction was way too short lived, in my opinion, and one of my favorites as a kid. If you haven't ridden this ride, check it out on YouTube. Take note of the music- you may recognize one of the songs from a different park (wink wink)!
Ok dear reader, now it's your turn. If you could only do one ride, restaurant, resort and extinct attraction, what would they be?
Magically Speaking Featured Article
Library of Congress ISSN:1556-3863