This post may contains affiliate links for your convenience. If you make a purchase after clicking a link we may earn a small commission but it won't cost you a penny more! Read our full disclosure policy here.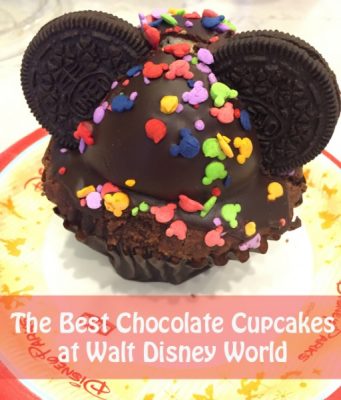 Did you know that today is National Chocolate Day?! Can I just tell you that I am ready to celebrate! I've been waiting all week to enjoy a great and special chocolate treat just for the occasion.
So, today, I thought I would share with you my love of both chocolate and cupcakes in my ode to the chocolate cupcakes at Walt Disney World.
As you may well know, cupcakes are a big deal at Walt Disney World. They are often the brunt of the joke when a special event happens, because let's be honest, usually there is going to be some celebratory cupcake you can buy. But I have to say, one thing that Disney is with cupcakes is creative with their design.
One of the most Disney-fied cupcakes you can get are the Mickey Mouse Ear Cupcakes. These are incredibly rich and have a good amount of chocolate in the icing, as well as in the cake portion. Oh and you can never say no to a dessert with Mickey sprinkles! Plus with the two Oreo ears, it's like two times the dessert.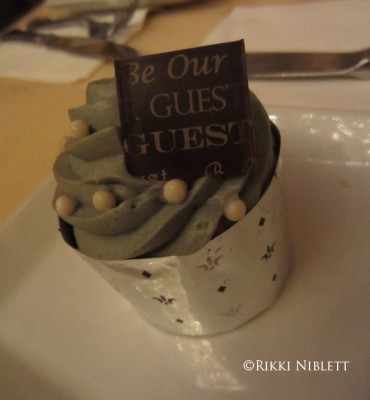 Looking for one of the most sought after cupcakes? It's the Grey Stuff Cupcake from Be Our Guest Restaurant. While this cupcake is a bit smaller than the other ones, this one has a great chocolate base with the yummy grey stuff swirled on top. (Basically a cookies and cream icing.) When they say try the grey stuff, it's delicious, it really is.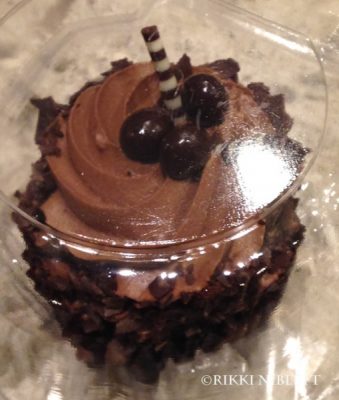 Another one of my favorite chocolate cupcakes available is the mocha cupcake. I've found this at the Main Street Bakery and I honestly think this is my favorite cupcake, hands down. It has a great mocha flavoring in the icing, plus the white chocolate straw, chocolate covered espresso beans, and a good chocolate base. The only thing that would make it better would be a mocha icing filled center.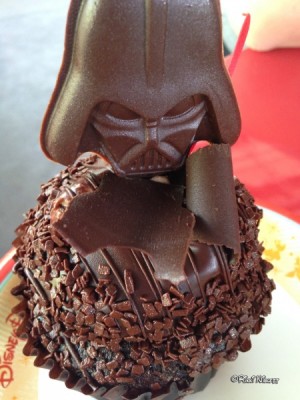 Do you love chocolate and peanut butter? Then you are going to want to stop and pick up a Darth Vader cupcake at Disney's Hollywood Studios? This monstrous cupcake includes a moist chocolate cake base, chocolate ganache, chocolate bark and a chocolate Darth Vader lollipop. But underneath the ganache is a peanut butter icing. Oh…it's so good.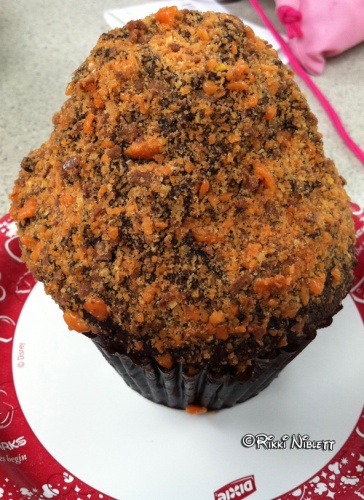 One of the fan-favorite chocolate cupcakes out there is of course one that I talked about recently with the best desserts at Walt Disney World and you can find it at Starring Rolls Café and that is the Butterfinger Cupcake. It's one of the best treats with its fantastic chocolate flavor, plus the addition of peanut buttery-butterfingers…it takes it to the next level. Tell me this isn't an incredible cupcake!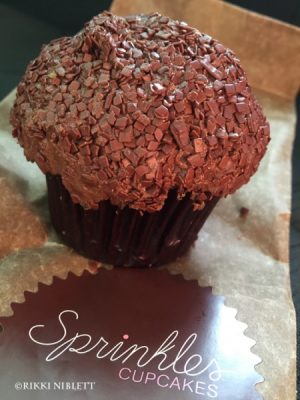 Are you shopping around Disney Springs and have a hankering for a cupcake? Head to Sprinkles!  Here, you can choose from a multitude of chocolate delights from the first official cupcake bakery. I love how they have some unique flavors mixed together that you can't find anywhere else.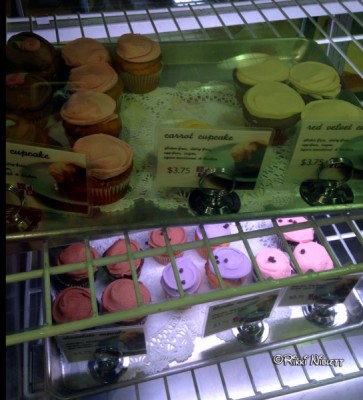 Looking for something that vegan? Try Erin McKenna's Bakery NYC at Disney Springs! Here you can grab a delicious and vegan chocolate cupcake that, trust me, you won't believe is.
Now it's your turn. Which chocolate cupcake is your favorite? Better yet, which chocolate dessert overall is your favorite at Walt Disney World? Share your thoughts in the comments!