This post may contains affiliate links for your convenience. If you make a purchase after clicking a link we may earn a small commission but it won't cost you a penny more! Read our full disclosure policy here.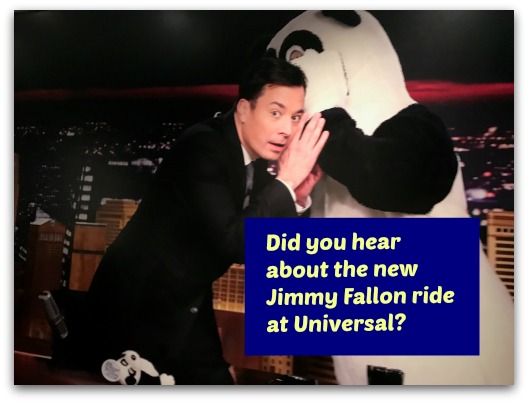 Did you hear about the new Jimmy Fallon ride at Universal Orlando?   We did and couldn't wait to try it out!
New Virtual Line at Universal
If you are heading out to Universal Orlando, a new must see ride is  Race Through New York Starring Jimmy Fallon.   As frequent park visitors, we have mastered the FastPass system and know when and how to navigate the parks to get the most out of our time at the Walt Disney World Resort.  However, the virtual line system is a new concept being rolled out at Universal Orlando and one we were excited to try out.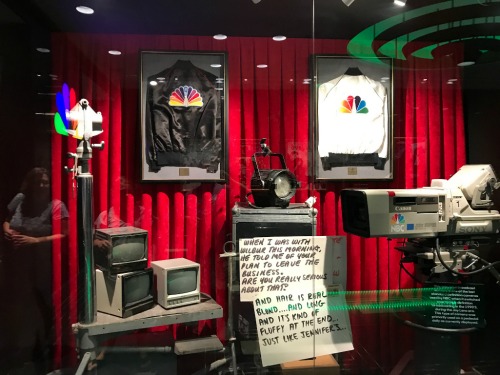 Pre show fun from NBC
Walking toward the 30 Rock building we felt like we were in New York City. The gift shop is full of Jimmy Fallon merchandise, and NBC memorabilia. Everything is eye catching and fun, creating even more excitement for the ride.
However as we approached the line entrance and were told that there were no more virtual line spots available for the day, we suddenly were not feeling as excited. Thankfully, we still checked the app to see for ourselves if we could secure a space.
What is unique about the "virtual line" is that you have to be on Universal property to get a reservation.  The Universal Orlando app allows you to go online and reserve your spot, but unlike Disney you can't do this from home or many days in advance.  We happened to find a spot 2 hours later so we were able to prepare to enjoy the ride.
The Ride Pre Show is So Much Fun!
At our appointed time we returned to the ride.  We were welcomed into the lobby where we had a walk down memory lane, seeing pictures and scenes from Tonight Show hosts present and past.  Jack Parr to Jay Leno and Johnny Carson are featured on the walls.   The main floor lobby is TV magic.
Upstairs an area of sofas and gaming tables and video clips from The Tonight Show play on larger than life screens.  High energy and fun, but also a great place to chill and relax. Phone charging stations are available as well.
Each guest is given a color coded card as they enter the lounge area.  The colors are displayed and announced to enter the line queue.  It's a great way to keep people moving through the attraction without having to stand in line.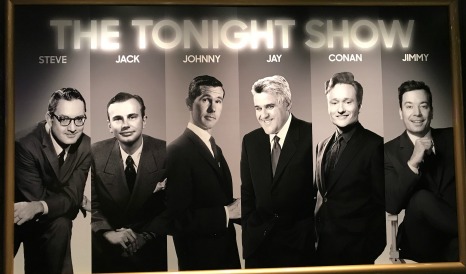 The Tonight Show Hosts
There are also many different kinds of pre-show entertainment, including Hashtag the Panda and The Ragtime Gals.
The overall ride is all about Jimmy Fallon and being part of his crazy adventure.  The safety precautions rap sets the stage for a ride that has character and makes each rider feel like they are part of the show. A journey through New York City, racing Jimmy Fallon, with twists and turns along the way. A definite must do ride for all visitors coming to Universal Orlando!
Our virtual line tips:  Make sure you check the Universal app as soon as possible to secure your spot on the line.  There are only so many spots available each day, so get there early.
If you are looking to book your next trip to Universal Orlando, contact our partner travel agency, The Magic for Less today!
Have you experienced the virtual queue yet? What were your thoughts? Share them in the comments.
Did you like this article? Make sure to share it with your friends! Check below for easy ways to share!