This post may contains affiliate links for your convenience. If you make a purchase after clicking a link we may earn a small commission but it won't cost you a penny more! Read our full disclosure policy here.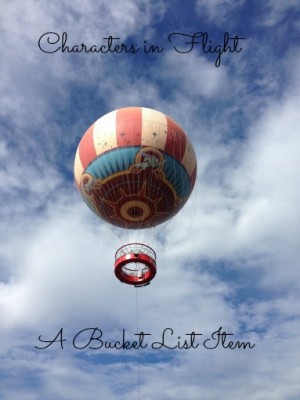 I have a Walt Disney World bucket list and among the items on that list are a meal at Cinderella's Royal Table, participating in the afternoon parade as Family of the Day, staying at Animal Kingdom Lodge with a Savannah view and riding Characters in Flight at Downtown Disney. Luckily, I am able to say that I completed one of those items during our last visit and I crossed Characters in Flight off the bucket list.
Characters in Flight is a must do at Downtown Disney/Disney Springs. Visitors are taken up 400 feet in the air and allowed to "fly". I cannot describe this attraction as a ride in the vein of Tower of Terror or Space Mountain, but I certainly wouldn't say it is like Small World or Peter Pan either. It is in a class all by itself.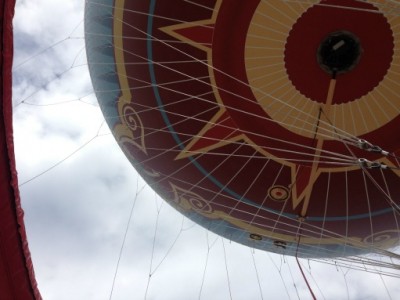 Just in case you miss the incredibly bright, hand painted yellow and red balloon you can look for it behind the Starbucks on the water at Downtown Disney/Disney Springs. It is an immense balloon, that when in the air, can be seen upon entry to Downtown Disney as well as when you arrive to the World. It is also covered in 30 silhouettes of some very popular Disney friends such as; Mary Poppins, Peter Pan and Tinkerbell to name a few. Perhaps their appearance on the balloon helps it fly a little better, I would like to think so. It always makes me smile to see that floating orb in the air knowing that I took the ride.
The concept is pretty basic. Characters in Flight is a helium-filled air balloon that is attached to a steel donut platform that riders stand on to get some amazing views. The steel platform is enclosed by a net, so no worries about what to hold on to and the donut shape allows for thick, steel cables to attach the balloon to a base on the pier that allows the balloon to go up and down. The balloon holds 29 people plus the Captain, but when we took our excursion we were lucky enough to be on a journey with only two other people thus allowing us to roam freely on the platform.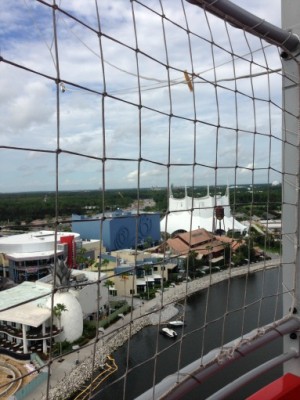 Not gonna' lie, as excited as I was to be completing my bucket list item, I was a little nervous to move about once the journey began. It certainly didn't take me long to discover my "air legs" and loosen up. I am so glad I did though.
Our Captain encouraged us to walk about and take in the beauty the ride had to offer. The views were breathtaking and while speaking to the Captain of our voyage he informed me on a clear day you can see up to 30 miles in the distance. Just our luck it was a beautiful clear, blue sky day. When my son and I took our excursion I was amazed at all we could see. At the time, we were staying at Caribbean Beach Resort and my son was quick to point out that he could see the metal roofs of the buildings. We were able to see the EPCOT ball while on our flight as well.
Our voyage lasted about 10 minutes and it was worth every minute. Being able to clear my mind while taking in such incredible views, feeling the crisp air on my face and taking a deep, relaxing breath just solidified that I was on vacation.  The helium balloon was specially created for Walt Disney World by a Parisian company named Aerophile.
Right before your journey begins, you can have your picture taken in front of the balloon and later purchase it as a 5×9 photo, a key chain or both for an additional charge. The fee for the experience is $18.00 for adults and $12.00 for children and flights only run on clear, non-windy days to ensure everyone's safety.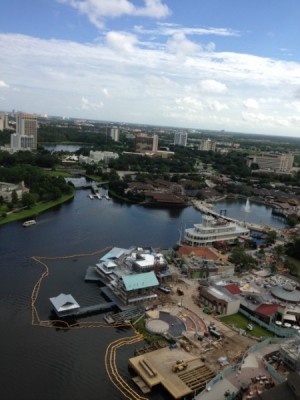 If you are at Downtown Disney/Disney Springs and see Characters in Flight in operation, seize the moment and jump on. This is truly an adventure you and your companions will certainly not want to miss.
Have you ever done Characters in Flight while visiting Disney? Let us know your thoughts in the comments.