This post may contains affiliate links for your convenience. If you make a purchase after clicking a link we may earn a small commission but it won't cost you a penny more! Read our full disclosure policy here.
From Our Magically Speaking Newsletter Archive – subscribe today!
By Tim Rogers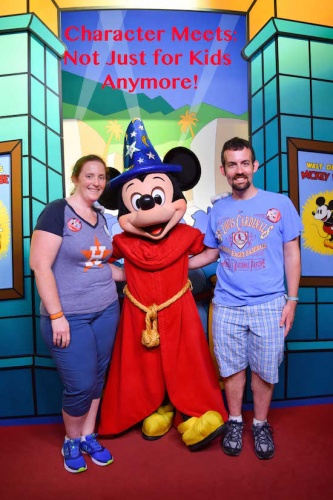 Part of the magic of Walt Disney World is that it is a place where visitors of all ages can recapture the spark, joy and imagination of childhood. And while many adults embrace many facets of the Disney magic, some still resist one of the opportunities that can be the most magical – character meets. My advice and challenge to those adults: embrace the character meet!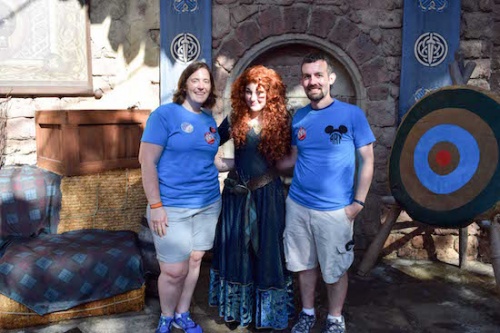 Specifically, I have discovered a few pointers related to character meet and greets and would like to share them here. First, do your research. Each of the Disney parks have an abundance of scheduled character meeting times and locations, and understanding this schedule can help you plan your top choices without spending all day waiting in line. Moreover, knowing which characters have Fastpass+ availability can help save even more time.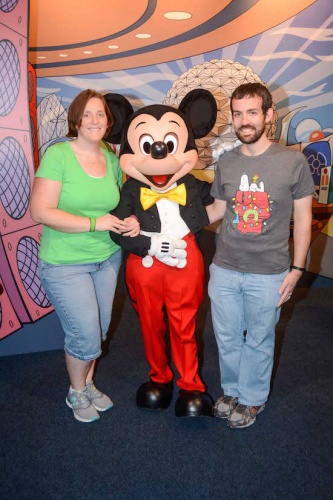 This brings me to the second tip, which is have a plan. Some characters appear in multiple parks, so you might be able to focus your time and energy on the more unique characters in each location if you know this ahead of time. Additionally, some characters have different outfits depending on where they appear, so if you are looking for a specific look, you need to plan accordingly. For example, Donald has a wide array of outfits, from safari to fiesta.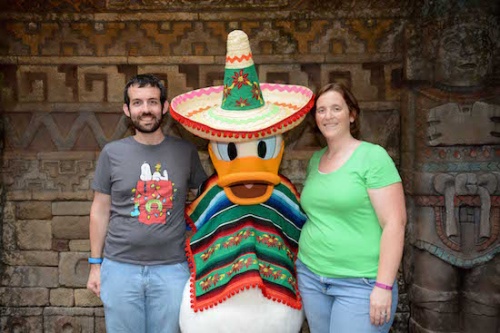 Third tip, watch out for special events, and take full advantage of them. Throughout the Disney year, there are numerous events that have unique and exciting character meetings. One of the events with the most unique character meetings is Star Wars Weekends, where you can see everyone from Jedi Mickey to Chewbacca.
Two of the other character rich events are the Mickey's Not So Scary Halloween Party and the Mickey's Very Merry Christmas Party. These parties are essentially the only way to get a picture with the Seven Dwarfs, but also give you the possibility of seeing other rare characters, from the Genie to Scrooge McDuck.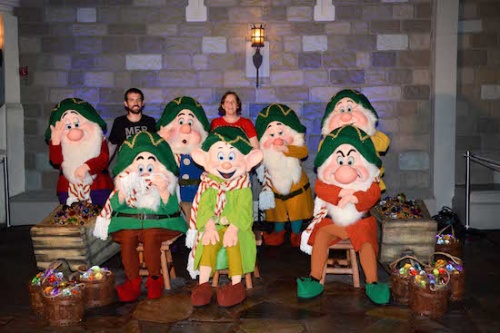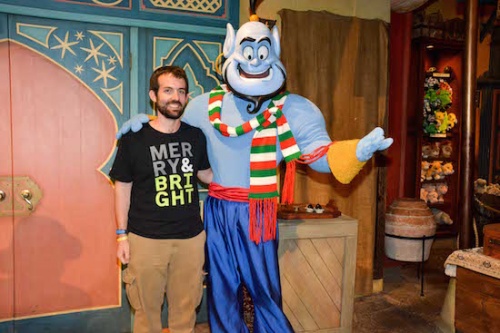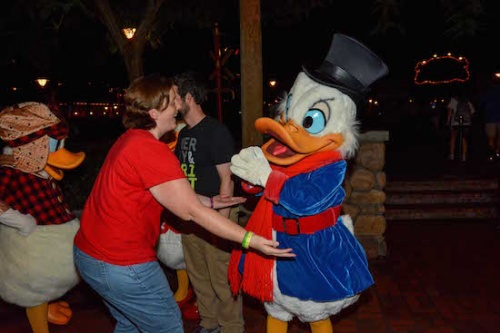 Additionally, many Run Disney events feature special and rare characters along the course for participants, so if you are running make sure you bring a phone or something else that can take pictures with you.
My fourth piece of advice for meet and greets is to dress accordingly. The first time I really saw this in action was when my wife and I tried to get to Toy Story Midway Mania right as Disney's Hollywood Studios was opening, but when we got there the wait was already over an hour. However, Buzz Lightyear and Woody had just started greeting right across the way, so we walked in and were the third group in line.
That day I happened to also be wearing my Toy Story aliens t-shirt, and when we met Buzz and Woody they preceded to take turns using "the claw" on my stomach. The combination of this and my extreme ticklishness not only had me doubled over, but had my wife laughing to the point of not being able to breathe as well.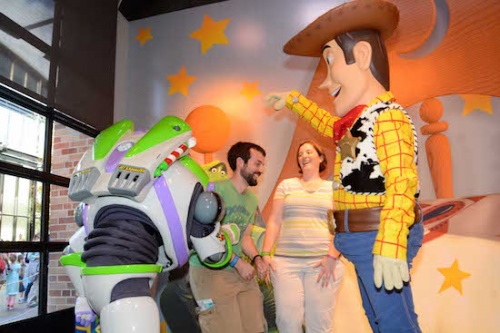 After that, she made me start wearing character shirts to their meet and greets. One of the other fun ones on that trip was Mr. Incredible, who liked my shirt, and Frozone, who seemed upset that I wasn't wearing a shirt featuring him.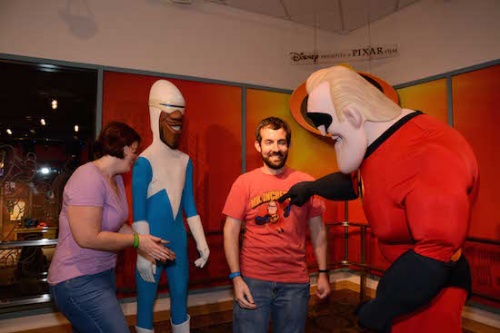 Giving the characters something to interact with, and then playing along, can make these greets a lot of fun.
The last piece of advice I have is to be flexible and ready for anything. While many characters are available at regularly scheduled times and locations, sometimes you will just happen upon them.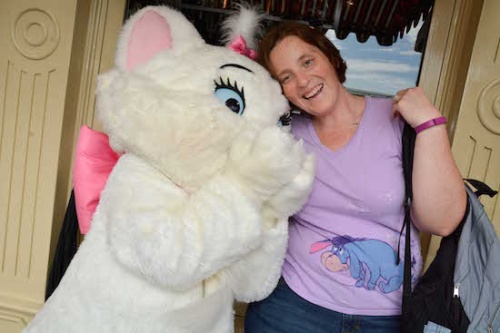 After a rainstorm, we ran into Marie near Town Square, probably the only time we've seen her without a line.
Being in the area when Santa Goofy was just coming out let us see him with only a short wait, where he was normally swamped.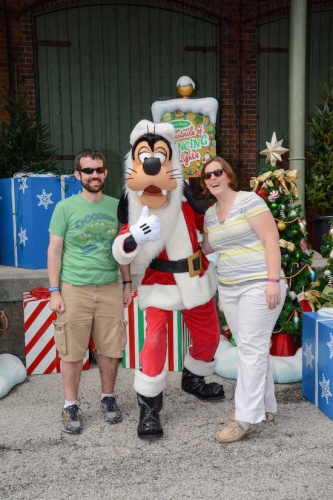 The main point, though, is to just have fun. Disney World is a place where you can visit places and friends you have only seen in the movies, and in doing so ignite some of the child-like joy we are all capable of. After all, as Walt Disney himself said, "adults are only kids grown up."
Magically Speaking Featured Article
Library of Congress ISSN:1556-3863