This post may contains affiliate links for your convenience. If you make a purchase after clicking a link we may earn a small commission but it won't cost you a penny more! Read our full disclosure policy here.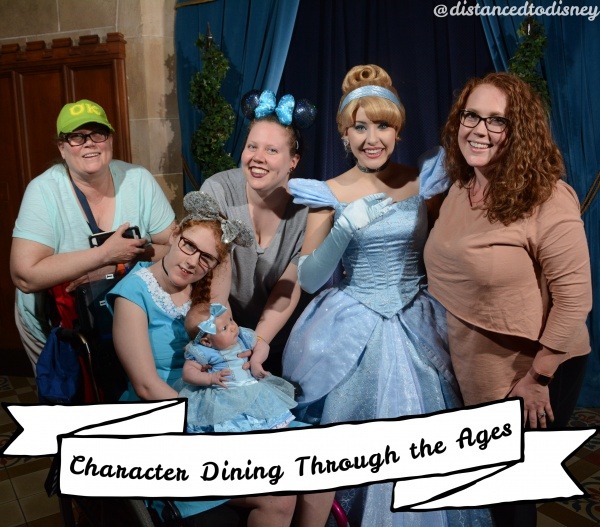 Editor's Note: This article was written prior to the parks closing due to COVID-19. We are not sure how character dining will be changing moving forward.
Whether you are 60 years old or 6 weeks old, Character Dining at Walt Disney World can be a great experience. Character Dining gives you the ability to sit down to a meal while meeting some of your favorite characters. Character Dining is great for families, couples sans kids, or even an individual.
For this post, I'm not going to rank our experiences or give much of an overview of each dining experience. Instead, I will talk about the benefit of taking a child at different ages. As we know children grow so quickly and in those first few years of life. Even a few weeks makes a huge difference to how a child responds to their surroundings. Bellamy has attended Character Dining at 6 weeks, 9 months, and 2 years. I will recount how this these experiences went and how she handled all of the excitement.
Cinderella's Royal Table
We attended a dinner at Cinderella's Royal Table when Bellamy was just 6 weeks old. To some, taking a 6 week old to Walt Disney World may not seem like fun, but we had a magical time. Joined by my family (mom and two sisters), we were all excited to take pictures with Belle and the Disney Princesses.
Dinner was a lovely affair; food was yummy, and the Princesses were so sweet! I don't have a negative thing to say about the experience. But I will note that you can't bring your stroller inside. Because of this, someone has to hold the baby while eating. In my family this was not an issue as we spent most of our time fighting over who got to hold her anyway.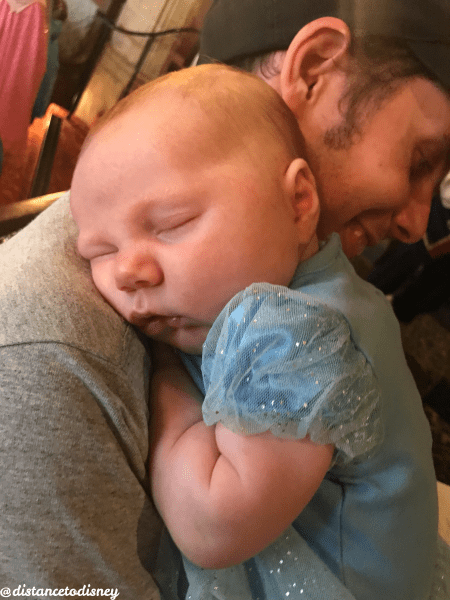 As far as how Bellamy responded, she slept. So we have the cutest photos of Princesses just ogling over her while she is fast asleep. It really worked out perfectly for us. Of course with a baby that young, you run the risk of them being awake and unhappy. If it works out though, you get a lovely meal with family, and don't have to stand in several different lines to get the same photos.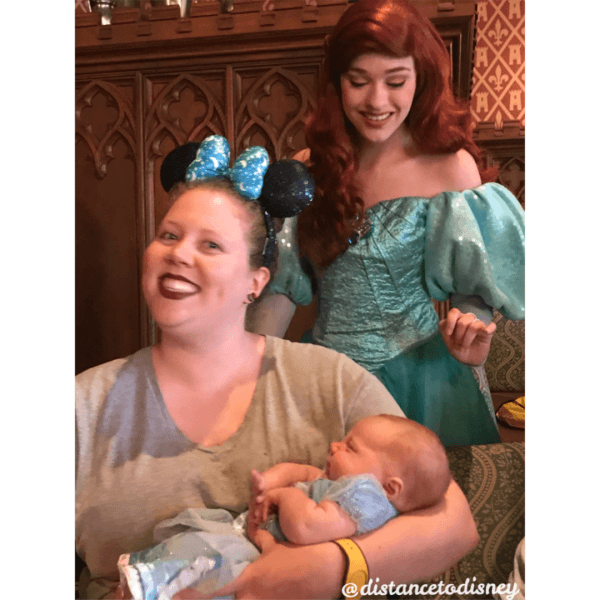 The Crystal Palace
A few months later we dined at The Crystal Palace. At this point Bellamy was nine months old and OBSESSED with Winnie the Pooh and friends. On this trip we dined with a smaller crew, just myself, Sean, Aunt Hailie, and Bellamy. At the start of our dining experience Pooh headed to our table, but Bellamy was asleep in her coach. I semi-panicked but Pooh saw how cute she was and we got a few pictures. I then asked a Cast Member how long it would take for Pooh to come back around. Once she understood the situation she told me to find her when we were ready to leave and she would bring Belle to Pooh.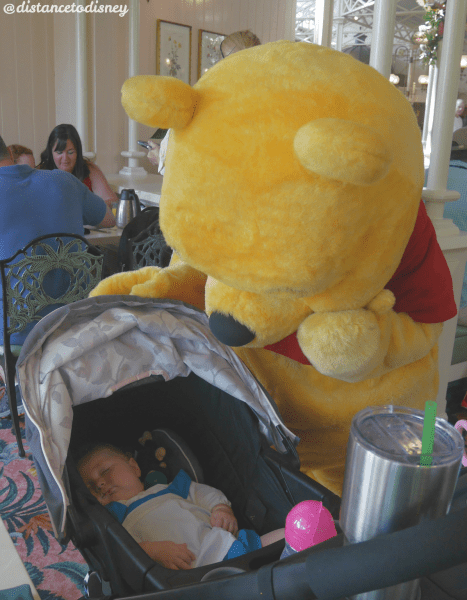 Of course Bellamy woke up several seconds later and happily met the rest of the gang. When we were finished eating, we found the Cast Member and she led us back to Pooh. Bellamy couldn't take her eyes off of him. She even let out a huge smile, all the while dressed in matching outfits.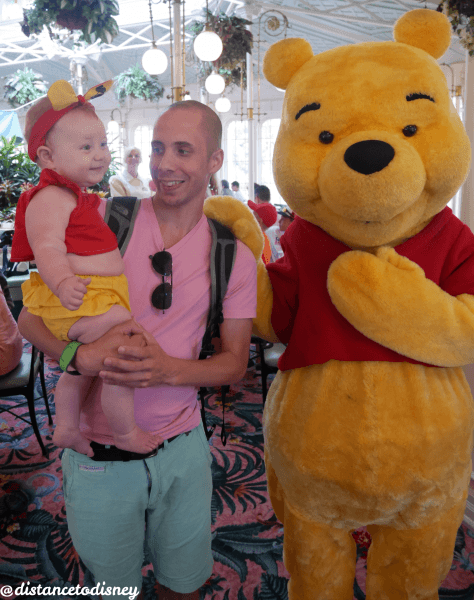 As far as taking a nine month old to a character dinner there are some things to consider. Bellamy is very shy with characters but they never made her cry, so for her this worked out well. She got to meet the whole gang and it was indoors, away from the Florida heat. Some kids at this age want nothing to do with characters, so you may want to take your small child to a meet and greet first to see how they fair. That way if they hate it you don't have to waste your money on the dinner, just to have your poor kid traumatized by the characters.
Trattoria al Forno
During our latest trip we took Bellamy to Trattoria al Forno. At this point she was just over two years old and loved Rapunzel and Princess Ariel. Trattoria al Forno offers a sit down meals all day, but during the Bon Voyage Adventure Breakfast you get to dine with Rapunzel, Flynn Rider, Princess Ariel, and Prince Eric.
Our reservation was for 7 a.m. Normally Bellamy is a morning person, but considering we had just got in town the day before, she got minimum sleep and it set her up for a tough morning. She hasn't changed much since her nine month meeting with Pooh and Gang and is still very shy. This, plus it being early and her lack of sleep, well lets just say she wasn't smiling in many (or any) pictures.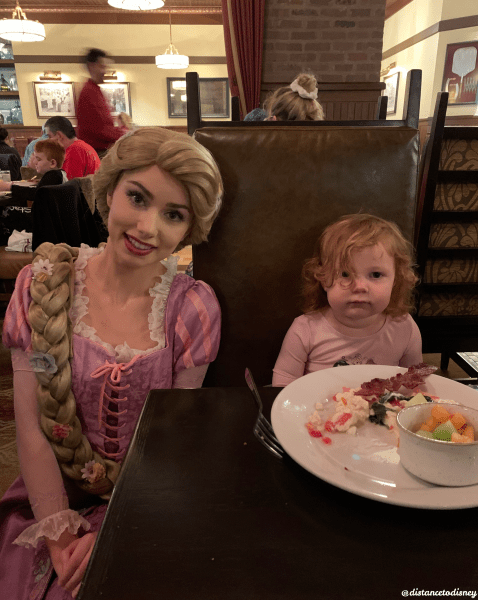 When she saw the characters from afar, she was very excited. However, as soon as they came closer she shut down. Especially with Prince Eric and Flynn. She wouldn't even look at them…poor guys. As always, the characters were extremely kind and gave her the space she wanted while still being sure to interact with her.
Despite the lack of smiles, I would still call this dining experience a success. Even when Belle seems to be shy around characters she always leaves the meet and greet with a smile. Luckily by the end of this trip she was asking to hug different characters and happily ran to them with a little smile.
Character Dining with Children: Yay or Nay?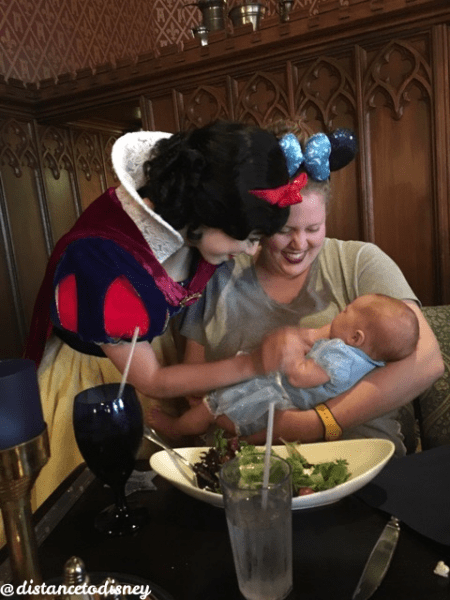 As with all things Walt Disney World, I think Character Dining is a great way to spend time as a family. Some small things to consider are the following: if your child is truly afraid of characters I would skip out. At a certain point it is no longer worth a parents stress to have to listen to their child cry during a not so cheap meal. If your child is at an age where they may fall asleep during the meal you have to decide if you are ok with sleeping baby pictures. Personally I think they are adorable. A final thing to consider is if your child has a short attention span. Dinners can last an hour if not longer. If you have a very antsy little one this may be tough. However, most Character Dining has some sort of parade half way thorough dinner. If your child is comfortable this gives them a chance to get up and march around with their beloved characters.
What tips do you have for character dining with little ones? Let us know in the comments or on Facebook or Twitter!
Did you like this article? Make sure to share it with your friends! Check below for easy ways to share!  
Want to visit a Disney Destination? Contact The Magic for Less Travel for more information and a free, no-obligation quote.

Incoming search terms:
https://www themouseforless com/blog_world/character-dining-through-the-ages/