This post may contains affiliate links for your convenience. If you make a purchase after clicking a link we may earn a small commission but it won't cost you a penny more! Read our full disclosure policy here.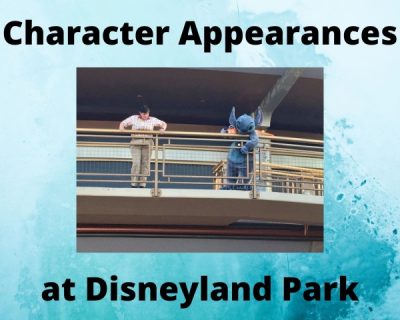 Stitch entertains guests in Tomorrowland
When Disneyland reopened after a historic closure due to the severity of the COVID-19 pandemic, a lot of changes were introduced. One of those changes was the way in which characters would interact with guests.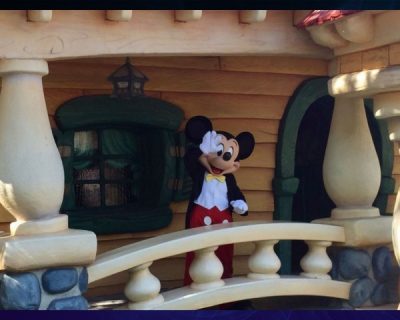 Mickey waves to me in Toontown
Although I was sad because we wouldn't be able to hug Mickey when we went to Disneyland Park, I was very impressed with the socially distanced appearances of Disney characters throughout the park. These appearances let guests take distanced selfies with the characters, watch them perform, and in the case of "face characters" (i.e. characters who do not wear a mask over their faces) carry on conversations with them.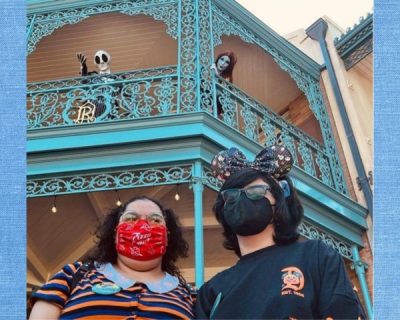 Jack and Sally with friends in New Orleans Square
We loved seeing Stitch in Tomorrowland. He was hanging out on a second story balcony holding a Halloween treat bucket. He waved at the guests below and even danced. From the cheers that he received, I'd say he was a guest favorite.

In Mickey's Toontown, guests who passed by Mickey's house saw him on his porch, waving to all his fans. Several people we saw came up to take a selfie, and although there wasn't a traditional line, it wasn't a mad rush to get a photo. Guests were great about taking turns and letting others get their picture.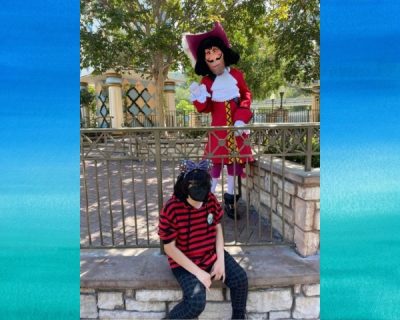 Captain Hook and a friend in Fantasyland
I guess Minnie Mouse wasn't at home, because at her delightful pink and white house next door to Mickey's, she wasn't greeting guests. But Marie, that cute white kitten from The Aristocats, was!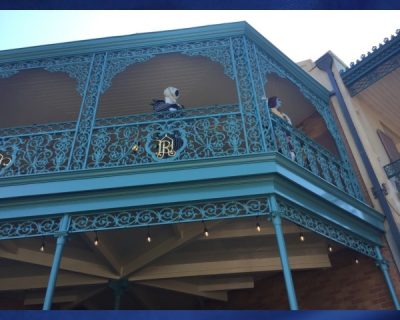 Jack and Sally called out to guests as they passed by
In New Orleans Square, we were delighted to find Jack and Sally on a second story balcony. Our timing to this location was unfortunate, though, because the angle of the sunlight made getting a good photo very difficult. We persisted, though, and wound up with a good one! Jack in particular was quite talkative, calling out to our friend who was wearing a pair of candy corn ears, "You've got candy on your head!" He was also delighted when he saw anyone wearing his likeness.

Nearby, on the stairway above Pirates of the Caribbean that leads to the Dream Suite, Captain Jack Sparrow was on hand. I called out, "Ahoy, Captain!" to him and was rewarded by a hearty "Ahoy, there!" in response.

In Fantasyland, we found another Captain, this time the villainous Captain Hook, ready to pose for those photos with guests. His position behind a fence made it easy for guests to sit in front of him for the photos. We also saw Tigger here later in the day.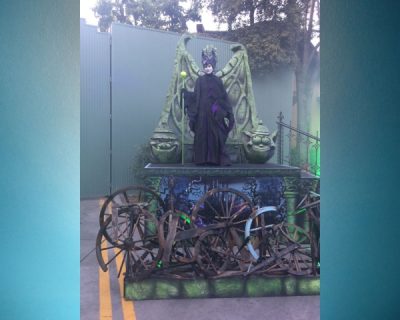 Maleficent at the Oogie Boogie Bash
These character interactions reminded me very much of the 2019 Oogie Boogie Bash and their villain-filled treat trails. On those trails, villains were perched out of guests' reach, so that it wasn't a meet-and-greet, but rather a chance for us to snap a quick photo and have a quick conversation with the villain as we passed by on our way to collect our treats.

Although I am hoping that traditional character meet-and-greets will return, I hope Disney continues to have these physically separated but very engaging character appearances. Seeing Jack and Sally near the Haunted Mansion and Captain Jack near Pirates, in particular, added to the ambience of New Orleans Square and made us feel like characters in a story rather than just park goers.

One thing is for certain: Disney always manages to make magic, no matter the circumstances!


Which character is your favorite to meet at Disneyland Resort?  Share in the comments or on Facebook or Twitter!
Did you like this article? Make sure to share it with your friends! Check below for easy ways to share!  
Want to visit a Disney Destination? Contact The Magic for Less Travel for more information and a free, no-obligation quote.

Incoming search terms:
https://www themouseforless com/blog_world/character-appearances-at-disneyland-park/