This post may contains affiliate links for your convenience. If you make a purchase after clicking a link we may earn a small commission but it won't cost you a penny more! Read our full disclosure policy here.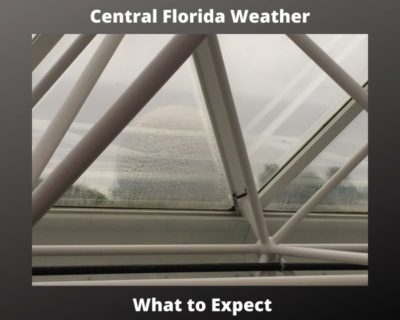 A view of Spaceship Earth from the DVC Lounge on a very rainy day
If you've never been to Central Florida before, you might have a certain idea of what the weather is going to be like. Sunny, hot, shorts weather year-round, right? Well, it's not that simple.
In this blog I'm going to talk about the typical weather patterns in the Central Florida area throughout the year. Note that I said "typical." There are always exceptions. During your vacation you might overhear locals say, "Man, it's never been this hot/cold in January/May before!" But this overview should give you an idea of what to expect.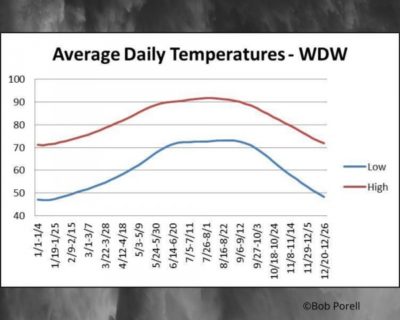 As for the gorgeous charts you'll see throughout this post, they were created by fellow The Mouse for Less blogger Bob Porell. He is expressing what I'm saying in words in chart form!
WINTER: YES, FLORIDA HAS IT!
Winter is definitely more mild in Florida than in other parts of the country, but that doesn't mean it'll be shorts and T-shirt weather. In general, it'll be cool but tolerable, with a chance of rain. Temperatures very rarely fall below freezing, but historically it has happened at night.
I've been to Walt Disney World in the winter four times. Twice, it was in the middle of a strange heat wave, and the temps were reaching 80. Once, it was mild and in the high sixties. And once, it was during the second coldest week ever recorded in Orlando history. But in general, you can expect cool, mild temperatures with a chance of rain.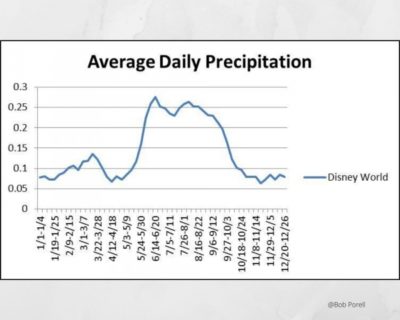 SPRING: PLEASANT AND WARM
Springtime in Central Florida will begin very pleasantly, with warm temperatures and abundant sunshine. The later in spring you get, the warmer it'll get. Don't worry about those April showers that bring May flowers. That doesn't happen in Central Florida very often!
In fact, late May is when the summer weather starts to arrive.
SUMMER: FEELING HOT, HOT, HOT!
Summers in Central Florida start in late May and run until early September. They are very hot, with daily afternoon thundershowers that are brief but torrential. The further into summer you get, the hotter it will get, so plan accordingly.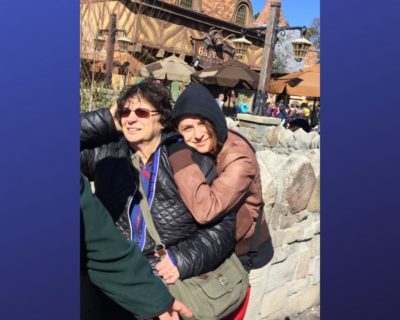 Yup, sometimes in winter you need to bundle up!
Because of the high humidity in the area, don't expect the temperatures to drop significantly at night. In fact, folks around here often joke that in the sunshine, it's hot and humid, and in the shade, it's hot, humid and less bright.
FALL: NOT AS COOL AS YOU MIGHT THINK
Things do eventually cool down as autumn arrives, but not as early as you might think. It is not uncommon for the summer temperatures to last as long as mid September. However, around October, those afternoon showers stop, and the temperatures become quite pleasant. Though don't be surprised if that summer heat lingers a bit through mid-October.
Fall also ushers in peak hurricane season. (Editor's Note: hurricane season technically takes place from June through November). Hurricanes rarely directly hit Orlando, but it has happened before and they can definitely impact traveling into or out of the area. If you're flying, you might seriously want to consider travel insurance in case your flights are canceled or diverted.
Which season is your favorite to visit Walt Disney World during? Let us know in the comments or on Facebook or Twitter!
Did you like this article? Make sure to share it with your friends! Check below for easy ways to share!
Want to visit the Walt Disney World Resort? Contact The Magic for Less Travel for more information and a free, no-obligation quote.