This post may contains affiliate links for your convenience. If you make a purchase after clicking a link we may earn a small commission but it won't cost you a penny more! Read our full disclosure policy here.
From Our Magically Speaking Newsletter Archive – subscribe today!
By Debbie Boehm
It's Halloween and you know what that means! It's time to think about the holidays at Walt Disney World. Wait what?
As the Mickey's Not So Scary Halloween Parties wind down and the pumpkins are stored for next year's celebrations, the holiday decorations, including Christmas trees of every size and garlands for draping everywhere, are moving about in the staging areas. It's like magic to go to sleep one night with the parks and resorts undecorated and to wake up in the morning to lights, trees, and garlands adorning lobbies and parks.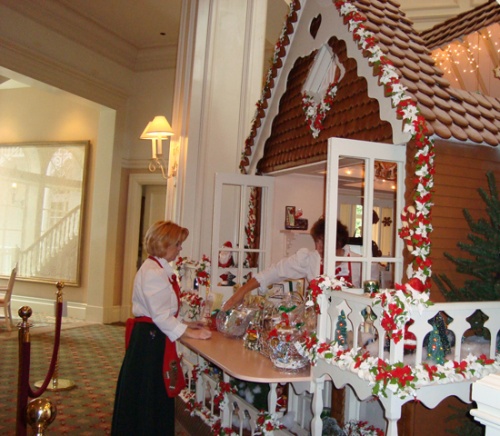 If you can get to Walt Disney World during the holiday season, you won't be disappointed. One of my favorite things to do is to take a tour of the monorail resorts where you're bound to be delighted by a full size Gingerbread House (where Cast Members actually sell gingerbread among other delectable treats) at The Grand Floridian. At the Contemporary Resort gingerbread is assembled in the shape of a Christmas tree on the concourse on the fourth floor. I've read that this year's theme is Frozen so it's definitely on the must see list.
Did you know that there are chestnuts roasting at The Grand Floridian during the Christmas holidays? To the right of the entrance, there is a chestnut roasting station. Stop by and pick up a bag to enjoy while you take in the sights, sounds and smells of the season.   If you've ever been in New York City in the winter, then you'll recognize that smell instantly. I confess that I did go back for a second bag last year.
It's no secret to anyone who knows me that The Magic Kingdom is my number one all-time favorite theme park. For many years our family only visited during summer due to school schedules and my job responsibilities. The first time I saw Walt Disney World decorated I was chaperoning a field trip for high school students. Honestly, I can remember walking around like a tourist filled with delight. People were rushing past me to get to rides and shows but I was drinking it all in. The beauty of my beloved park changed from summer mode to holiday mode brought tears to my eyes.   You see, not only is The Magic Kingdom my favorite park but Christmas is my favorite holiday.
If you've never seen Cinderella Castle transformed into an ice castle, then this just might be the perfect year to see that as Elsa, Ann, Kristoff and Olaf will do the honors this year. They call it synergy and this is, in my opinion, a perfect fit for the Frozen franchise. I'm sure that I will, once again, shed a few tears as the castle is adorned with her holiday lights. The festivities begin at 6:15 each evening – be sure to find a good spot so you can see the show before the lighting.
Another must do is Mickey's Very Merry Christmas Party at The Magic Kingdom. The party officially begins at 7 pm on select nights. Hot chocolate and cookies are served at food service locations throughout the evening. Mickey's Once Upon A Christmastime parade and a special holiday version of Wishes complete the evening. Dance the night away in Tomorrowland with Mike Wazowski, Buzz Lightyear and Stitch. Enjoy character greetings and photo opportunities throughout the park. It's a great to get that perfect shot for your holiday greeting cards.
Special merchandise is available for purchase during the Christmas party. Choose from tee shirts, sweatshirts and pins. Last year there was a Christmas ornament for sale also. There really is so much to plan when attending the special events that I make a list. Be sure to plan to eat dinner either before entering or shortly after your arrival as the food service areas are not open for the duration of the party.
I guarantee that it's a good time – this year will be the third time for our family. We've been there with dear friends and their children and parents and we've been there with a sibling and their children. This year our youngest son and his girlfriend will join us. Each time we've had lots of fun and definitely got into the spirit of the season.
Let's not forget Epcot where each country features storytellers who share their country's traditions. Of course, there are seasonal treats to enjoy. Santa and Mrs. Claus greet guests at The American Adventure where stories of Chanukah and Kwanzaa are also told. The Voices of Liberty Dickens Carolers perform just inside the pavilion. Enjoy holiday songs by this a cappella group in the rotunda and get into the spirit of the season.
In Germany Helga shares stories of the Christmas traditions many of us know and love.   Helga will tell the story of the Christmas tree and her very first Nutcracker. Be sure to stay to the end for a surprise. In the United Kingdom hear stories of Father Christmas dating back many centuries. Learn about Chinese New Year in China, hear the story of La Befana in Italy, a kind hearted witch who gives gifts to good children on the eve of the Epiphany. Sing along to the holiday tunes as you make your way through the park. My favorite part of the stories shared in Germany last year was seeing the faces of the children as they learned why Christmas trees are brought into our homes and decorated.
Check WaltDisneyWorld.com for more information on all the special events in each country and be sure to ask for a Times Guide either at your resort or at the park entrance.
Ahh, now onto the big one at Epcot – The Candlelight Processional. The story of Christmas, read by a celebrity narrator and backed up by an orchestra and choirs. Cast Members and local school choirs combine to sing favorite Christmas songs and to form a human Christmas tree.   Each celebrity who participates lends a bit of a personal touch to the event. Last year, my husband and I heard Naomi Judd and Whoopi Goldberg perform the reading. Although the story is the same, the reading and the personal stories were very different. We couldn't pick one over the other. If you plan to take in this incredible event, be sure to arrive early. I've never been inside the theater for this event at the America's Gardens Theater but I have stood just outside.
Celebrity narrators for 2014 include: Jodi Benson (Ariel!), Neil Patrick Harris, Whoopi Goldberg, LeVar Burton, Edward James Olmos, Blair Underwood and Steven Curtis Chapman.   Each night there are three performances: 5:00, 6:45 and 8:15. As times and celebrity narrators are subject to change without notice. The event will begin on November 28 and run through December 30.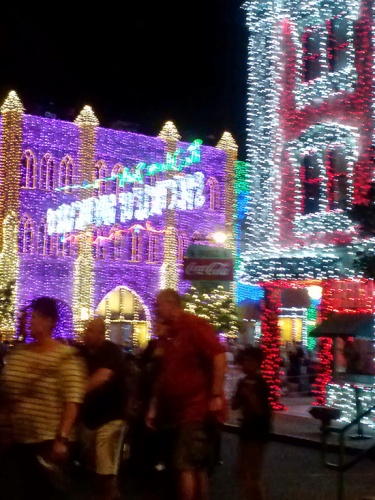 Hollywood Studios is where I'm heading to see the Osborne Family Spectacle of Dancing Lights on the Streets of America. You can see this amazing display of holiday lights beginning on November 7 and ending on January 4.   Although a start time is not currently available for this year, last year the lighting began with the telling of the story of how the lights began at approximately 6:15 (or dusk). Did you know that it all started on a single home in Arkansas and just grew and grew? The generous donation of the Osborne family to Disney makes it possible for us to stand in the center of the beautiful lights synchronized to holiday music. If you can get there before the switch is flipped it is quite a sight as the streets go from the light of dusk to the twinkling, dancing lights of the holidays.
There are also many details to see in the lights. For example, a black cat from a Halloween display was inadvertently sent with the Christmas decorations. Each year that cat is hidden in a new location; some people love finding the cat each year. Children's bicycles and wagons are decorated in front of the "houses" on the streets. There is a life-sized Nativity scene, dancing Christmas stars at the tops of buildings and every surface is covered with lights. It is so much to take in that we stayed for at least an hour. Again, there are so many opportunities for photos for your holiday cards. I'd suggest walking around and choosing the perfect spot for your family.
I know we haven't even celebrated Thanksgiving yet but my wish is that each and every one of you has the opportunity to visit Walt Disney World during the festive holiday season at least once.
Magically Speaking Featured Article
Library of Congress ISSN:1556-3863