This post may contains affiliate links for your convenience. If you make a purchase after clicking a link we may earn a small commission but it won't cost you a penny more! Read our full disclosure policy here.
By Jane Jones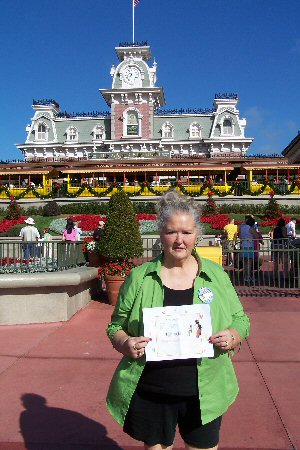 I had a dual purpose in this Magically Speaking assignment: While I wanted to see what this "free birthday" thing was all about, I also wanted to investigate celebrating a "senior" birthday at Walt Disney World. We talk a lot about what to do with kids, but what about seniors? I had the perfect candidate in my mother-in-law!
With the "What Will You Celebrate?" theme kicking off at Walt Disney World and Disneyland Resort, what better way to learn what it's all about than to take my mother-in-law Donna to the Magic Kingdom to celebrate her 65th birthday?
Knowing I was going to do a bit of "investigative reporting" for Magically Speaking, we decided to test the process. We first began by weighing our ticketing options. Donna is an Annual Passholder but her pass expired on 12/31, and we were going to the park in early January. My first question was: Do people who have Annual Passes or multi-day tickets miss out on the "free on your birthday" promotion? Fortunately, the answer is no — you can take advantage of the birthday FASTPASS or "Fun Card" option (see details below) or receive a 1-day Magic Your Way base ticket to be used by your next birthday.
We looked at all the choices she had available. Should she not renew her Annual Pass and take the "free" birthday ticket? Should she renew her Annual Pass, then take the all-day FASTPASS, the "free ticket" for next year, or the "fun card"?
Here's what we found out about each option. We hope it'll help you decide how to celebrate, too. (NOTE: This information was true at the time of our inquiry in early January, but the Cast Members made it clear that the process was still in flux and minor details may be tweaked as they perfect the requirements.)
Free Ticket on Your Birthday: This was our first choice just because the idea of it was so appealing. Who hasn't thought about getting into WDW for free? With the ads (TV, billboards, print) saying that it is as easy as registering online, why not? This option is only good on your actual birthdate. (Those born on February 29 may collect their ticket on February 28 or March 1.)
Free All-Day FASTPASS: Another appealing option. Getting multiple sets of FASTPASSes instantly is appealing, and would make great sense if we were going to the park during the holidays, spring break, or in the summer.
Free Fun Card: The value is equal to the cost of a 1-day base ticket, and is to be used for merchandise. There has been controversy on this whether it will expire the date of issue or not, or if you can use it for meals. The last I was told by Cast Members was that it would not be accepted for food but that it would not expire. Again, this was not clear, even to the Cast Members. They did expect it to be settled soon. If this is an option you are interested in, be sure to ask for an explanation of the rules the day you get your card so you don't miss out. This is the perfect option for those who have Annual Passes!
Free 1-Day Magic Your Way Base Ticket. This can be used anytime before your next birthday. (Available to Annual Passholders and those with a multi-day pass.)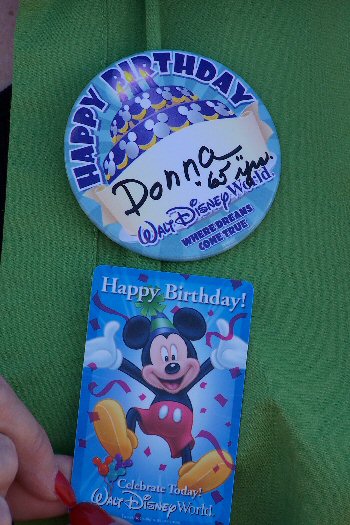 The button and the ticket.
Donna opted to go for the free entrance on her birthday so we went tohttp://disneyparks.disney.go.com and found the link for "Free Admission on Your Birthday" where she registered. (We encourage you to register as soon as possible, just in case there might be a problem, although we had no troubles registering the day before we were going to the park.) You print out a certificate, which you take to the special window (or kiosk) at theme park Guest Relations. No printer? Misplaced your certificate? No problem. The Birthday window at Guest Relations should have your registration, but it's safest to bring a copy. (Note: You can register just yourself or anyone you want! You will be asked for your own information as well if you register someone other than yourself. Registration online takes less than five minutes!)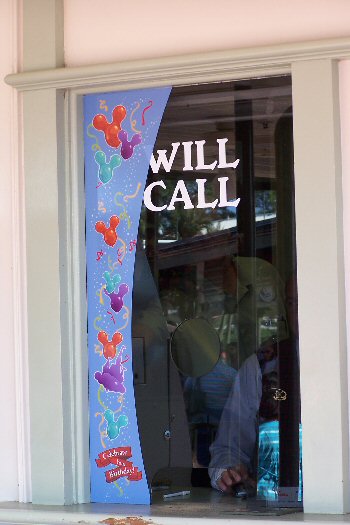 The specially marked window for birthday tickets.
We were now all set and ready to celebrate a 65th birthday!
With certificate in hand, Donna decided to start her day with a Disney breakfast. Our party of three (Donna, me, and my mother, Dodie) ate at Kona Café at the Polynesian and Donna was treated to a special complementary birthday Coco Puff at the end of our meal! Let everyone at Walt Disney World know it is your birthday…you may be showered with pixie dust!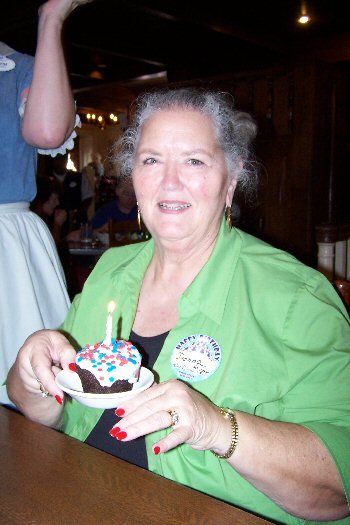 A wonderful dessert for the birthday girl.
Donna chose to spend her day at the Magic Kingdom. Riding on the high of the Coco Puff, we decided to ask if she could ride in the front of the monorail. Thank you, pixies…we all got to ride in the front, and Donna even got her picture taken in the driver's seat!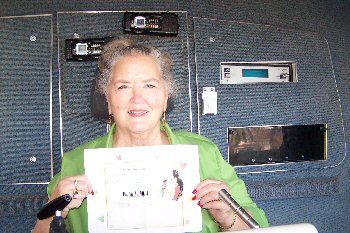 A quick picture in the driver's seat.
When we arrived at the park, we noticed a flurry of activity by Guest Relations. The Cast Members were everywhere, making sure that those celebrating their birthday were guided to the correct place. Certain windows have been designated, as well as the kiosk inside of the security checkpoint. Donna was lead to the kiosk, and easily received her ticket. She was required to show identification, so do not forget yours! This includes children. They are required to have an official birth certificate or other government ID (passport, etc.). If you have any questions about this, please call ahead or check out the Free Birthday Admission FAQs on the Walt Disney World or Disneyland websites. No need to ruin a day to be celebrated!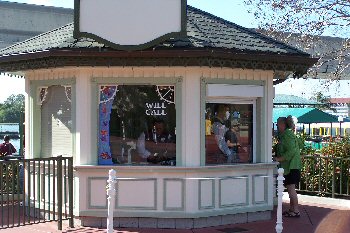 The kiosk is open to help with birthday tickets.
We wanted to know if we could give the free 1-day ticket to someone else in our party. The CM told us that finger-scan technology will eventually be in place, so the tickets will be coded just like Annual and multi-day passes. It was not set up the day we went, but could be in place now. The CM did write Donna's name on her free ticket, so it is intended to be used by the birthday celebrator.
Once we were in the gates, we talked about how best to celebrate a senior's birthday. Donna said she'd like to "take in the magic of the Magic Kingdom." We did whatever she wanted to do. We rode the horse-drawn trolley down Main Street, and took time to talk to the Cast Members. The trolley driver was great, full of interesting tidbits and stories because she herself was a senior who had worked at WDW for years and was looking toward retirement, but still loved every day on Main Street.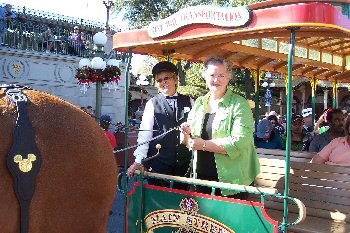 Posing for a picture on the horse-drawn carriage.
We always go to the park with my daughter, and Donna is a dutiful grandmother and rides what her granddaughter wants to ride. But the granddaughter was in school on Donna's birthday, so we rode what Donna wanted to ride. We worked our way around the Magic Kingdom, starting in Tomorrowland. Donna told stories, stopped to look at interesting details, inquired about new construction, and people-watched (her favorite pastime!). She lead the way instead of following the grandchildren. This was just plain fun!
We also got her to tell tales about the first time she rode Carousel of Progress, or her memories of taking her boys on the WED-Way PeopleMover. There were also some surprises: we learned that one of her favorites is Buzz Lightyear! That was the first attraction she chose to ride.
Along the way we ran into a Cast Member standing on a bridge with a black case with buttons pinned on the front. He was greeting guests and stopped Donna because he'd seen her birthday button (given to her at Kona Café). He was looking for people who looked like they were celebrating an occasion and had buttons to give out. We knew about the birthday button and the "Just Married" button, but now Disney has even more ways to show that you are celebrating! He had new buttons for "Just Engaged," "I'm Celebrating," "Happy Anniversary," and "First Visit." Be sure to stop at City Hall or Guest Services for your button!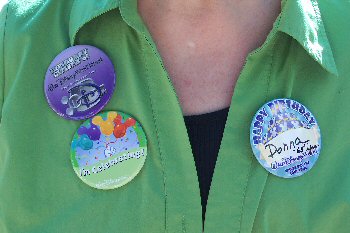 Lots of buttons!
Taking time to chat with the Cast Member, we told him how Donna had recently had a cancerous lump removed and was undergoing radiation here in Orlando. We'd taken her to her treatment in the morning just before coming to celebrate her birthday at the park, and that was a reason to celebrate! We were each given an "I'm Celebrating" button and wore our buttons proudly throughout the day. Why not celebrate everything…anything?
After visiting Donna's favorite attractions on Main Street, Tomorrowland, and Fantasyland, as well as strolling through those shops we never seem to get to, we ended up at Liberty Tree Tavern just in time for lunch — her favorite. Again, the Cast Members made quite a fuss over Donna. The chef just happened to walk by, stopped to chat, and then promised to prepare a special dessert just for Donna. The wait staff sung to her as they brought out her dessert.
Time was now limited because I had to pick up my daughter from school, so we made our way through Adventureland and stopped for a ride on Pirates of the Caribbean. Once we came out, Donna wanted to stop and watch the Jack Sparrow show. We really enjoyed taking the time to watch the little sideshows that we often miss.
It was time to leave, but I asked Donna what she thought was the perfect way to celebrate a birthday for a senior. Of course, tops on the list was the "free" ticket, but that aside, she did like being able to do what she wanted. She said that she didn't realize how often adults (especially grandparents) sometimes give up what they want to do in order to make their children or grandchildren's day magical. (Not that she minds!) But she did enjoyher day, her way. Maybe that's how you best celebrate a senior birthday — and at a Disney park, the day is sure to be made even more memorable.
For more information about free admission on your birthday, go tohttp://disneyparks.disney.go.com or call 407-W-DISNEY (for Walt Disney World) or 714-781-7290 (for Disneyland Resort).