This post may contains affiliate links for your convenience. If you make a purchase after clicking a link we may earn a small commission but it won't cost you a penny more! Read our full disclosure policy here.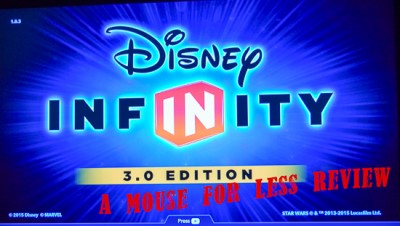 Note: This review is of Disney Infinity 3.0. If you would like to learn more about the original Disney Infinity and also the basics of the Disney infinity universe, you can see my review here, and also my review of Disney Infinity 2.0 here.
As soon as the Marvel Super Heroes edition of Disney Infinity was announced, rumors started flying that version 3.0 would involve Star Wars, as it was the other big entertainment property acquisition by Disney.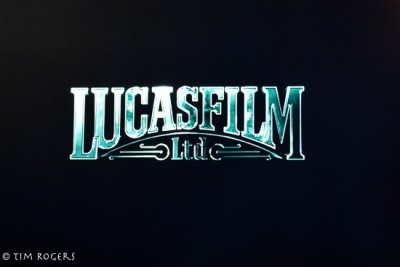 Basics:
Disney Infinity 3.0 was released in late summer 2015 for Playstation 3, Playstation 4, Xbox 360, Xbox One, and Wii U. There are also free companion games for Microsoft Windows, Android and iOS.
Like with previous versions of Disney Infinity, you can buy a starter pack for 3.0, this time featuring the "Twilight of the Republic" play set (see below for more information).
An important note: I personally have played the Xbox 360 version of this game, although the information in this review will be applicable across all of the console platforms.
Play Set Mode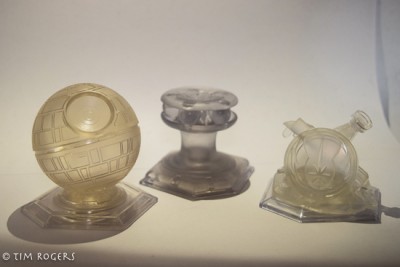 Play set mode is what you would traditionally think of as a "video game." Each set generally has a story, challenges along the way, and a pre-set world to explore. For Disney Infinity 3.0, the variety of game play within the play sets has increased. The known playsets are :
-Star Wars: Twilight of the Republic
-Star Wars: Rise Against the Empire
-Star Wars: The Force Awakens
-Inside Out
-Marvel Battlegrounds
Within each of these sets, you can generally only use the characters from that set itself (more on that later). However, you can switch between the characters at any time. This is useful because you might find specific tasks easier with certain characters, or that you need to use specific characters to complete challenges.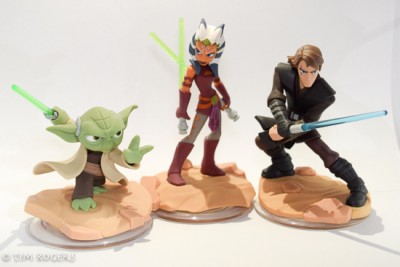 Within each play set, you are confronted with a series of missions. You can scroll through them and have a pointer guide you in the direction you are supposed to go for help either finding a mission or completing it. Some of these missions advance the storyline, others are just side missions to get experience or other rewards. You will also discover special challenge areas throughout each play set. These have you try for Gold, Silver, or Bronze level in various racing, battle, or point collection activities.
Each play set story mode takes around 4-6 hours of game play, depending on your skill level, but you can spend much more time in each beating challenges and exploring new areas.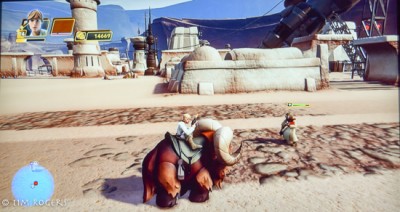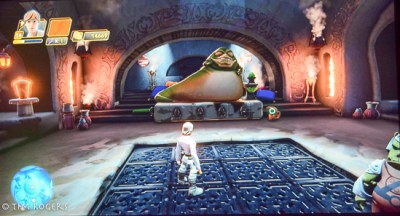 While you are playing in the play set, there are several other things to specifically look for. The first are blue sparks – you can get sparks from defeating enemies, breaking things, and spark capsules. These sparks are used to purchase toys in the Toy Box (see below). There are also green sparks, which restore your health, purple sparks, which fill your special move meter, and orange sparks, which level up your character. Unlike the original Disney Infinity, you cannot directly find and unlock Toy Box toys in capsules in version 3.0. However, there are still plenty of things to search for.
These are generally listed under each playset as "collectibles." Some of these are things that you just find and pick up, like Holocrons in Star Wars or Journal Pages in Inside Out. Others you find and destroy, like the Mynocks in Star Wars.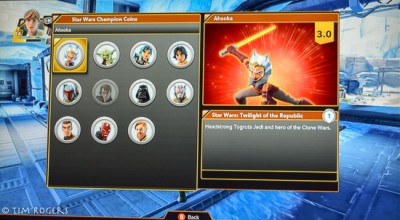 One particularly important and fun playset collectible that have an impact on gameplay are "Champion Coins." These are available in the Star Wars sets, and are similar to the Marvel Crossover Coins from the last edition. The main differences here are that you can get coins for nearly every character across the different Star Wars collections and then play them. Some challenges even require you to use a character from outside that playset (for example, using Chewbacca in Twilight of the Republic). However, there are not character specific missions as there were with the Crossover Coins in version 2.0.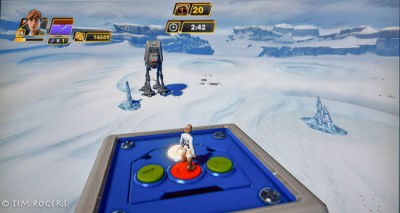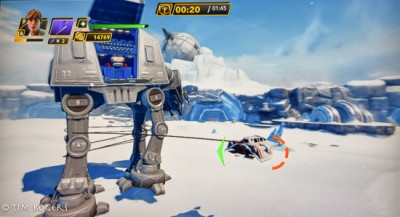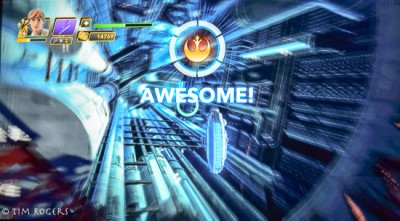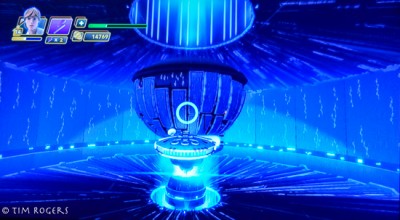 In the Marvel edition of Disney Infinity, most of the playset gameplay was fairly homogeneous as combat filled action/adventure games. The Star Wars games do still feature a lot of that (although now with more Lightsabers!), but they also feature other types of activities, like ground and air vehicle piloting. More than that, the non-Star Wars playsets add a lot of gameplay variety to Disney Infinity 3.0.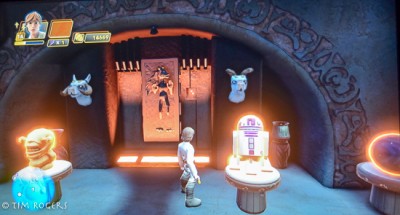 Jar Jar in carbonite. Subtle.
In the Inside Out playset, the loose idea is that Riley fell asleep while watching a horror movie and everything goes crazy. The gameplay style, though is essentially a platforming style level based walkthrough where you collect balloons.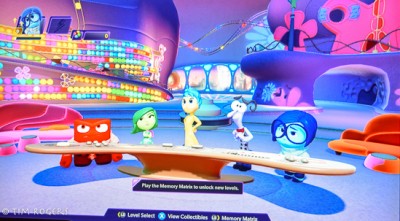 Welcome to headquarters!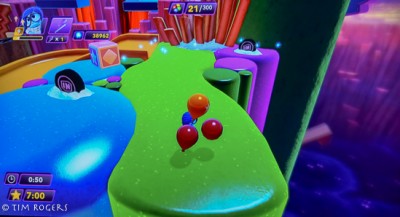 While some of the ways to move forward are a little tricky, it is generally much easier to catch on to this playset than the others. Additionally, the level designs for Inside Out sometimes require you to utilize the special ability for a specific character (for example, Anger can walk on lava and Sadness can sit on clouds). To facilitate this, many levels have a little kiosk where you can switch into one of the other emotions for a short amount of time.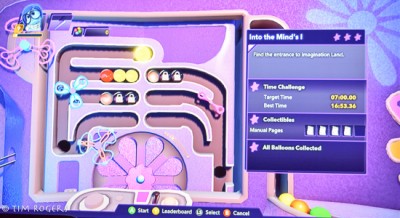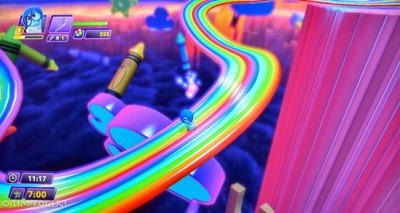 Riley's mind is an interesting place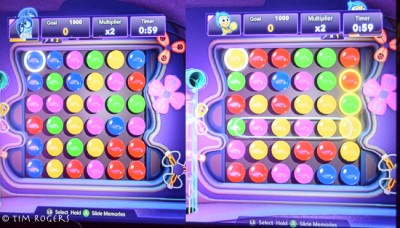 Inside Out also has a side game you can complete to unlock more levels, which reminds me a lot of Bejeweled (this also quickly became a favorite of my wife).
While it hasn't been released yet, the Marvel Battlegrounds playset will be a departure from Disney Infinity thus far. The biggest change will be the ability to locally play with 4 players, but also the ability to use all the previous Marvel characters in the playset.
With all of this variety, there is bound to be something for everyone, and we haven't even gotten to the Toy Box yet.
Toy Box mode
The focus of Disney Infinity has always been the Toy Box, and thankfully this area keeps improving with each subsequent game in the series.
While I will go through the basics here, I would highly recommend using the Toy Box Introduction as it will walk you through every aspect of the Toy Box.
Toy Box Hub
The Toy Box Hub is a a great tool to start with Disney Infinity 3.0. Here you will find guides to the various aspects of the game (vehicles, side kicks, the toy store, building, combat, etc) and be able to complete challenges along the way. Each of the areas also has gateways to more challenges and showcases.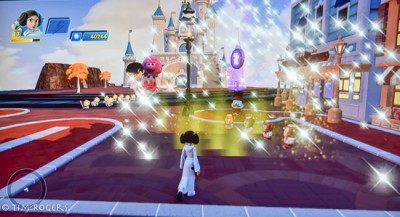 If you were wondering, yes that is a cloud of sparkles surround four Duffy's dressed as the Dapper Dans while a parade goes by.
Toy Box Expansion Games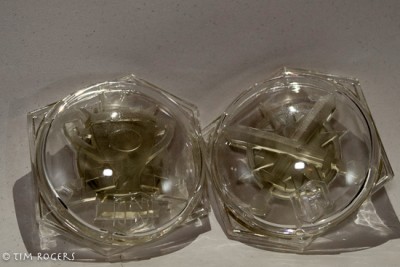 In Disney Infinity 2.0, the creators added "Toy Box Games," where you could take part in randomly generated dungeon crawls or tower defenses. In version 3.0, the idea of creating pre-made games in the Toy Box has been expanded greatly with the Toy Box Takeover and Toy Box Speedway (both are sold separately).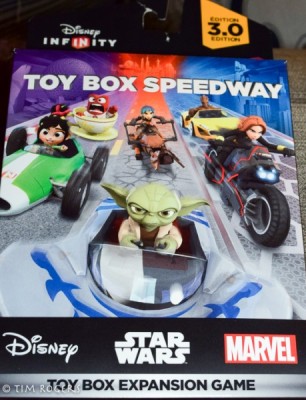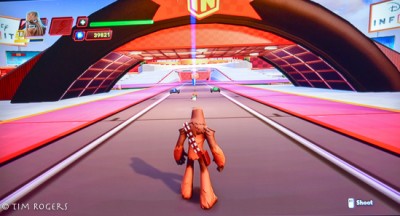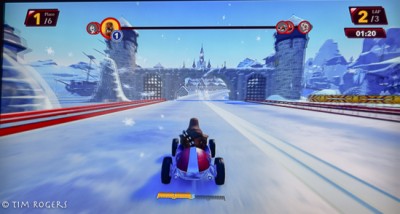 Toy Box Speedway is essentially a standalone kart racing game. You can choose from a variety of themed courses and either race, battle race, or time trial, and then use any character you would like to race. Some of the racing mechanics are still a little funky in this game, but they have steadily improved with each version.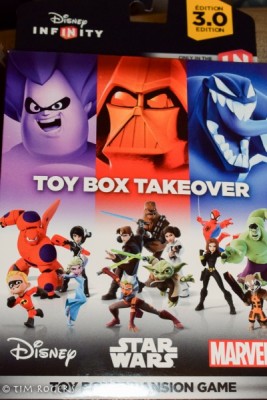 Toy Box Takeover is almost another playset that you can play using any character. The basic plot is that Syndrome stole the magic wand that Mickey was using to create toy boxes, Merlin came to admonish Mickey, and then Syndrome stole Merlin's wand as well.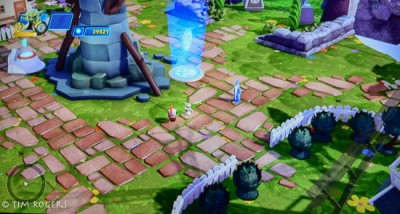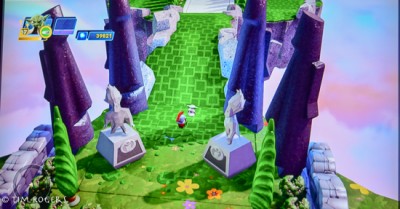 You have to fight through a series of courses to get the wands back, and along the way Syndrome challenges you with his "Hero Destroyer." Some of these can be pretty challenging, so be ready to switch over to other characters if you are destroyed.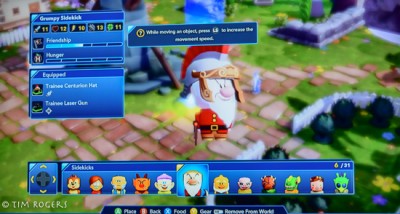 Grumpy is my co-pilot
Toy Box Takeover also features sidekicks, which fans of 2.0 might recall from the dungeon crawl games (i.e. Escape from the Kyln). A fun addition is the number and variety of characters you can choose as your sidekick.
Toy Store
In Disney Infinity, you unlocked new toys by using a spinner and randomly earning them. In version 2.0, you were able to purchase toys directly using the blue sparks you collected. Version 3.0 continues along these lines, with some new and improved options.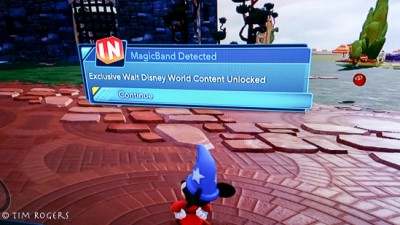 Before I get into what you can buy, one piece of advice – once you are in the Toy Box, go through and place each of your characters and playset pieces from the previous versions onto the base to unlock all of the associated toys.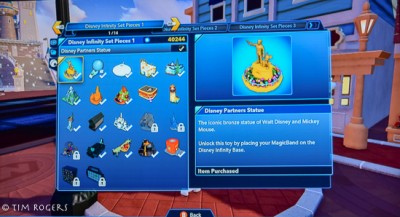 Also, as was the case in the previous versions, you can unlock something special with your Magic Band. This time, it is the Partners statue. Along the same lines, you can use your Disney Cruise Line Oceaneer band to unlock a few items.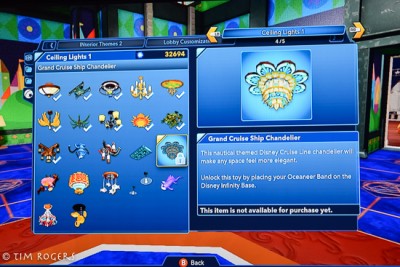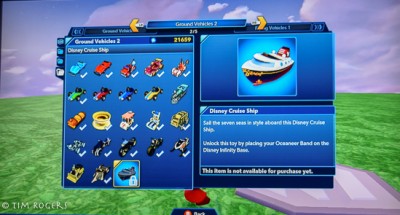 Toys in the store are once again broken down into categories, from Disney Characters to Terrain.
Free Play
Prebuilt and Downloadable Toy Box Worlds
One great addition to this version of Disney Infinity is the ease of starting in the Toy Box. Besides the standard Empty Toy Box, you can select from a few basic styles, like a race or city.  You can load a new toy box in one of these modes and instead of having to start completely from scratch, the system will  generate a basic starting point that you can then customize.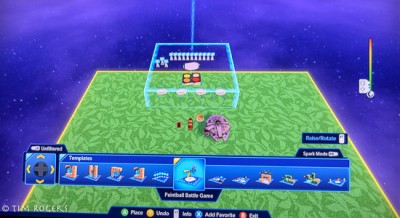 More than that, through the Toy Store you can once again purchase builders and creators and unlock templates. Each of these components helps you make a larger and more intricate Toy Box, and in version 3.0 there are many more to choose from.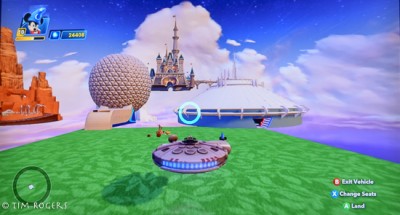 Why yes, that is Sorcerer Mickey in the Millennium Falcon flying between Spaceship Earth and Space Mountain on the way to Cinderella's Castle. Thank you for noticing.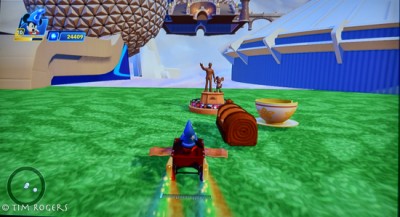 As has been the case for each version of Disney Infinity, the Disney Interactive team does a great job engaging the fan community with contests, and by releasing favorite Toy Boxes as downloadable content.
INterior
The idea of the INterior started in version 2.0, be can really add another level of fun in the Toy Box.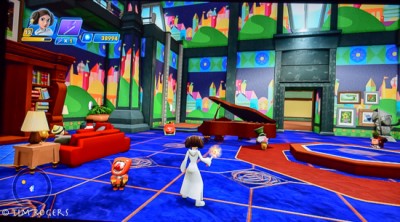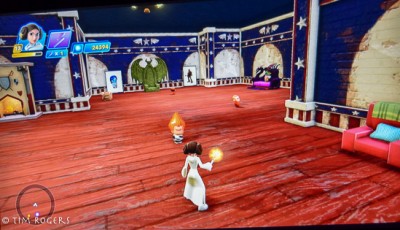 You have a bunch of options for decorating and can really express your Disney self.
Infinite Possibilities
As I wrote about with the earlier versions of Disney Infinity, the magic of this game is that you can go into the Toy Box, start with an empty slate, and just build. In version 2.0 they lessened many of the roadblocks or frustrating aspects from linking toys together or trying to create complex systems, and version 3.0 continues improvements in that area. This allows you to spend even more time being creative and playing rather than working through tedious tasks.
Characters
In addition to all of the 29 characters released in the original Disney Infinity, and the 30 characters released in Disney Infinity 2.0, Disney Infinity 3.0 has at least 35 new characters. Including their franchises, they are: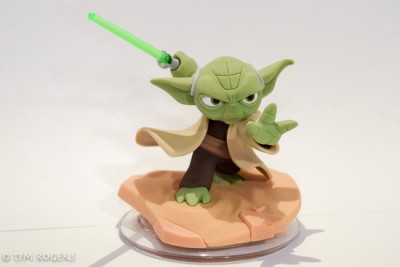 Star Wars – Twilight of the Republic
-Anakin Skywalker (in the Starter Park and Twilight of the Republic Playset)
-Ahsoka Tano (in the Starter Park and Twilight of the Republic Playset)
-Darth Maul
-Obi-Wan Kenobi
-Yoda
Star Wars  – Rise Against the Empire
-Luke Skywalker (in the Rise Against the Empire Playset)
-Leia Organa (in the Rise Against the Empire Playset)
-Boba Fett (releases January 2016)
-Chewbacca
-Darth Vader
-Han Solo
Star Wars – The Force Awakens (all release December 2015)
-Finn (in the Force Awakens Playset)
-Rey (in the Force Awakens Playset)
-Poe Dameron
-Kylo Ren
Star Wars – Rebels
-Ezra Bridger
-Kanan Jarrus
-Sabine Wren
-Zeb Orrelios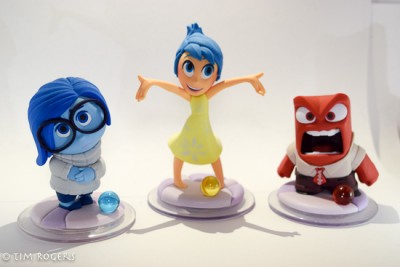 Inside Out
-Anger (in the Inside Out Playset)
-Joy (in the Inside Out Playset)
-Disgust
-Fear
-Sadness
Marvel
-Captain America: The First Avenger (in the Marvel Battlegrounds Playset – releases March 2016)
-Hulkbuster Iron Man
-Ultron
-Black Suit Spider-Man (unconfirmed)
Mickey Mouse universe
-Mickey Mouse
-Minnie Mouse
Tron: Legacy
-Sam Flynn
-Quorra
Mulan
-Mulan
Frozen
-Olaf
The Good Dinosaur
-Spot
Zootopia (releases 2016)
-Judy Hopps
-Nick Wilde
Peter Pan (releases 2016)
-Peter Pan
As you can see, these characters cover a wide range, from classic favorites to brand new friends. As new characters come out, they also seem to have more and more unique abilities, which is a great addition to gameplay.
A few notes on character gameplay:
In Star Wars, the characters who would be able to use the force have special force abilities.
As you play with characters and collect orange sparks you will level up. After each level you will get a notification to go to your "Skill Tree."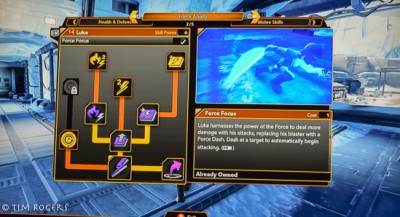 Here you will have a certain number of points to apply towards different skills, whether that is unlocking your special move, upgrading attack damage, giving you more health, or many other options. The creators changed the routing of these skill trees a little bit, and made it easier to build the character to your liking.
For the character special moves, each special move is unique to each character and encompass many different types of activities, from Leia calling in R2D2 to Sadness overwhelming enemies with despair.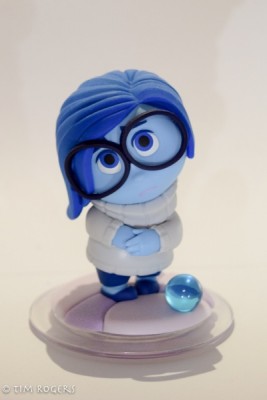 Two other additions to this version are aerial combos and finishing moves. These mostly come out in the Star Wars sets, but add another dimension to game play.
Power discs
Power discs function about the same in 3.0 as in previous versions. The biggest difference is that you can now buy them in sets (such as a Tomorrowland themed set) instead of mystery packs.
Overall Impressions
From the original Disney Infinty to version 2.0, the developers made a bunch of improvements without losing what made the game special and fun. In Disney Infinty 3.0, I think they have done that again. Some of the biggest improvements include:
-Toy Box Hub
-More templates and builders for complex toys and game types
-Toy Box expansion games
-Variety in play styles across characters and playsets
-The inclusion of Chewbacca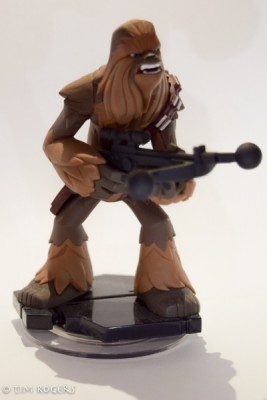 What a Wookie
As they did before, the creators also continue to create cool game pieces and have continued to include more diverse options from the Disney catalog. Additionally, the commitment to use the character pieces and power discs across systems and games is a great bonus.
Like its predecessors, Disney Infinity 3.0 is a great game and can provide nearly endless entertainment for fans of all ages and ability levels.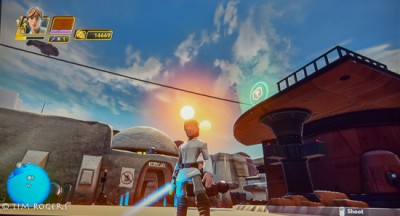 I give this game two suns way up.
As before, I would recommend this to anyone – if you enjoy games like Skylanders, if you love Star Wars, if you are a Disney fanatic, if you just like video games, or just want to try something new – I would suggest this game for you, or if nothing else it could make a great gift this holiday season.
Have you purchased Disney Infinity 3.0? Do you plan to? Let us know your thoughts in the comments.
Incoming search terms:
https://www themouseforless com/blog_world/celebrate-season-force-disney-infinity-3-0/
disney infinity 3 0 item