This post may contains affiliate links for your convenience. If you make a purchase after clicking a link we may earn a small commission but it won't cost you a penny more! Read our full disclosure policy here.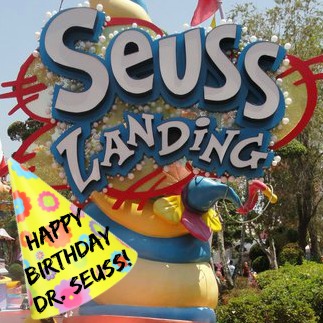 Today we are celebrating the birth of Dr. Seuss. Let's take a look at Seuss Landing, one of my family's favorite Universal Orlando sections. I have to admit, I had never been much of a Seuss fan, but seeing Seuss Landing changed my mind in one day.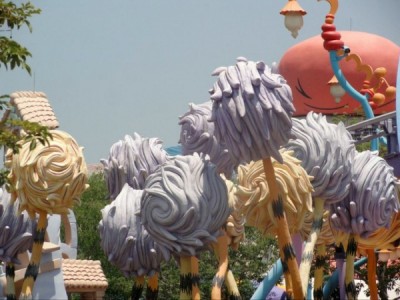 As soon as we stepped foot in Seuss Landing for the first time, it was love at first sight. I love how colorful the whole area is. It feels just like you've stepped into a book. In one word, it is just beautiful. I think my favorite part of it all was the truffula trees.
One of the easiest ways to see all the brilliant colors is on the High in the Sky Seuss Trolley Train Ride. Riders must be at least 40" tall. The train ride gives a nice, relaxing tour around the entire area, but from above. I really enjoyed it. I took so many pictures just on that one ride.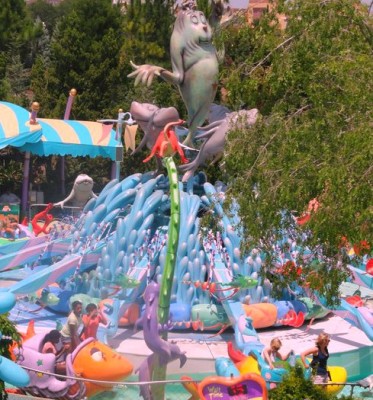 Our family also really enjoys the ride One Fish, Two Fish, Red Fish, Blue Fish. My oldest daughter wanted to ride that several times. It's a fun ride in a fish. Anyone 48" or above can ride and control going up and down in their fish. There is opportunity to get a little wet, or to try to avoid doing so by maneuvering your fish up or down in time. (The song that plays will clue you in on what to do, if you want to avoid the water.) My kids are a fan of anything that can cool them off from the Florida heat.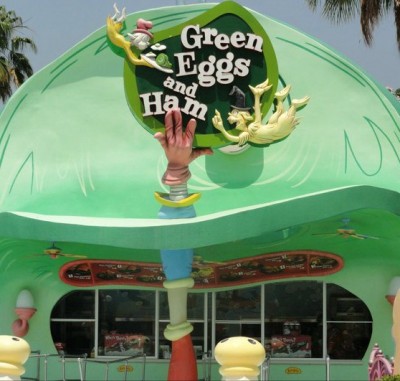 If you get a little hungry while in the area, check out the Green Eggs and Ham Cafe. It is seasonally open, so you'll have to keep your eyes peeled. I'm looking forward to a green eggs and ham sandwich on my next visit.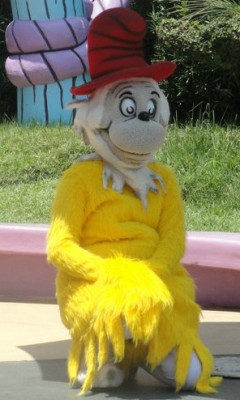 After your snack, there is a great character spot in Seuss Landing where you can meet all of your favorite characters. At Oh! The Stories You'll Hear there will be rhymes, poems, and stories. Following the show you can meet Sam, The Cat in the Hat, Thing 1, Thing 2, The Grinch, and the Lorax for pictures and autographs.
If you fall head over heels for Thing 1 and Thing 2, make sure you head to the shops and pick up your own shirts. We got shirts for all four of our children, Things 1 through 4. They even have shirts for mothers and fathers. I really love those shirts and can't wait to get updated sizes for my kids on our next visit.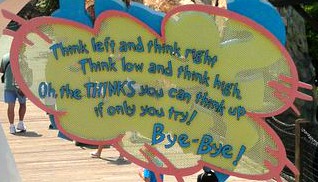 Now that you've heard about our favorite parts of Seuss Landing, make your plans to visit and have a great time!
What is your favorite part about Seuss Landing?
Incoming search terms: