This post may contains affiliate links for your convenience. If you make a purchase after clicking a link we may earn a small commission but it won't cost you a penny more! Read our full disclosure policy here.
From Our Magically Speaking Newsletter Archive – subscribe today!
Published On February 27, 2006, By Erica Colmenares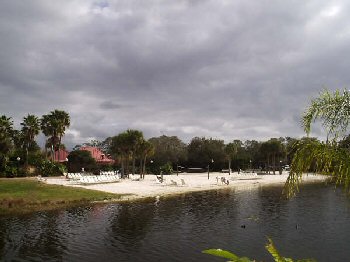 I'll be honest. The reason we booked a night at the Caribbean Beach Resort this past January wasn't because we did an extensive search on the internet and in guidebooks, and then made an informed judgment as to which moderate-category Disney resort best matched our tastes and needs. Nope. It was the great discount available through the now defunct Annual Passholders Best Rates Program. What can I say? The Mighty Buck spoke- and we're glad it did!
Arriving: The Customs House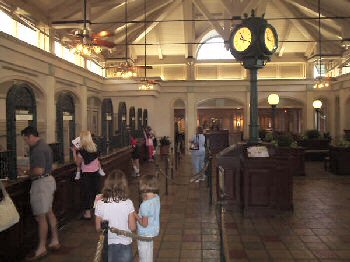 We arrived in Orlando around 10 a.m., after a short car trip from southern Georgia. We drove under the Walt Disney World sign with a loud "Woo hoo!" and continued on to Caribbean Beach Resort (CBR). It was early, but we hoped we'd get a room (official check in time is 3 p.m.).
From the get-go, we loved this resort. It's smack dab in the middle of everything. It's between Downtown Disney and the Disney Studios, near Epcot and Typhoon Lagoon. We turned off the main drag, and were immediately immersed in the lush tropical greenery. The resort gate guard greeted us in friendly Disney style, then checked our I.D. and waved us through with instructions on how to get to check-in, or the Custom House.
The Custom House surprised us, a bit. The CBR divides its registration functions from their food offerings, shops and feature pool. So we really just needed the Custom House on our arrival. This is where you check in, find Bell Services, and take care of other Guest Service needs. The Custom House is not super-convenient to the resort rooms, so try to take care of all your business here when you check in.
We lucked out and got our room right away, and in Jamaica, Mon! We hopped back into the car, and sped (slowly) off to our room.
The Villages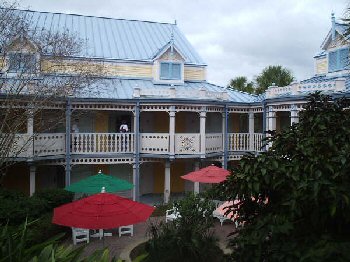 Now, this place isn't small. The Caribbean Beach Resort has 33 guest buildings with 2,112 rooms. But they are scenically located on the shores of Barefoot Bay, a 42-acre lake. Each building is themed to its village: Barbados, Martinique, Aruba, Jamaica, Trinidad North, and Trinidad South. Martinque and Trinidad North are the preferred buildings (read: more expensive) because of their proximity to the feature pool and food. Each village has a quiet pool, a beach (complete with hammocks!), a bus stop, laundry facilities and parking. None of the buildings have elevators, so for the mobility-challenged, a first-floor request with medical needs noted is a must!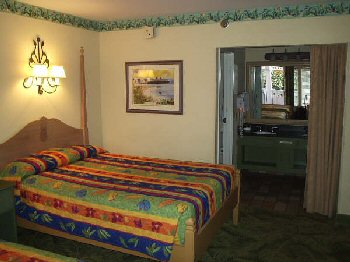 Our room had two full-size beds, which is true of most of the CBR rooms, though there are a few with king-size beds. State fire code limits the number of guests per room to four, with one child under three in a crib allowed. Cribs are available, and you can also request a roll-away-bed ($15 per night, limited quantities). If there are more than two adults in the room, there is a $15 charge per night for each additional adult up to four. All rooms have a two-sink vanity outside of toilet/bath room. This bathroom area is separated from the sleeping area by a privacy curtain – a feature we loved, as it allowed the early riser (me) to be up making coffee and getting dressed without waking the late riser (my son). The TV is, of course, equipped with standard Disney cable, there's a table and two chairs, a phone with a data port for high speed internet ($9.95 per 24 hour period), a wall safe in the bathroom area, along with a refrigerator, coffee maker, hair dryer, iron and ironing board. Overall, the rooms are well designed and comfortable, though perhaps a bit lacking in adequate drawer space. We didn't unpack, since we just had one night there, but I highly doubt we could have fit all our things into the storage room provided.
As I mentioned at the start of this article, we got a great rate for our room. It was $88.09 per night, plus tax, with an annual passholder discount. The standard rates for moderate-resort rooms varies over the year, depending on the season. Click here for 2006 rates (and don't forget to add the 11.5% tax for your true nightly cost):
Old Port Royale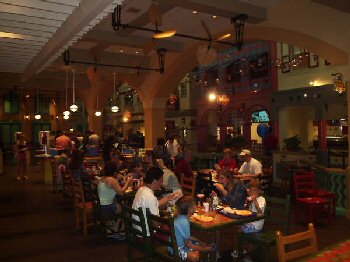 Once we settled into our room, following tradition by watching the Top Seven Attractions show for the gazillionth time, we headed over to Old Port Royale. Old Port Royale (OPR) is where the action is. There's the feature pool plus wading pool and whirlpool, there's a marina and bike shop, and there's the main food options plus shopping. It was a very pleasant walk over two connecting footbridges, across Parrot Cay, a beautiful island with a picnic area. The Caribbean music that is piped in all over the resort added to the themed atmosphere. Our room in Jamaica was under five minutes from OPR. From the most-distant rooms, it can be a bit of a hike, maybe a half a mile (internal buses are available if this doesn't appeal to you).
We were starving by the time we got to Old Port Royale, so we headed straight inside. The food court in OPR resembles an old-style market, with a number of stands offering different menu options. As you enter, you find the stands to your right, and the cashiers and drink stations to your left. We found the set-up to be a little confusing initially. We didn't realize that you order at the individual stands first, then take your ticket(s) to the cashier to pay. I waited quite a while to try to pay for our entrée at the food stand – I know, but really, stop laughing at me! There were plenty of options to choose from, including salads, chicken, sandwiches, pizza, pasta and desserts – yum! We didn't eat breakfast here; those offerings include bagels, fruit, Mickey waffles, eggs and other common breakfast fare. The food court is open from 6:30 a.m. to 11 p.m., although all the food options are not available early and late hours.
Unfortunately, we did not get a chance to try Shutters. This is the CBRs table service eatery. From our quick peak, it looked bright and airy, fitting for the Island Life. Shutters accepts advanced dining reservations, and it may not be a bad idea to get one – who wants to wait around on vacation, mon?
Room service is also available, with a pretty limited menu. You can get pizza, sandwiches and salads between 4 p.m. and 11:30 p.m., from Blue Runner Pizza and Meal Delivery. There are soda vending machines in each village, and fridges in the room for lower-cost snack storage.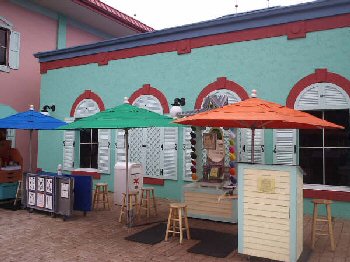 But where was I? Oh, yeah, Old Port Royale. There's lots more than just food here. There's the Goombay Games arcade, hair wrapping and temporary tattoos by the entrance door, and of course a gift shop or two. The Calypso Trading Post is a general store, with CBR logo merchandise as well as stamps, snack foods, beverages, sun screen, etc. The Straw Market supplies all your "beach" needs, with bathing suits and Caribbean-themed attire, for a price (heck, you knew that!). The small jewelry stand, the Pearl Factory sells, well, jewelry. There is also an ATM in OPR, FYI.
Water Fun and More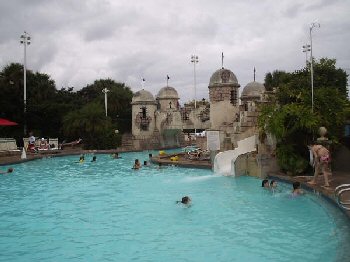 Let's start with the CBR feature pool. This pool is 4,265 square feet of fun, with a water slide, water cannons and waterfalls. The pool is generally open between 7 a.m. and midnight, with more limited lifeguard hours. The pool is heated to a year-round-comfortable 85 degrees, and if that's not warm enough for you during your travel dates, try the 105-degree whirlpool (located right beneath one of the waterfalls- cool! I mean, hot!). There are towels available pool-side. And drinks, at the Banana Cabana bar. The Caribbean Beach Resort also has quiet pools in each of the six villages. Remember to bring your room towels, as there are not towels provided at the quiet pools.
Close by the pool you find the Barefoot Bay Boat Yard and the Bike Works rental shop. The marina rents Sea Raycer mini powerboats, sailboats, pedal boats, canoes and pontoon boats, as well as bikes. Marina prices and hours vary, so stroll over there when you're at Old Port Royale to pick the best float for your and your family. Or rent a bike (or two). Time (and funds) are the only limiting factors.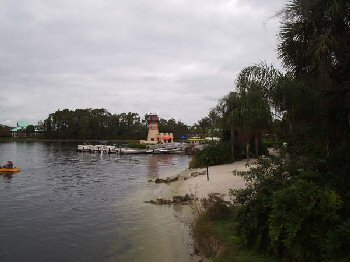 This March, fishing excursions can be booked out of Barefoot Bay. These two hour trips are for one-two guests and include boat, guide and equipment ($200-$230; call 407-WDW-BASS for more info and reservations). The CBR is also adding a pirate cruise this spring. The Islands of the Caribbean Adventure Cruise, similar in theme as those running out of the Grand Floridian and Beach and Yacht Club marinas, leaves from Barefoot Bay Boatyard every Tuesday at 9:30 am. You can sign up by calling the Marina directly at 407-934-2850, as it is not currently available through Central Reservations. The cost is $30, including tax, for a two-hour cruise. Lunch is provided and sure to please: peanut butter and jelly sandwiches, juice, Gummy Bears, Rice Krispie Treats or Goldfish. Dude. Young pirates also receive a bandana hat and their share of the loot "found" on the trip.
The Caribbean Beach Resort also has beaches. White-sand beaches with big hammocks. Wow, that's nice! Just don't try to swim in the lake – that's frowned upon by the Disney folks.
Transportation at the Caribbean Beach Resort
This place isn't small, so buses are a good thing, here. Buses run, on average, every 20 minutes. Plan on taking about 45 minutes to get from your CBR room to the theme park of your choice, give or take. The internal bus also stops at each village and OPR. If you have a car, you'll have no trouble finding a parking space.
Contact Info
Some people like to send things along ahead of time to the resort. If you fall in that category, here's the address (remember to clearly mark your package with your name and vacation dates):
Disney's Caribbean Beach Resort
900 Cayman Way
Lake Buena Vista, FL 32830-1000
Leave these numbers with the pet sitter and other loved ones:
Telephone: (407) 934-3400
Fax: (407) 934-3288
We loved CBR and We're Not Alone
Shortly after we returned from our Disney trip, I was pleased to read Maureen W.'s CBR review on TheMouseForLess's Yahoo!Groups list. She loves the CBR, and agreed to share her mini-review here:
Caribbean Beach is beautiful – it really is my favorite. I have been there 4 times, twice with just my son and twice with my extended family (mother, sisters, cousins, and all the kids, about 14 people). We have stayed at other resorts, including deluxe ones, and the Caribbean is really wonderful. I have stayed at a number of the areas at the Caribbean Beach and I don't remember ever feeling that I had to walk too far to get to the bus or the food court. I couldn't even imagine driving there. The bus stops are very conveniently located; each area has a bus stop.

I would ask for a water view, this way you are closer to the small pool and closer to the bridge (to the food court). If you get a standard view, you could end up in the back at the parking lot, which is closer to the bus stop but certainly not as pretty. Jamaica is my favorite. The bus typically stops there first, so you will always get a seat, 'cause the buses can get crowded. In Jamaica, you are far enough away from the traffic of the food court, but close enough to cross the bridge to get there.

You don't need to fight the crowds of the parks to see the fireworks, just pull up a chair and watch them from the food court area. Get a drink and set your chair at the edge of the sand and relax and enjoy. Each area has its own small pool incase you don't want to join the crowds of the larger main pool. Being there with so many family members, we got the feeling that it was our own private pool. It's very relaxing. Each area also has their own laundry room which is right next to the small pool areas, so you can put a load in, and sit by the pool until it's done.

The food court had many choices for kids and adults. I'm a pizza lover, so I had that some everyday. My son loved the french toast sticks, which came in a beach pail (we ended up with a lot of beach pails).
Thanks for that great review, Maureen!
Looking for more info and photos? We've got 'em!
The Resort Information page has even more info and photos for the Caribbean Beach resort.
I know articles traditionally end with a summary paragraph, so here's mine: the Caribbean Beach Resort is beautiful. Consider adding it to your list of "must-visit" resorts at Walt Disney World.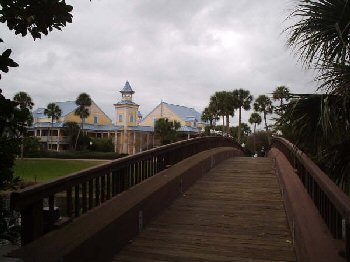 Magically Speaking Featured Article
Library of Congress ISSN:1556-3863
Incoming search terms:
parrot cay disney caribbean beach resort