This post may contains affiliate links for your convenience. If you make a purchase after clicking a link we may earn a small commission but it won't cost you a penny more! Read our full disclosure policy here.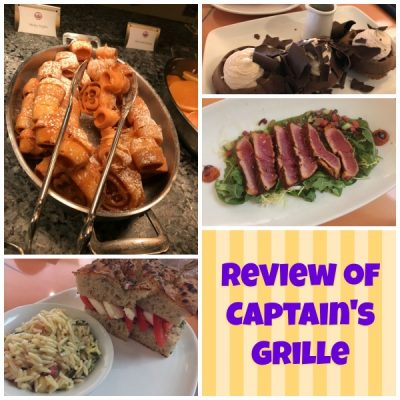 One of my favorite Disney restaurants is one that not a lot of people talk about. It's one that almost always has availability, even day of. And truthfully, that's probably why it's being closed for refurbishment beginning May 15.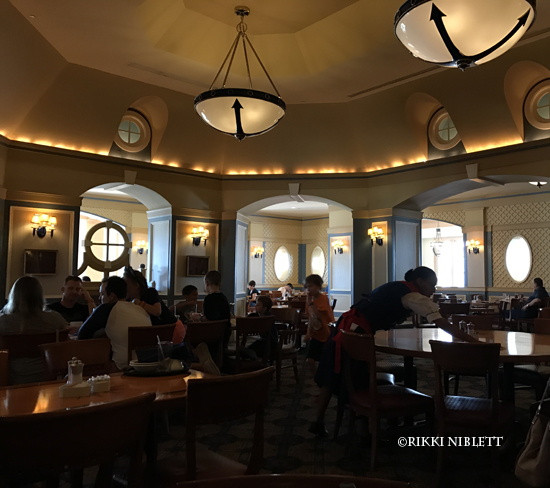 Captain's Grille at Disney's Yacht Club is your typical resort restaurant. It is honestly what everyone thinks about when you think about dining in a hotel. It features a moderate sailing theme, with beige walls and is open into the hotel so that passersby can decide, "Hey, I want to eat there too."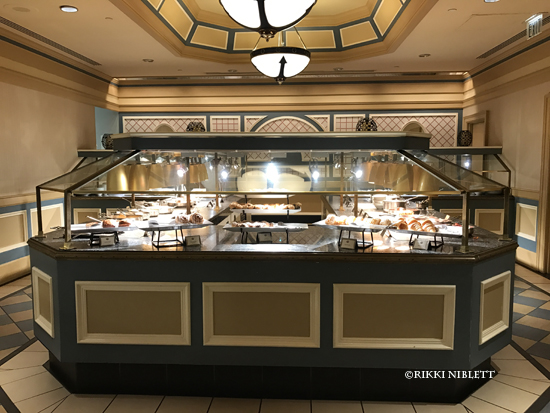 Captain's Grille currently features a very yummy breakfast buffet. Unfortunately, during the refurbishment, I believe this will be removed. The buffet was well stocked and featured Mickey Waffles, bacon, sausage, eggs, bread pudding, grits, biscuits and gravy, salmon, pancakes, french toast, frittatas, potatoes, fruit, and more.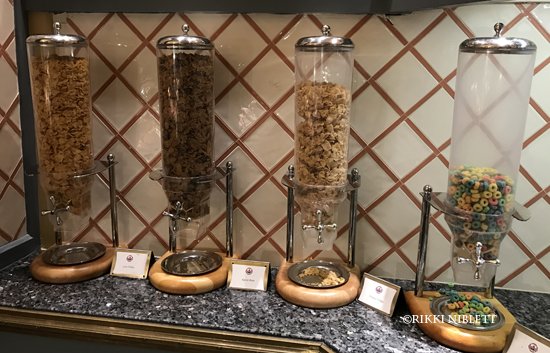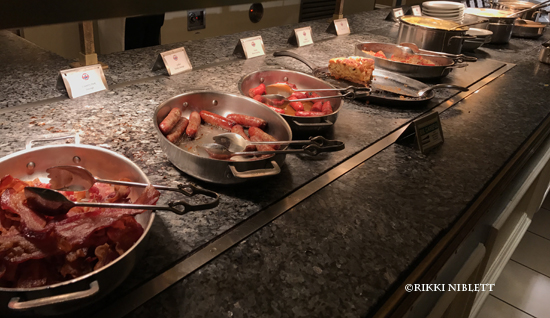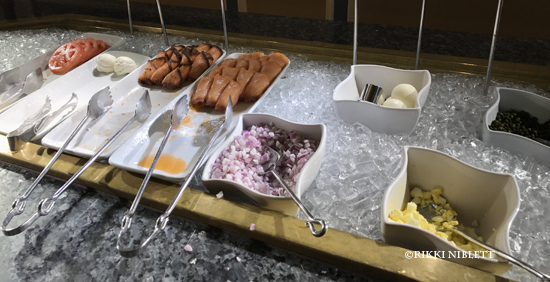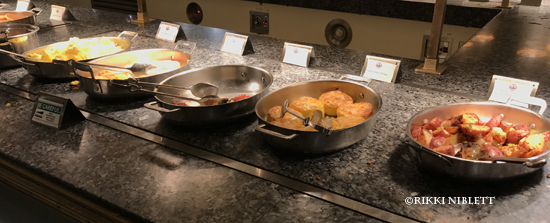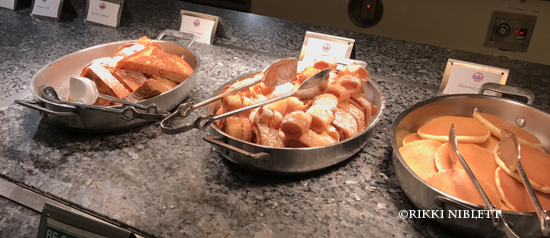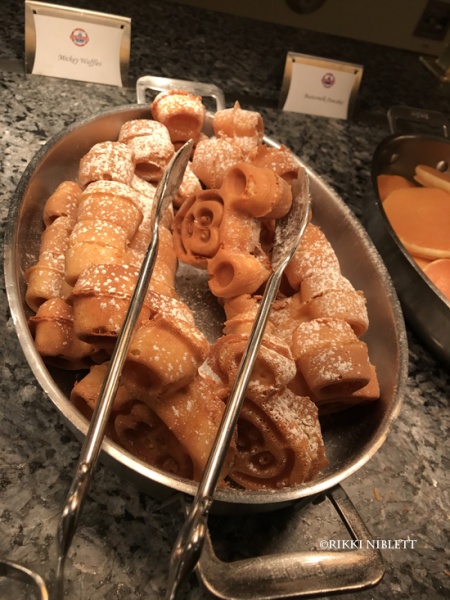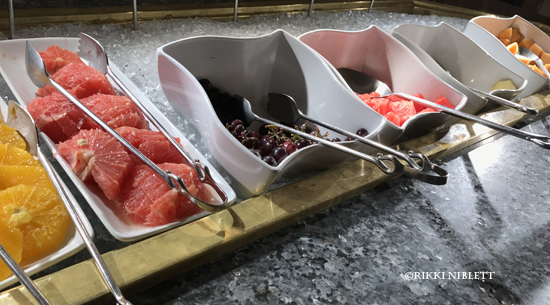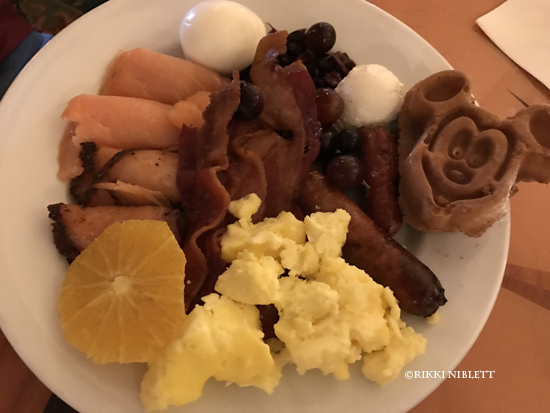 But I loved how they also featured an a la carte menu. Here is one of my favorite breakfast options of all time. It is the dark chocolate waffles with Dried Cherry Compote, Espresso-Mascarpone Cream, Chocolate Shavings, and a choice of Bacon or Sausage. Holy cow was this an incredibly decadent breakfast. It was TOTALLY worth all the calories!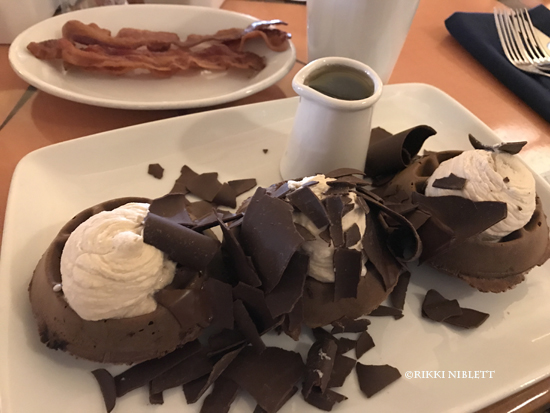 I've also visited Captain's Grille for lunch.
For an appetizer, I tried their seared tuna which is served with Cucumber, Tomato, Haricots Verts, Pickled Watermelon, Red Pepper Coulis, and Verde Sauce. This was ok. It was a little overcooked, to be perfectly honest. I'm used to my tuna being a little more raw.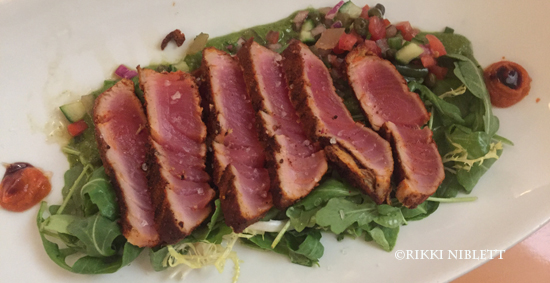 For my full lunch, I wanted something a little lighter. It was a very hot day out (hello….it is Florida!) and I didn't want to eat a very heavy lunch. Especially if I was going to go back into the parks after. I decided on the Tomato and Mozzarella Sandwich which consisted of Tomato, fresh Mozzarella, and chopped Arugula Vinaigrette on Toasted Sea Salt Focaccia served with Vegetable Orzo Salad. Now, this was incredibly good. The tomato was ripe and the mozzarella was creamy. It was a lot of bread though. The vegetable salad was cold and refreshing. It was a wonderful meal overall.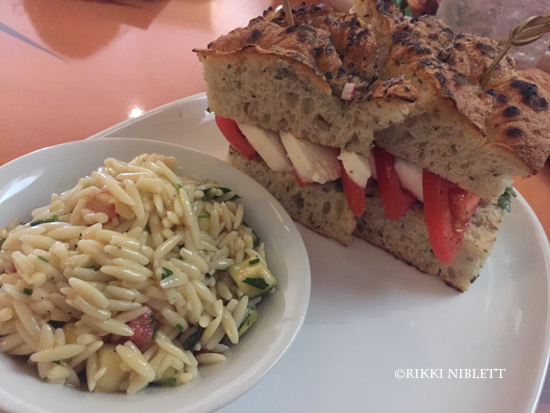 I am anxious to see what the future brings for Captain's Grille when it reopens from its lengthy refurbishment later this fall. (Looks like their targeted reopening date is September 30.) During refurbishments, the Captain's Grille is relocating to Ariel's at Disney's Beach Club Resort.  I hope that it is refreshed and looks great when it debuts again, but I really hope that they don't get rid of my chocolate waffles!
Have you ever dined at Captain's Grille? What have been your experiences? Share in the comments.
Did you like this article? Make sure to share it with your friends! Check below for easy ways to share!