This post may contains affiliate links for your convenience. If you make a purchase after clicking a link we may earn a small commission but it won't cost you a penny more! Read our full disclosure policy here.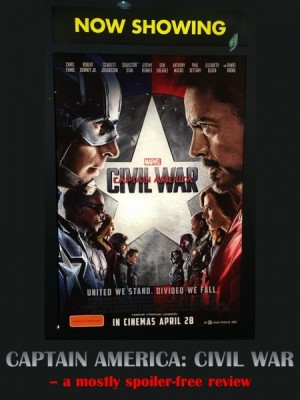 There are certain Disney properties that create buzz and hype just at the mere mention of the name. Marvel is certainly one of those properties and when my family heard about Captain America: Civil War, there was no stopping the table conversations of 'insider information' and speculation. So, to say that there was excitement while we waited in line to see the new movie on the extreme screen at our local theater, is an understatement.  I will endeavor to keep this review as spoiler-free as possible but for those of you who want to make sure that this is spoiler-free, go see the movie.  It was a pleasant way to spend a few hours.
For those of you who would like a bit more of a review, Captain America: Civil War is first and foremost a Captain America and Bucky Barnes story with a substantial Avengers component.  The plot pits Cap against the larger proportion of the assembled Avengers as he tries to exonerate Bucky.  Be prepared to feel the chill grasp of Hydra once again; however, the real antagonist of the story is Revenge.  Under the influence of guilt, anger, loyalty, and honor, our beloved Avengers experience the schism of that of the American Civil War – brother against brother, friend against friend.
The movie introduces two new Avengers: Black Panther and Spiderman.  I can hear the fans already, 'But Spiderman is not new to the screen!'.  True.  But this Spiderman is.  Be prepared for a Spidey that harkens back to the original comic books of a very young Peter Parker taking on the evils in the world. Black Panther is brought to life in a true to the book manner.  Black Panther's character development is tight and Chadwick Boseman brings a respectful air to the performance.  I have heard a lot of concern about both of these characters and how they would play with the rest of the established crew.  Fear not, they are true Marvel heroes.
I admit that I have not liked every Marvel movie.  For example, I did not like Avengers: Age of Ultron as much as I had hoped that I would.  My main complaint about that movie was Joss Whedon's decision to do complex fight scenes with very short burst filming.  I found the quick cutting of fight and action scenes very difficult to follow.  I was very pleasantly surprised to see that Anthony and Joe Russo did not follow this directorial decision.  All of the action/fight scenes in Civil War were long shot and easy to follow.  This enhanced the excitement for me and added a lot to the movie.  Being able to see the facial expressions of the Avengers as they battled each other brought heart to the story.
As with most Marvel movies, there are a few questions that some people need answered before the movie.  I have included them in the SPOILER paragraph below.  It's in white type, so as not to give away these few answers for anyone who does not want to know.  If you want to read the paragraph, just use your mouse to highlight this section:
I always look for three things in Marvel movies.  The first is the cameo by Stan Lee.  Yes, there is one.  You will not miss it towards the end of the movie.  The next are the obligatory Easter eggs.  Yes, they are there as well (including name dropping of other Disney properties).  The last is the end credit story-continuation/foreshadowing of the next movie.  And I am very happy to let you know that you really should stay until the very last of the credits (yes, there is more than one of these gems).
Now for the nitty-gritty.  Captain America: Civil War is an Action/Adventure/Sci-Fi Comic Book movie.  It runs 2 hours and 27 minutes (unless you are in Australia where the cut only runs 2 hours and 26 minutes).  The movie is rated PG-13 in the United States (12A in the UK and M in Australia) for the moderate violence associated with action films.  Amazingly, even Tony Stark refrains from extreme language (although there still are a few words that trickle from his mouth which would strip the paint from the kitchen walls, so be aware of gentle ears).
I hardily recommend that any comic book fan (particularly Marvel fans) see this film.  I know that my family and I will be going again to see it on the big screen.
Incoming search terms:
https://www themouseforless com/blog_world/captain-america-civil-war-a-mostly-spoiler-free-review/