This post may contains affiliate links for your convenience. If you make a purchase after clicking a link we may earn a small commission but it won't cost you a penny more! Read our full disclosure policy here.
By Lindsey Tullier
Dining has always been an integral part of our Walt Disney World vacation experience. With two small boys, ages four and almost two, character dining now makes up the bulk of these experiences. On our most recent trip, we decided to try Cape May Café's character breakfast at Disney's Beach Club Resort. Featuring some of our sons' favorite characters (Minnie, Donald, and Goofy), we thought this restaurant was sure to be a hit.
Although we were staying at Disney's Saratoga Springs Resort, we had our own vehicle, making transportation to the Beach Club very easy. (Using Disney transportation to travel from resort to resort can be a hassle since it requires a transfer.)
We arrived ten minutes prior to our 7:35 a.m. Advanced Dining Reservation (ADR). This restaurant opens at 7:30 a.m. We checked in at the podium, observing a fairly empty restaurant, and I even heard the hostess tell a gentleman in front of me inquiring about the wait without an ADR that there was only about a 15-minute wait. My family and I decided to browse the lobby of the Beach Club while waiting for our pager to go off, assuming it would be only a few minutes. Since this trip was in December, we took the opportunity to take in the beautiful lobby decorations, which include a life-size chocolate and gingerbread carousel.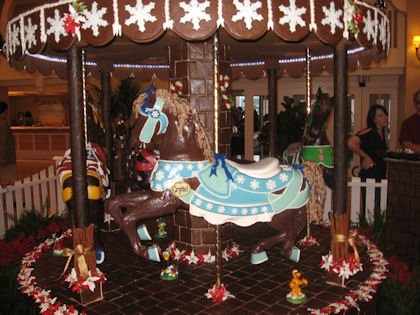 After waiting about 20 minutes, I inquired with the hostess about how much longer it would be. She said it should be any minute, as she could hear tickets being printed up for the seaters. We sat on a bench and waited. After another 15 minutes had passed, I returned to the podium and informed the hostess, as politely as a mother of two small, hungry children can be, that my family and I had been waiting over a half an hour for our ADR, still observing numerous empty tables. I was told I should not have been waiting that long (she didn't have to tell me), and she began to look into it. A manager and a seating hostess were called over, and they soon discovered that I had been placed on the seating hostess's computer but had been overlooked. After not so much as an apology, we were promptly seated.
Fortunately, our dining experience improved. Our waitress was quickly at our table taking drink orders, and I was soon off with my 4-year-old to obtain breakfast for myself and the children while my husband entertained our youngest. As I am sure you have already guessed, breakfast at Cape May is served buffet-style. I must say that I was not impressed with the selection. After eating breakfast at both the Crystal Palace and Tusker House, I found their selection to include only the most basic of breakfast items: scrambled eggs, sausage, bacon, biscuits, standard Mickey waffles, cold cereal, oatmeal, and fruit. While I may have missed something, you get the picture. With that being said, what they did serve was hot and delicious.
Our first character was Donald, and he arrived shortly after I returned with our food. The character interaction at Cape May is very good. Since this is a smaller restaurant, the characters seem to spend more time at each table. Donald and Minnie even made it to our table twice. They seemed to do a great job of reading what type of interaction each guest desires. For example, Goofy knelt down next to my little ones for some calm, special moments, and then "goofed" off with some teenagers at a nearby table. One important note about the characters at Cape May is that they are all in beach attire. You will not find these costumes at any other location.
The cost of this buffet is among the cheapest you will find. It is $18.99 per adult and $10.99 per child, which is comparable to the Crystal Palace Character Breakfast (holiday surcharges apply). However, I do not feel that I received the same value at Cape May that I do at the Crystal Palace.
If I had no previous character dining experiences, I probably would have walked away feeling really excited about this experience. The food was hot, the service was good (once we were seated), and the character interaction was fun. However, I have certainly encountered better character breakfasts where the food is concerned. With that being said, if I were staying at the Beach/Yacht Club, I would consider returning to Cape May Café for the character breakfast in the future. However, I would not recommend taking the drive (and especially not the bus rides) to Cape May Café for this particular character dining experience. For the same level of character interaction and cost, the Crystal Palace or Tusker House are your best bets.
For more information about Cape May Café and other Walt Disney World dining experiences, visit https://www.themouseforless.com/tripplanning/wdw.shtml#dining.
Incoming search terms:
https://www themouseforless com/blog_world/cape-may-cafe-character-breakfast/