This post may contains affiliate links for your convenience. If you make a purchase after clicking a link we may earn a small commission but it won't cost you a penny more! Read our full disclosure policy here.
Daughter Mary has been to WDW multiple times.  She loves it there, and when she's not at Disney, she spends her time Disney Dreamin'.  She is our unofficial tour planner, and does a great job.  And she's a scrap booker who makes wonderful autograph books for her kids.  I love her autograph books, but I'm a quilter.  My favorite quilts to make are what I call "Character Quilts".  I take coloring book pages, put them into my favorite graphics program and cut, crop and resize them to use in my appliquéd quilt blocks.  So, I decided I would do quilt blocks for autographs at Disney.
Mary helped me to decide which characters to do, and I made 50 blocks for a quilt.  I bought spring-loaded embroidery hoops, and some fabric markers.  Then I put the blocks, the markers and the hoops in a very large zippy bag and was armed and ready for character meet and greets at Walt Disney World.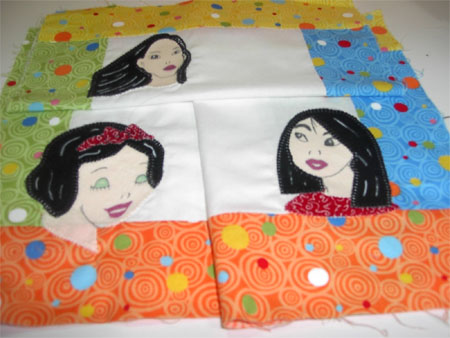 Here are three of the princesses.  The blocks are folded for the purpose of photo taking, but there was plenty of room for them to sign.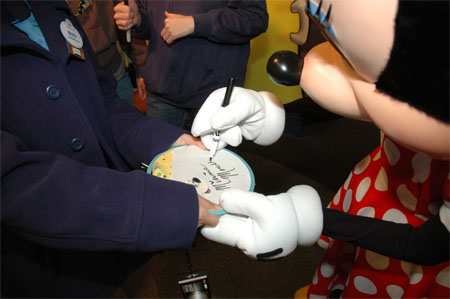 Here you can see Minnie signing her block.  The hoop held the fabric tight so that she could easily sign her name, and also provided the cast member (or the character) with a comfortable way to hold the block for signing.
Getting autographs on my quilt blocks made my first Disney trip a little more special for me.  Some of the characters, including Goofy and Woody, remembered signing their blocks when I saw them later in the parks.  At the Princess Breakfast at Akershus, Princess Ariel was so impressed with her block that she asked to see some of the others.  And when she signed her block, she even personalized it with my name.  And all the while, I was so proud of my accomplishment, and glad I had taken the time to make the blocks.  Although I was hesitant about asking the characters to sign autographs for an adult, there was not one single character that indicated they were unhappy about signing.  They were more than willing to take the time to do so.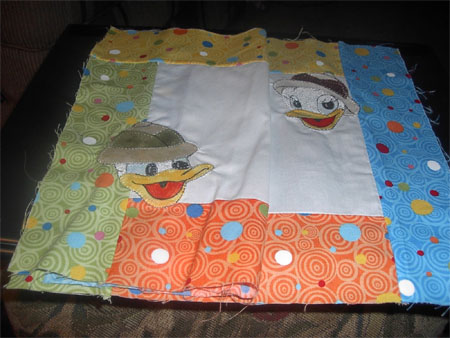 Since we would be meeting Donald and Daisy at Donald's Safari Breakfast at Tusker House, I decided to do them in their safari clothes.  And although the gentleman at the next table was pulling Daisy's tail the entire time she was at our table, she took her time to sign my blocks and all the autograph pages from our group.
I still have some of the 50 blocks  that I wasn't able to get signed on the first trip.  But I'm planning to take them on our next trip to see if I can get some more of the autographs.  We'll be there during Mickey's Not So Scary Halloween Party, so maybe I can catch some of the villains.
So, if you are an adult wanting to collect some autographs from the characters, don't be afraid to ask.  It just may give you a little extra special memory, and they will do it willingly.
By Lindabee