This post may contains affiliate links for your convenience. If you make a purchase after clicking a link we may earn a small commission but it won't cost you a penny more! Read our full disclosure policy here.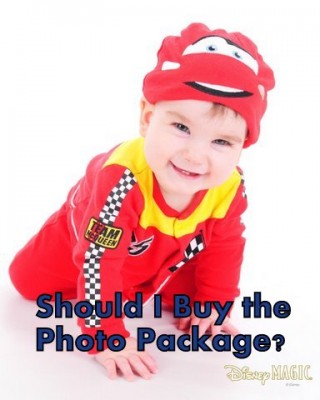 I take decent pictures and have a great DSLR. I did not purchase the photo package on my first two Disney cruises.  Most characters have a cast member with them who will take a picture with your camera, so I figured I would save a little money by just taking my own pictures and handing my camera off when I wanted in the shot.
That theory was flawed for many reasons.  First, the cast member who will take pictures for you is not a photographer and is not vested in making sure little Suzie is smiling and little Johnny isn't picking his nose.  He or she might not even be concerned with whether or not the shot is in focus or all heads are in the frame. For example: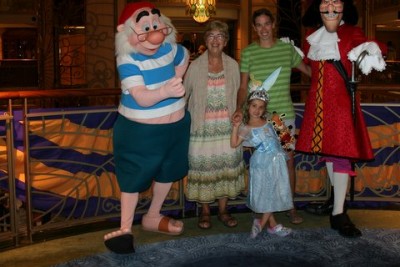 Another reason that theory was flawed:  I have two children. Although I have been spotted wearing my superhero cape, there is only so much I can do at one time.  I have discovered that this does not include framing the shot, focusing the camera, all while getting both children to smile and look at the camera. I might take 100 pictures at home before I get one good one, and usually by then no one is smiling and likely my youngest has set something on fire.
Finally, the photographers on board have a boatload of equipment.  I can't take a lighting kit and tripod on vacation with me – I wouldn't have room for the princess and pirate costumes!  The professional photographers have their equipment set up and ready to capture the specific scene they are assigned to.  Their lighting is perfect.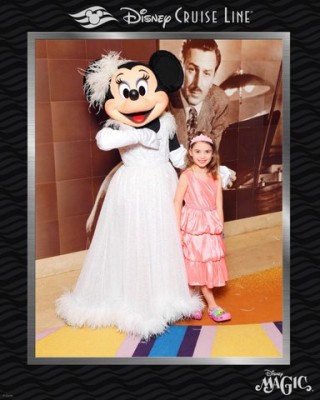 On my first two cruises I ended up purchasing a few prints on each cruise because they were just so amazing, so I really didn't save that money anyway.
When we were preparing for our third cruise, I decided to give in and splurge for the photo package.  It included a CD of all pictures taken of my family on the ship and at Castaway Cay, as well as prints of many of those pictures.  With my purchase I also was granted the rights to those pictures, so they are mine to print at Target or Shutterfly, to share with you here, to post on Facebook, or to email to friends and family.  I received 280 photos on my CD, and 255 prints.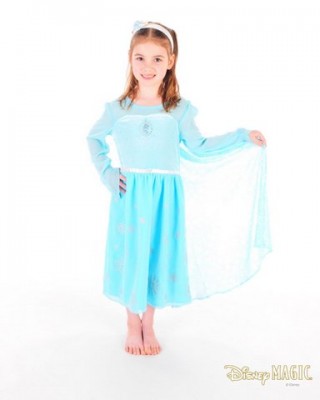 My iPhone typically takes okay pictures.  Here are some photos taken by cast members with my iPhone compared to those taken by the staff photographers:
As you can see, the quality difference is huge.
Shutters, the photography company contracted by Disney to capture memories on their cruise ships, uses facial recognition software to identify individuals in your party.  Of my 280 photos, 4 were of people I did not know.
The photos I received included character encounters, professional portraits with various backdrops, and dining photos.
We had individual pictures and large group shots.  My brother's family was in a different stateroom, and as long as one person from my stateroom appeared in a picture (using that facial recognition software), we received all of those group pictures as well.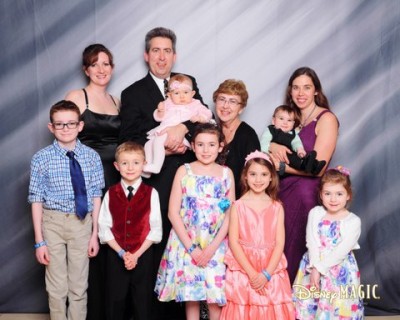 Package prices vary depending on the length of your cruise.  You can save 15% by purchasing the package ahead of time.  If you are not happy with the number of photos or the quality of your photos at the conclusion of your cruise, Shutters will refund your money.  For back-to-back cruises you can purchase the package for your second cruise for 50% off.  If you have more than one stateroom the other rooms can purchase an additional CD for 50% off. Packages are available for 1o prints, all digital files, or digital files plus prints.  Other packages are available on board, but they do not reflect the 15% discount you can receive by purchasing before you board.  Prices and packages are available online.
An individual photo print on board costs around $20.  The 255 prints I received at $20 each would equal $5100.  Granted, I never would have purchased all 255 prints, (and I'm really not sure what to do with all of them now that I have them home!) but for the high quality prints I received and the fantastic work of the photographers on board, the photo package was well worth the price for my family.
Have you ever taken advantage of the photo packages available on the Disney Cruise Line? What are your thoughts?
Incoming search terms:
https://www themouseforless com/blog_world/buy-photo-package-onboard-disney-cruise-line/