This post may contains affiliate links for your convenience. If you make a purchase after clicking a link we may earn a small commission but it won't cost you a penny more! Read our full disclosure policy here.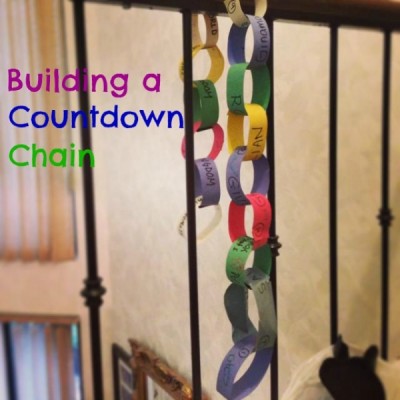 Like many families, my children and I are often thinking about our next Disney vacation when we're between trips. One of the fun activities we've discovered in preparing for our trip has been to build a countdown chain. This activity is best enjoyed if you can do it as a group.
Materials Needed:
Construction Paper
Scissors
Tape
Markers
We like to use several different colors of construction paper so that the chain is like a rainbow, but it could be fun to use the colors of your favorite character (red, yellow, black and white for Mickey/Minnie or blue, yellow, white for Donald, etc).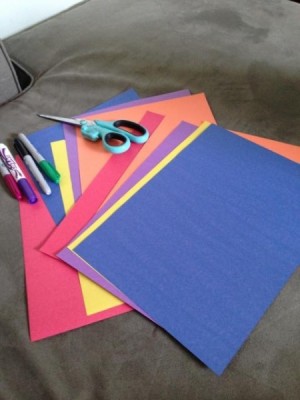 Cut the construction paper into strips. I prefer to cut it lengthwise so that the strips are longer, but if you want to make your chain shorter in length (especially if you have a lot of days before your trip), you can cut the strips width-wise. You will want each ring to be about an inch to 1.5 inches wide. To be more precise, you can measure out the strips with a ruler and mark your paper accordingly beforehand. We prefer to make the strips freehand so that they deliberately vary slightly from each other. Make sure you cut enough strips for each day between now and the date you'll leave for your trip.
Once the construction paper is cut, decide how you want to pattern your chain. This year, we arranged the colors randomly, but did not use any two colors twice in a row. You should put your strips of paper in order before you start marking them so that you won't make any mistakes.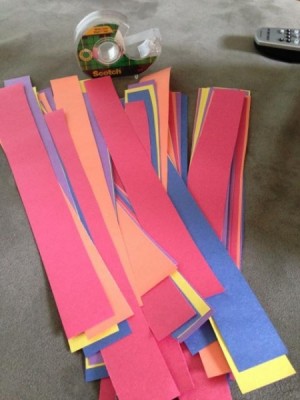 Next, you can start numbering the strips of paper with one number for each day between now and the date you will leave on your trip. You can choose the best way to decorate your strips. We like to write in a special aspect of the vacation on each strip and then include a picture that relates to that aspect. Sometimes we will write the name of someone who is going on the trip, sometimes the name of an attraction, resort, restaurant or food we're looking forward to eating. It is always fun to list out all of these items together, and we love deciding what items are worthy of their own date on the chain.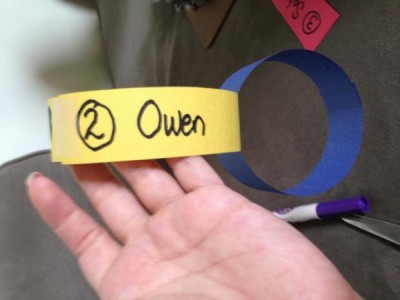 As you finish decorating each strip, you can tape them into interlocking rings in numerical order. Make sure you have some room to spread the chain out as you work, because it can start to get very long and difficult to handle. Once all of the strips are taped together into one chain, it's time to hang up your creation. I love taping the chain around a banister, though this year we taped it around our entertainment center instead.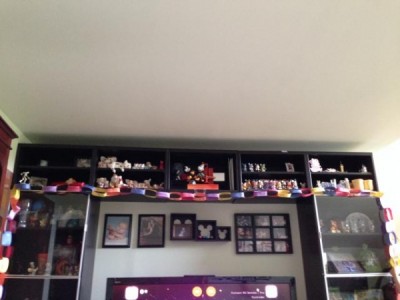 The best part about the countdown chain is that you get to keep enjoying it long after it's been made. You can remove one link from the chain each day or remove a few links every few days. As we remove each chain, we place them into a large ziplock baggie for a souvenir of all the things we anticipated in 2015. It is great fun watching the chain get smaller and smaller as we near our trip, and pulling that last ring, knowing we will leave on vacation the following day.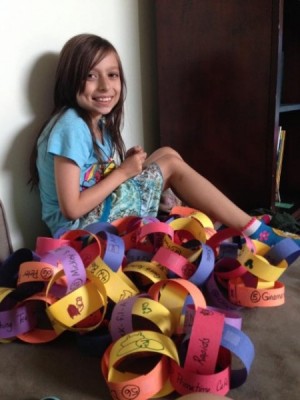 I encourage you to make your own countdown chain before your next vacation!
Have you ever made a vacation countdown chain? What is your favorite way to countdown to a Disney vacation?
Incoming search terms:
https://www themouseforless com/blog_world/building-countdown-chain-trip/