This post may contains affiliate links for your convenience. If you make a purchase after clicking a link we may earn a small commission but it won't cost you a penny more! Read our full disclosure policy here.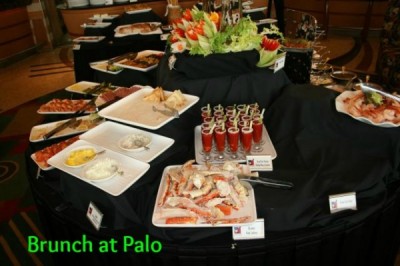 One of the wonderful things about Disney Cruise Line is that there are so many dining opportunities to choose from onboard the ships. Although I am a big fan of enjoying dinner with my family in the main dining rooms onboard, my husband and I have made it a tradition to go to brunch at Palo on each cruise.
Palo is one of the only adult-only dining venues onboard all four cruise ships (you can also find Remy on the Disney Dream or Disney Fantasy). They offer dinner on each night of the cruise, as well as a brunch on sea days.
It can be extremely difficult to get a reservation for Palo brunch since the seating is limited. So it is a good idea to book your meal through Disney Cruise Line's online booking engine prior to your sail date, if possible. If you cannot get a reservation through the website, do not worry. Just be sure to visit Palo's check-in station as soon as you get onboard your ship. We have had success getting Palo reservations both ways.
Brunch reservations run from the late morning through early afternoon. My preference is usually to skip breakfast and take a late morning reservation, since I like to be hungry when we arrive. There is so much food to choose from at Palo brunch, and never enough room in my stomach to put it all.
On our last cruise, we were offered either champagne, mimosas, or a champagne cocktail with some blackberry liquor. I chose the blackberry option and was extremely happy with my choice. I am not normally a champagne fan, but the tartness and sweetness from the liquor made me a convert.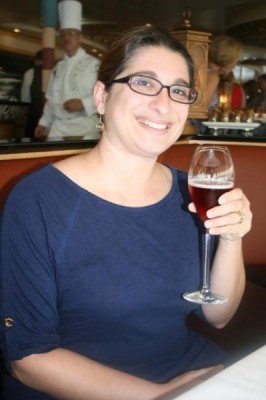 At the beginning of our meal, our waitress was kind enough to take us around to all of the self-serve stations in the restaurant. There are tables set up in the middle of Palo with all kinds of food options- bread and cheese, seafood, breakfast pastries, mini desserts, charcuterie and vegetables. I always lean towards trying as many of the cheese options as possible along with some shrimp cocktail and king crab legs (pre-cracked for ease in eating them). Everything at Palo is extremely fresh and expertly prepared.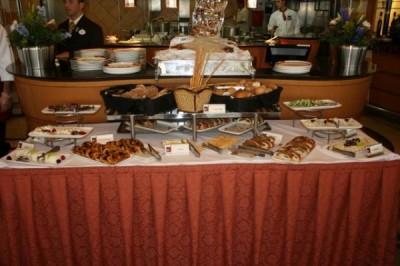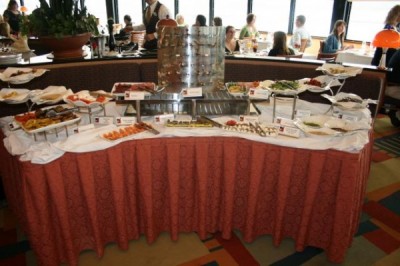 In addition to the self-serve options, Palo has a series of made-to-order dishes, including breakfast options, house made pizzas, entrees and desserts. While these options have varied a little between each of our cruises, they are still similar enough to recognize our favorites.
My husband loves the eggs benedict Florentine (with fresh spinach), while I always skip the breakfast options and go straight for the chicken Parmesan with risotto. The pizza options are also wonderful, usually including a margherita style, a meat option, or a gorgonzola with grapes. They also serve a cold strawberry soup, which is heavenly.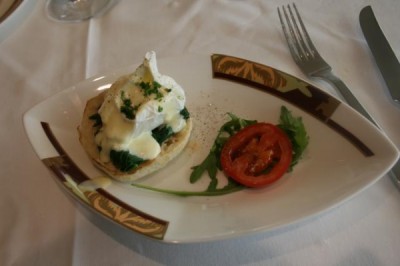 Eggs Benedict Florentine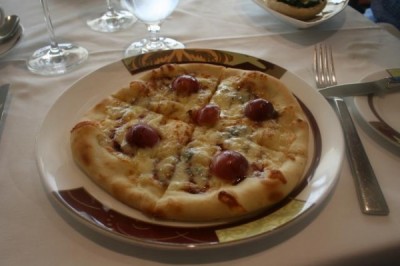 Gorgonzola and Grape Pizza
Of course, by this point I am normally stuffed, but have learned to try to pace myself so that I still have some room for dessert. Between the house made soufflé and the desserts table, there are so many options to choose from. I would need to take many more cruises in order to try everything on the menu.
Brunch (and dinner) at Palo is priced at $25 per person as of April 2015, when I am writing this article.
(Editor's Note: The cost has actually just recently increased to $30 per person for both dinner and brunch at Palo. In this editor's opinion, it is still worth the cost for either brunch or dinner or even both.)
My husband and I both agree that it is a bit of a splurge, but that the exemplary service and food quality make the experience well worth the price. I highly recommend that you give Palo brunch a try on your next Disney cruise.
Have you ever tried Palo Brunch? What's your favorite thing to get?