This post may contains affiliate links for your convenience. If you make a purchase after clicking a link we may earn a small commission but it won't cost you a penny more! Read our full disclosure policy here.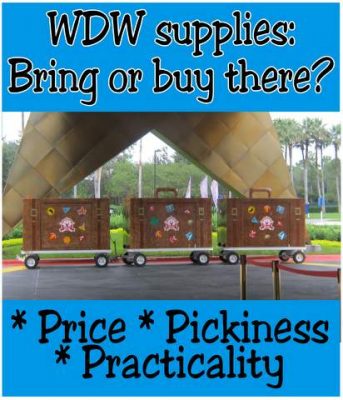 So you've decided to fly to your Disney destination! Now come the tough decisions of how much stuff you can bring! When you're choosing whether to pack or purchase, most of your concerns will be based on the cost, how particular you are, and how convenient it is to bring the items in question. If you're debating whether to haul an extra suitcase full of things like snacks, sunscreen, baby supplies, shampoo, souvenirs etc., here are some questions to ask yourself, bring or buy?
Price
Can you bring it for free? If you've got an airline credit card that gives you free checked luggage, you're in luck. Similar if you have frequent flier status with the same benefit. Are you flying one of the few remaining airlines that gives you free baggage?
How much for a spot in the luggage hold?
How much extra is it really costing you? When we flew with six people to Walt Disney World, checking one extra suitcase cost us $50 roundtrip. While the items inside weren't free, I used sales and coupons to buy the snacks and toiletries at a big discount compared to a grocery order or purchasing them on Disney property. For $8.33 per person, I'm pretty sure I (at least) broke even.
Pickiness
Do you have food allergies or a special diet? Bringing some of your own food may be the only way to guarantee you'll have what you need. You can purchase some items through Amazon or a grocery delivery. That will still mean gambling that they will have what you need in stock — and it may cost significantly more.
How many diapers can one child use in a week? And would it be better to pack them in an extra suitcase, or buy them when you arrive? Same goes for formula, baby food, wipes, etc.
Are you willing to use the resort-provided toiletries? If you use dandruff shampoo, you'll want to bring your own. Two of my family members wear contacts, so we brought a bottle of hand soap to cleanse hands before removing the contacts. The resort gift ships do stock sunscreen, but the selection was extremely limited, and I felt greasy all week wearing my least-favorite brand.
Practicality
How much gear are you toting? If you're a single parent with a stroller and two carry-on bags, you probably won't want an extra suitcase to fight with. At the other extreme, we put our teenage son to work as a luggage valet in return for his vacation week!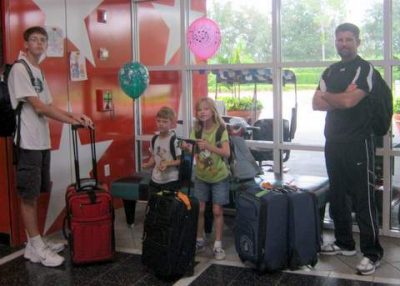 Be sure to count your suitcases every time you change locations!
Will you have a rental car? If you'll have transportation, you can stop at a grocery store and probably pick up toiletries, sunscreen, and everything edible on your way to your resort. You also have flexibility to re-stock of you didn't bring everything with you. If you're taking Disney's Magical Express, you won't have resort parking fees, but you will be dependent on what Disney sells you on property. Offsite, you may be far from a shopping center.
How do you plan to eat? If you've got the Disney Dining Plan, you may not need extra food. If you have a condo or Disney Vacation Club villa, you'll need provisions to cook in your kitchen. My family eats mostly in the theme parks or resort food court for lunch and dinner, but we do breakfast in the room 95% of the time when we travel, so we bring (or purchase) pastries, orange juice, cereal, etc.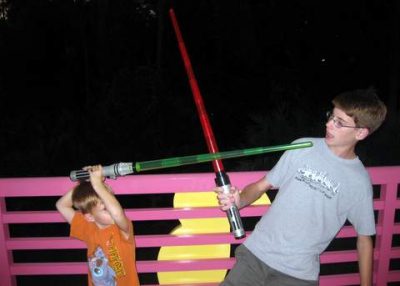 Did you know that light-up lightsabers only partially collapse?
What will you buy to replace the consumables you bring? If you're planning on bringing home plush characters, princess dresses, lightsabers, or collectibles, having an extra empty suitcase is a blessing. It's also helpful if you plan to purchase items the TSA frowns on in carry-on luggage, like snow globes, real or toy weapons, or alcohol.
Decision time!
You'll have to do your own math and measuring to see what method — or a combination of them — works for your travel to the parks or anywhere else you fly. Have a comfortable vacation with the brands and supplies you prefer by thinking about what you'll bring or buy ahead of time.
Is traveling with an extra suitcase worth it to you? What do you wait to purchase when you get to your destination? Let us know in the comments, or on Facebook or Twitter what you decide to bring or buy.
Did you like this article? Make sure to share it with your friends! Check below for easy ways to share!
Want to visit a Disney Destination? Contact The Magic for Less Travel for more information and a free, no-obligation quote.