This post may contains affiliate links for your convenience. If you make a purchase after clicking a link we may earn a small commission but it won't cost you a penny more! Read our full disclosure policy here.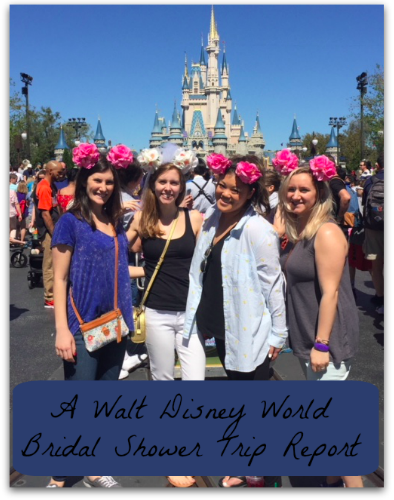 I'm getting married in October, so this year has been crazy! Between planning, working, traveling, I haven't had a ton of leisure time! Last month, I was given the ultimate surprise: a bridal shower/girls weekend in Walt Disney World, where I was able to recharge my batteries, enjoy a Disney weekend with my best friends, and indulge in some spa time! Here, I'm bringing you my trip report from my bridal shower weekend!
My parents live in Central Florida, so they decided to host a surprise bridal shower for me at my very favorite place on earth, Walt Disney World! My bridesmaids were all in on the surprise; my Maid of Honor called me up with a crazy idea: that she and I take a girls weekend in Walt Disney World in less than two weeks! I agreed (because who wouldn't want to take a spontaneous weekend in Florida!), and we booked our flights and made some FastPass+ reservations. Little did I know, this girls trip was a cover for a much bigger surprise! My parents managed to get flights for all of my bridesmaids for the weekend!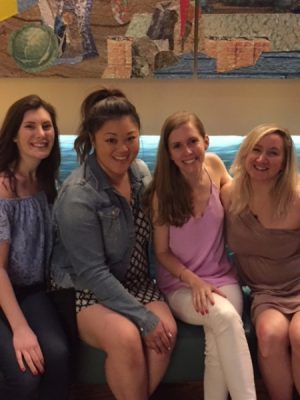 I live in New York City, and this winter has been absolutely dragging. It's important to begin my trip report with this information, because my bridal shower happened to be scheduled during one of our many Nor'easters. I was flying out of NYC along with 2 other bridesmaids (on separate flights, of course!), while one girl was flying from New Hampshire, and 1 from Connecticut… all right in the center of a big storm. It was a crazy day! I woke up to a cancelled flight, along with 3 of the other girls (mind you, I had no idea anyone but myself and one friend were coming!). Through the magical powers of Disney, 4 of us managed to reschedule our flights and get to Orlando! I happened to get rebooked on a flight with my future sister-in-law; somehow, I didn't notice that she was sitting directly in front of me on the plane!
We all trickled into Orlando International Airport over the course of a few hours, went to grab a bite to eat, and headed back to my parent's house for the night. I was greeted with my itinerary for the weekend: a day at the park of my choice, dinner reservations at The Edison, brunch at The Wave for my shower, and a massage at Senses, the Grand Floridian spa! We had a gorgeous 1 bedroom suite at Bay Lake Tower at Disney's Contemporary Resort, so we were walking distance from the Magic Kingdom!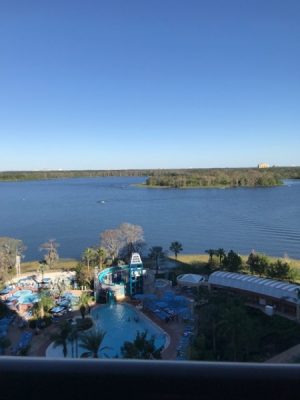 DAY ONE
MORNING AT THE MAGIC KINGDOM
Since one girlfriend had never been to Walt Disney World and one hadn't been since she was little, I chose The Magic Kingdom for our park day. I wanted to show them the magic of Disney, and figured this would be a perfect start to our trip (and the proximity to our resort was a huge plus, too!). We packed up early on Saturday morning, enjoyed a big breakfast at home, and went to check in at Bay Lake Tower. I'd never stayed here before, and I was blown away by the incredible suite! Complete with a full kitchen (larger than my own in Manhattan!), living room, large bedroom, two bathrooms, and a gorgeous balcony view of the lake, I could've happily spent the next two days at the resort!
We checked in at the front desk, were granted 3 extra FastPass+ to any ride (no reservations required, just walk on!!) for my bridal shower, and headed to the parks. The walk from Bay Lake Tower to the Magic Kingdom was less than 5 minutes, and we got to utilize a special metal detector entrance and skip the long lines. We headed into the crowded Magic Kingdom to explore!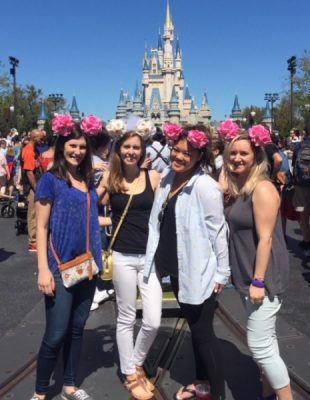 We started our trip with a ride on the Seven Dwarfs Mine Train, using one of our special FastPasses to walk right on. We then took a ride on Big Thunder Mountain Railroad, Haunted Mansion, and were gifted another 3 FastPasses to anywhere! We could not believe our luck! We broke for lunch at Columbia Harbour House, then hit some more attractions, like Space Mountain, Voyage of the Little Mermaid, and the Many Adventures of Winnie the Pooh. We hardly waited in any lines between utilizing our FastPasses and waiting on standby for the shorter lines.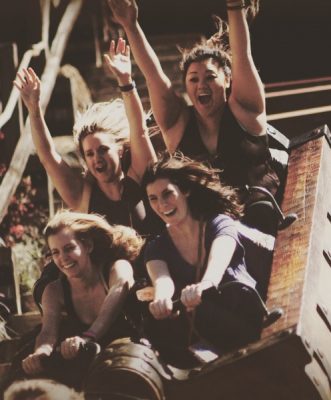 DISNEY SPRINGS AND THE EDISON
As the evening approached, we ran back to the resort to get changed for dinner, and took an Uber over to Disney Springs to check out The Edison. We weren't terribly hungry at this point, since we'd been munching throughout the day at the park, so we got some drinks and desserts.
The liquor menu is quite extensive at The Edison, with lots of beer, mixed drinks, and whiskeys to suit everyone's needs. We indulged on the DB Cheesecake Lollipop Tree (highly recommended, if only for its photogenic nature!) and an apple cobbler. Unfortunately, we arrived before the evening entertainment began, but the drinks were strong and we left happy!
We strolled around Disney Springs for a bit, window shopping and enjoying some frozen hard lemonades (which were incredibly sweet and difficult to finish!), and took an Uber back to Bay Lake Tower to change into something warmer. We dashed back to the Magic Kingdom and stepped onto Main Street USA at the exact moment that Happily Ever After began. We enjoyed the fireworks, and headed out to ride some more attractions!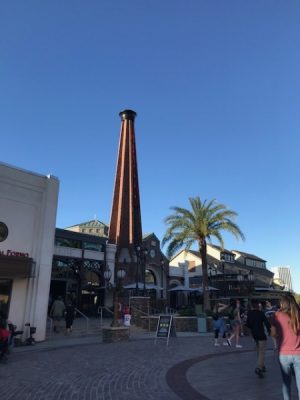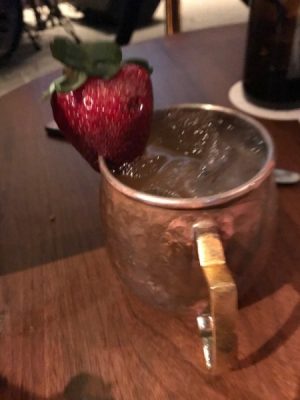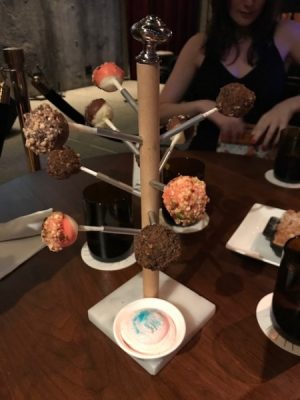 EVENING AT THE MAGIC KINGDOM
We had great success getting on lots of attractions after the fireworks ended. The crowds really cleared out, and we managed to ride almost everything in the park by the time the rides shut down. We were headed to our final attraction, It's a Small World, when we were told that the park was closing, and we needed to make our way toward the exit. We did some shopping on Main Street, picking up souvenirs for family and friends, and headed back to the resort exhausted!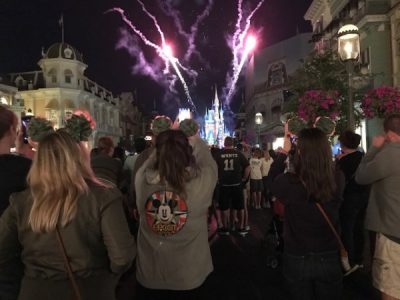 DAY TWO
BREAKFAST AT THE WAVE
We woke up early for an 8:15 a.m. reservation at The Wave, which I found out upon arrival, was my bridal shower! We met up with my parents (unfortunately my future in-laws weren't able to make the drive up from Boca Raton due to the flu!), and enjoyed breakfast, cupcakes, and gift exchanging.
Three of our party chose to enjoy the breakfast buffet, while 3 of us ordered a la carte off the breakfast menu. The buffet was gigantic, with a host of delicious breakfast offerings including Mickey waffles, sweet potato pancakes, deviled eggs, biscuits and gravy, lox, and more! I opted for the famous sweet potato pancakes as an entrée. I'm a diehard Kona Café girl, and I live for the pineapple macadamia pancakes, but I have to admit, these sweet potato pancakes might be my new favorite! Four large pancakes are served with a breakfast meat of your choice, but the real star is the pecan honey butter. I highly recommend this meal!
My mom opted for the American, 2 eggs any style with breakfast potatoes and meat of your choice (she added on a biscuit, too!), and my future sister-in-law built her own omelet. There was an omelet on the menu, but our server was happy to let her make her own omelet at no additional charge. We enjoyed our meal, and will definitely return!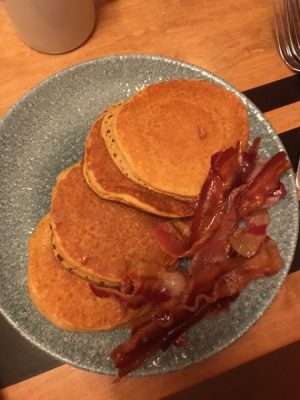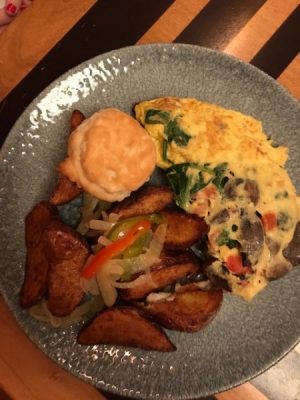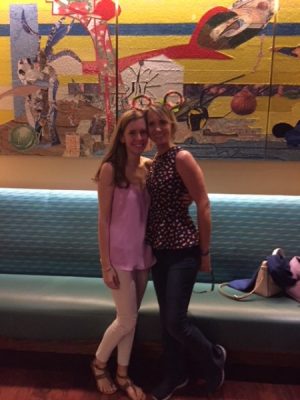 SURPRISE MASSAGE AT SENSES SPA
From breakfast, I was treated to a 50-minute custom massage at Senses Spa at the Grand Floridian. We took the monorail over, and my girlfriends left me for an hour of relaxation time! I absolutely love spa days, and this spa experience was incredible! I got in my robe and lounged around until my appointment time, where I enjoyed a fantastic massage. After the treatment concluded, I was offered a drink and some snacks. I enjoyed a flute of champagne and a special Disney Ghirardelli chocolate, taking my time before heading back out to meet my friends. I was also gifted with a small bag of granola from The Ganachery at Disney Springs! Have I mentioned how amazing my friends and family are?!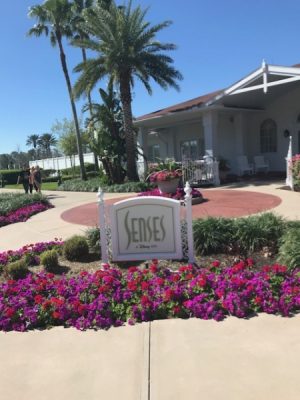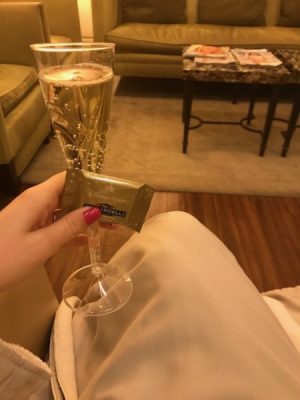 DISNEY SPRINGS
Since we all had afternoon/evening flights back home, we decided to spend a few hours at Disney Springs before heading to the airport. We had Earl of Sandwich for lunch, then did some more souvenir shopping. We also took advantage of the PhotoPass photographers, and got some great pictures to help commemorate the weekend! We headed to the airport exhausted and with lots of amazing memories!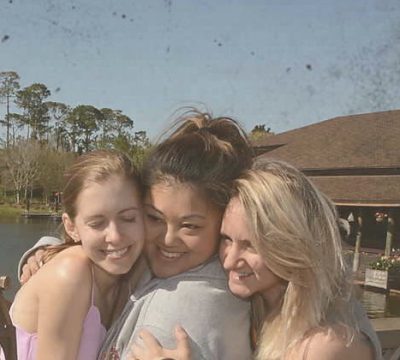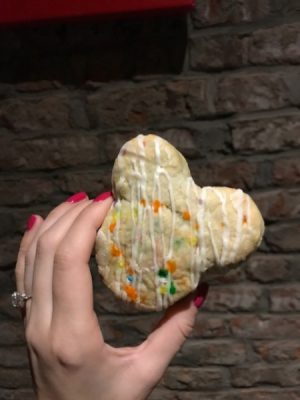 Have you celebrated with a Bridal Shower at Walt Disney World? Share your experience in the comments, or on Facebook or Twitter.
Did you like this article? Make sure to share it with your friends! Check below for easy ways to share!
Incoming search terms:
https://www themouseforless com/blog_world/bridal-shower/
bridal shower disney springs
wdw bridesmaid weekend