This post may contains affiliate links for your convenience. If you make a purchase after clicking a link we may earn a small commission but it won't cost you a penny more! Read our full disclosure policy here.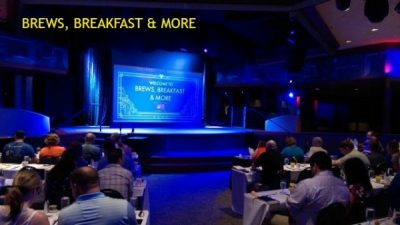 One of the benefits of being a Disney Visa cardholder is that the program offers some special events at Walt Disney World, including events during the Epcot Food and Wine Festival. In July of 2015, I received an email from Disney Visa advising that they would offer three dining events during the 2015 Food and Wine Festival exclusively for card members. This included a breakfast event entitled "Brews, Breakfast and More" which fell during our travel dates to Walt Disney World. I called the hotline listed in the email early the following morning and was able to secure a slot at this special breakfast.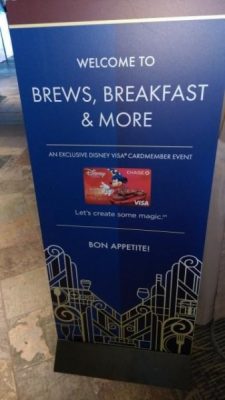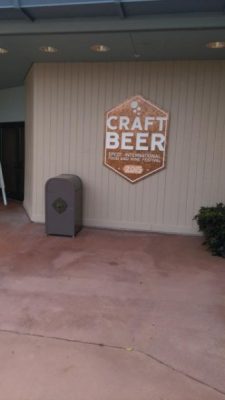 The event was held at the former Odyssey Restaurant location- between Future World and the Mexico pavilion. We were greeted with the first course immediately after check-in, the liquid nitro fried smoking smores cereal. It was made at an action station and filled into a paper cone. The "cereal" was sweet and cold, and a nice surprise to start the meal.
We found our way into the seminar/dining room, which was set up with around 100 seats, all facing the stage and screen where the presentation was done. The presentation was done by brewmasters from the Florida Ale Company, who lectured about the history of beer as well as different brewing methods, and how to pair beers with our food. It was all interesting and filled our time during/between courses.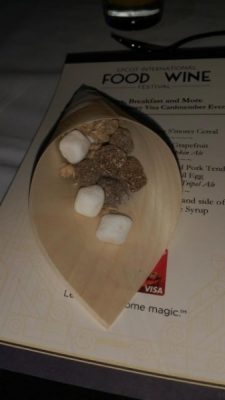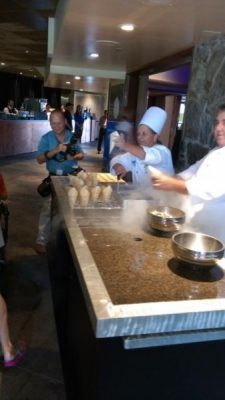 Our next course was a brulee beer infused baked grapefruit, which was paired with a pumpkin ale. The beer made a huge difference in this dish because it neutralized some of the tartness from the grapefruit. The pumpkin ale added more sweetness and fullness to the course.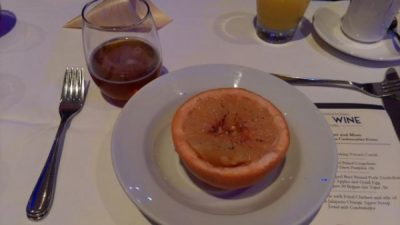 Next, we were served a cherrywood bacon wrapped brined pork tenderloin with roasted apples and a quail egg. This was not your normal ham and eggs! It was a lot more hearty, and plated beautifully. This course was paired with "Passport 20 Belgium Style Triple Ale" which was an ale that the brewmasters created especially for the 20th Anniversary of the Epcot Food and Wine Festival. It contained 20 ingredients in honor of the 20 years of the festival and an ingredient was added to represent each of the 11 countries depicted in World Showcase as well as an ingredient indicative of the State of Florida. Needless to say, this beer was complex and smooth at the same time, and it paired perfectly with the pork, which was delicious.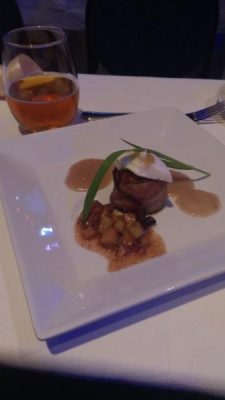 Our last course was a cilantro waffle with fried chicken and roasted jalapeno agave syrup. This was paired with "Conchtoberfest" beer, which was a little darker and more malty than the other beer servings. This course was a wonderful combination of sweet and spicy, and soft and crunchy. It was a great way to end our meal.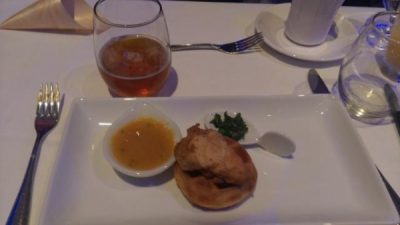 At the end of the seminar, each participant was able to take home their commemorative menu along with a goody bag. We found this to be a fun and imaginative addition to the Food and Wine Festival, and it was nice to be able to participate in something so exclusive. While it was pricey, the experience seemed worth the expense.
What is your favorite way to experience the special events at the Epcot Food and Wine Festival? Share in the comments.