This post may contains affiliate links for your convenience. If you make a purchase after clicking a link we may earn a small commission but it won't cost you a penny more! Read our full disclosure policy here.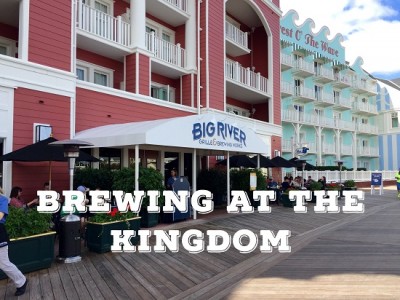 One of Disney's best kept secrets
As a beer lover my mouth waters at the thought of drinking around the world at Epcot. Having a "local" beer at the host countries pavilion is a welcomed break from drinking at home or a bar, and come on, we're taking about drinking the nectar of the gods at one of the most magical places in the world; it's a win-win.
But if you're a beer connoisseur you'll eventually find yourself looking at the beers offered at the World Showcase and find the selection a little… pedestrian. For the uninitiated, the beers offered at Epcot are definitely more exotic then your typical supermarket fare, but what if Disney used some of their magic to make something special for the growing number of beer geeks?
That's where Big River Grille at Disney's BoardWalk Inn comes in. Sitting on the BoardWalk itself and just a hop, skip, and a jump away from Epcot and Disney's Hollywood Studios, Big River Grille is home to the only brewery on Disney World property as well as a full service restaurant and bar. The restaurant offers a smattering of food options: Spanish-inspired appetizers, seafood based entrees, simple chicken and beef dishes, and desert, but the beer is the focus here.
Big River Grille offers several selections of beer in styles many are familiar with as well as a seasonal brew. Most people enjoy a beer with some food, but I would recommend saddling up to the bar and getting a flight or sampling of beer. Not only will you get to taste everything, you'll get a front row seat to where the magic actually happens.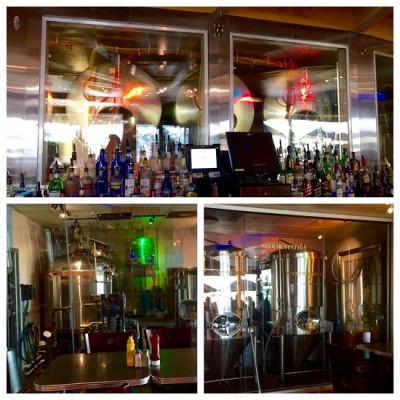 Though it's tough to see, all the brewing equipment is behind the glass 
Behind and to the side of the bar are rooms that house the equipment (including several 334 gallon tanks) used to brew the beer served at Big River. Though it may look small, this is a fully operational brewery and everything you see behind the glass is used by the head brewer, Nick Moench. If you're lucky you'll catch glimpses of him working on the next batch of liquid gold while you sip the final product.
It was February when I visited so my selection of beers might be slightly different then what you receive, but let me run down the six beers that were included in my flight from lightest to darkest.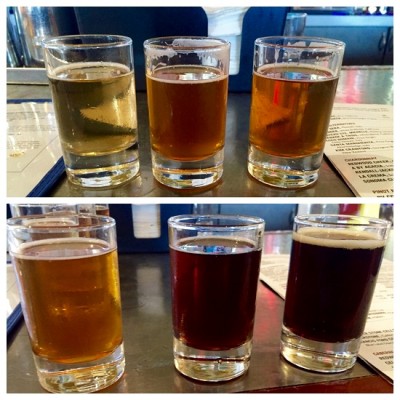 The flight
Berliner Weiss
This is a great summertime beer that starts out tart and lemonade-esque. The tartness mellows out to biscuity notes at the finish. This is a great beer and a good starting point for someone not wanting a hop bomb or a darker beer.
Big River's IPA
This beer's not too bitter, but it is the beer with the highest international bitterness units or IBUs, indicating how bitter the beer is. As a reference Bud Light is 10 on the IBU scale, Big River's IPA falls at 68, around the same as Dogfish Head's 60 minute IPA. The hops have more piney notes then citrus, making you feel like you're in a forest surrounded by fir trees. If you're looking for an IPA, this'll be your jam, but I would recommend the next beer as an alternative.
SIPL Session Indian Pale Lager
This beer is not only an Indian pale lager (IPL), but also a session beer, meaning the alcohol content is low enough to allow you to drink more than one and have a session of drinking beer. Both of these facts make this the most drinkable beer here and one of my favorites. It's still bitter (48 IBUs) like an IPA, but on the lower end of the scale making it more approachable. It also has a smoothness that the Big River's IPA lacks, thanks to the lagering process. As far as flavor, there's nothing predominate or overpowering here, but that's what makes it so drinkable, there's nothing to get tired of. If you're okay with something slightly bitter, you can't go wrong with the SIPL.
Long Summer Saison
As the name indicates, this is a saison, a spicy, sometimes funky, style of beer. I'm not a big fan of the style as it's definitely an acquired taste and I have not acquired it. However, I did find this saison was less offensive than most. For those of you drinking with your noses, I found the saison the most aromatic beer of the six and if you're looking for something different check this one out.
Sweet Magnolia American Brown Ale
This was my least favorite of the bunch. The dark malts used to brew give off a burnt flavor that, in my opinion, wasn't balanced. That's not to say the beer is bad, but I was looking for something a little more complex and balanced, like my final beer, but if you like a smoky beer, this might be right up your alley.
Winters Nip
This one's a double bock with a slightly darker color then the brown ale, but it was one of my favorites. The grain bill includes chocolate malts which help to mellow the "burnt" flavors of the other dark grains and adds a bit of sweetness. Winters Nip is smooth, hearty, and had liquid bread qualities; monks everywhere would be proud.
You can't go wrong with any of these choices and since drinking is such a personal experience I'm not going to lambaste any of these beers, but I will offer my favorites: Berliner Weiss, SIPL Session Indian Pale Lager, and Winters Nip. These three offer a good variety and were the most pleasant to drink. Whatever you decide to try I highly recommend checking out the beers of Big River Grille as a fantastic alternative to the Epcot's bubbly offerings.
Have you stopped by Big River Grille for a brew? Which one is your favorite?