This post may contains affiliate links for your convenience. If you make a purchase after clicking a link we may earn a small commission but it won't cost you a penny more! Read our full disclosure policy here.
By Lindsey Tullier
My family and I have enjoyed character dining since my husband and I honeymooned in the World in August of 1999 and dined at the Crystal Palace and 1900 Park Fare. On our most recent trip in October of this year, we took our almost three-year-old son, David, and our eight-month-old son, Nathan, for our first visit to Donald's Safari Breakfast at the Tusker House Restaurant in Animal Kingdom. Although it's entertaining as an adult to carry on with the characters as if you were a child again, it is an absolutely priceless experience to watch the wide-eyed wonder in your children as they see these beloved characters.
After checking in for our 8 a.m. Advance Dining Reservations (ADRs), our safari began with a brief photo session. Disney PhotoPass photographers were on hand to photograph guests in front of an African-themed backdrop. These photos were later presented to us during our meal. For approximately $30, we received an 8 x 10 in a souvenir folder with four 3 ½ x 5s. There was also an 8 x 10 photo of our hosts – Donald, Daisy, Mickey, and Goofy.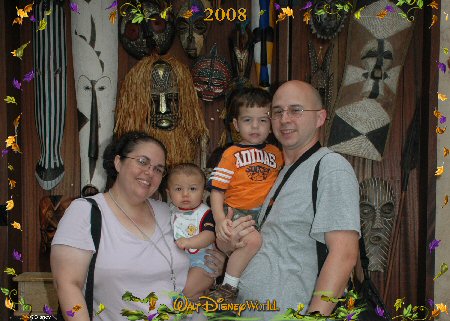 Shortly after our photo session, we were greeted with a "Jambo!" by a nice gentleman in traditional African garb. He led us to the buffet area and pointed out the many stations available for our culinary enjoyment. The buffet is set up like an open market. There are numerous "carts" set up around the perimeter of the room and a few in the middle as well. Each cart offers a different selection of breakfast foods. The setup is different from traditional buffets, where guests form a line at one end and make their way through. Here, guests go directly to the cart they wish to sample. This prevents a long wait for food, as there are typically only a few people at each cart, and servers are attentive and help disperse the crowd as needed.
After this brief introduction to the open-market theme, we were led to our table. I had read previously about guests being dissatisfied with the number of tables packed into a single area at this particular character meal, but I didn't find it to be any more crowded than most restaurants on property. To facilitate character movement throughout the dining area, we were asked to seat our sons on the end of the table away from the wall. This would prevent the characters from having to weave between chairs to see them.
To start our meal, our server brought us the restaurant's specialty — Jambo Juice. I did not particularly care for it, as it obviously contained grapefruit juice, of which I am not a fan. Neither is my husband. My guess is that anyone who enjoys grapefruit would also enjoy this beverage. Therefore, my ruling is that my displeasure has nothing to do with quality and everything to do with personal preference.
Since our server said we had some time before the characters would make their rounds, my husband and I took turns filling our plates. We were very pleased with the selection, even though there was no omelet station, which is a favorite of mine at the Crystal Palace. There were, of course, the usual scrambled eggs, Danishes, biscuits, cereals, and fruit. Also available were a carving station, frittatas, corned beef hash, and a bread pudding. It is impossible to sample everything, unless you're one of those people who frequently attempts "the old 96er" (anyone a fan of The Great Outdoors?). We were very pleased with our meal.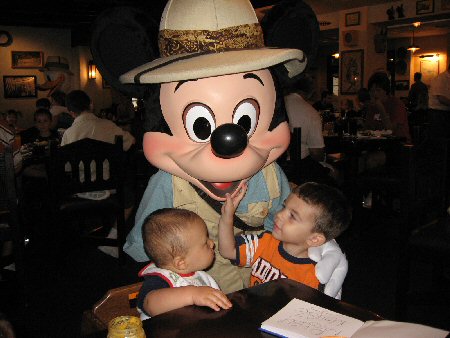 Now onto the real reason we visited — the characters. I have been to some character meals with exceptional character interaction (i.e., the Crystal Palace), and I have encountered some "take a picture and leave" character meals (i.e., Liberty Tree Tavern). We were very pleased with the time the characters spent with our boys. They took the time to get down on their level and play. David was quick to point out each character as he/she came into view. He watches Mickey Mouse Clubhouse on Playhouse Disney, so he is very familiar with this particular cast of characters. Donald seems to be a particular favorite lately. Although Nathan was mostly interested in his plastic spoon, he did stare in utter fascination as each character came to our table. Goofy seemed to frighten him a bit (notice the following picture), but he did seem quite smitten by Daisy. Look out, Donald! I think the spacing between characters was perfect as well. We had time to fill our plates before the first character came around, and we finished our meal right after the last character.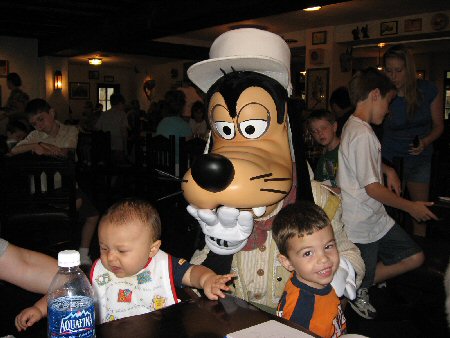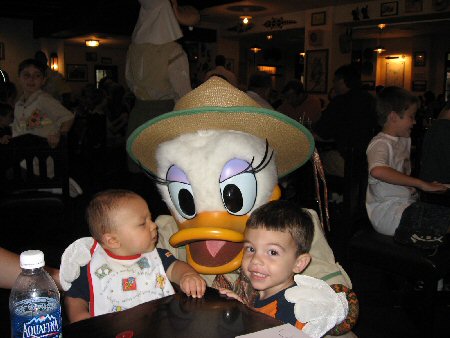 I have to say that we really enjoyed this character dining experience. With all of the princess meals available, this breakfast is a great experience for the young boys in your group. Despite the fact that David sat patiently while waiting for the characters, he was very hands-on with all of them as soon as they approached. My little carb addict also seemed very pleased with the selection of breads and pastries available to him. For Nathan, I think this dining safari came off more like, "Hmm, you don't see that every day," which pretty much sums up his whole Walt Disney World experience (except, of course, for his budding romance with Daisy). I would definitely recommend this breakfast as a "must do" the next time you're in Disney's Animal Kingdom. So put on your safari gear and trek on over to Donald's Safari Breakfast. Don't forget to tell Donald "Jambo!" for me.