This post may contains affiliate links for your convenience. If you make a purchase after clicking a link we may earn a small commission but it won't cost you a penny more! Read our full disclosure policy here.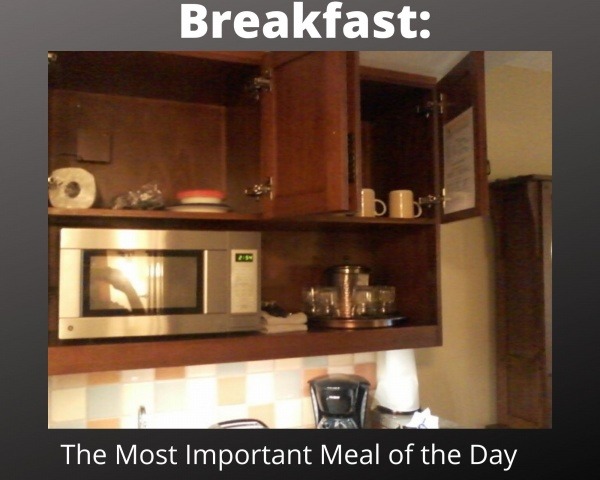 A kitchenette in a Disney Vacation Club villa at the Grand Californian
The Mouse for Less' Facebook group is a great place for Disney travelers to ask advice from people who have been there and done that. Over the years, I've noticed that certain questions get asked more than others. One of those questions is "What do you do about breakfast?"
Future Disney vacationeers often ask this, as they want to know what's the best option for optimal park touring. If you want to be able to tour the parks in the early morning, when the weather tends to be cooler and the crowds tend to be lower, what do you do about breakfast? As always, there is no one "correct" answer to this question. I've broken down different ways to approach breakfast when on a Disney Parks vacation to give you some ideas.
BREAKFAST IN THE ROOM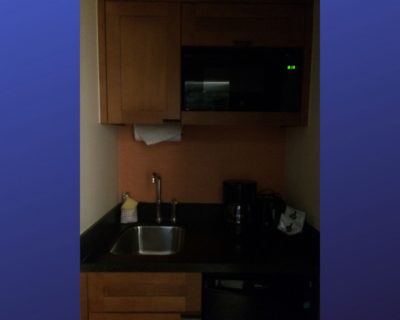 A kitchenette in a Disney Vacation Club villa at the Polynesian
Eating your breakfast in your hotel room is one of the most popular options. If you're staying at an establishment that features a kitchen or kitchenette, this can be very convenient. But even if you're staying in a standard hotel room, it's easy to make instant oatmeal using a well-cleaned hotel coffee pot, or to toss an apple to each member of your family, or, if you have a mini-fridge, to pour yourself some cold cereal.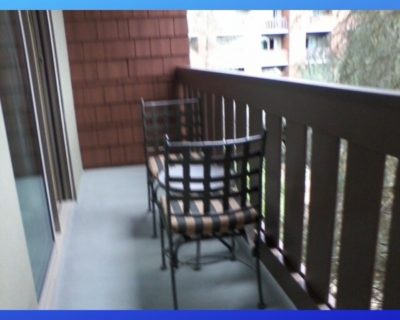 Enjoy breakfast on the balcony at the Grand Californian 
I've used this approach both at Walt Disney World and Disneyland, and it works great for our family. At the Beach Club Villas, we had our fridge stocked with blueberries and milk., and we kept cold cereal in the cabinet. When we stayed at the Disneyland Hotel, I was often up before anyone else in my family, having coffee from the room's machine and eating a Larabar and a banana before it was time to walk to the parks. You can save time this way, since you're not beholden to any restaurants' schedules. You can also save money by buying simple nonperishable breakfast items at home and packing them for your trip.
BREAKFAST ON THE GO
When I mentioned to a fellow blogger that I'd be writing on this subject, he joked, "Don't forget eating an energy bar while in a queue!" And he's right! Many people bring something small and portable with them on the way to the parks and eat on the go.
I've been known to walk from our room at the Polynesian to the bus stop with an RXBar in one hand and my refillable resort mug full of coffee in the other. And on a morning when I was trying to get into California Adventure using Early Entry at 7:00 a.m., there was no way I was going to stop to eat a full breakfast. We were staying at the Disneyland Hotel, so I grabbed something quick from the Coffee House and walked to the park, knowing that I'd stop for a full meal later.
QUICK SERVICE BREAKFAST
All Disney hotels have at least one quick service restaurant on its grounds, and these restaurants tend to open early so that you can grab something more filling before heading to the parks. Some Walt Disney World hotels even have food courts that are open 24 hours a day, making this option convenient even if you're trying to catch Extra Magic Hours in the morning. The only downside is that these areas can often get very congested at breakfast time. If you've got your heart set on making a park by rope drop, it can be disappointing to show up to your resort's quick service location only to find a long line to order and pay and hardly any empty tables available.
Personally, I only eat breakfast at my hotel's quick service establishment if I'm not trying to make rope drop. For example, on a recent trip we had breakfast at Captain Cook's at the Polynesian on a morning when we were heading to Epcot for the second time in our trip. We were hoping to make it for park opening but since we'd already had a full day in that park, it wasn't something we were counting on. But if this was a day when I knew I had to get into a park as soon as possible in order to ride a headliner ride without a long wait, I wouldn't risk going to a quick-service establishment.
FULL SERVICE BREAKFAST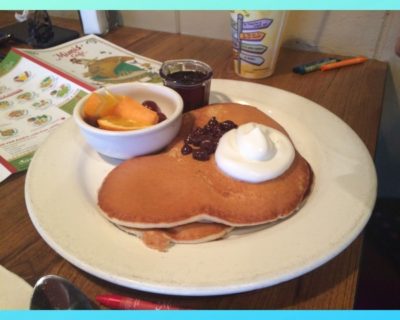 Breakfast at Mimi's Cafe, just outside Disneyland
Some people say that it's not a vacation unless they can sit down and have a leisurely breakfast with their family. If you're staying at a hotel with a full service restaurant and you're able to get an early morning reservation, this can work out quite nicely. For example, we were once able to get a 7:30 a.m. reservation at 'Ohana at the Polynesian Resort on a morning when the Magic Kingdom opened at 9:00 a.m. We were seated promptly at 7:30 and were done by 8:30, and it was just a short stroll to the monorail station. We didn't quite make rope drop at the Magic Kingdom, but were in the park shortly after it opened.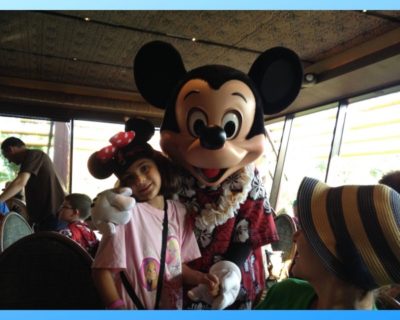 Character breakfast at 'Ohana, Polynesian Village Resort 
This approach also worked well for us when we were staying at the Grand Californian Resort. We were able to have a 7:00 a.m. breakfast at the Storytellers Café, and we were able to get into California Adventure using Early Entry at 8:00 a.m. since we were able to use our hotel's exclusive entrance into that park.
Believe it or not, on the West Coast, it's even possible to enjoy a full service breakfast off property and still make it to the parks in the early morning. Recently we stayed at the Howard Johnson Anaheim and walked next door to have breakfast at Mimi's Café, which opened at 7:00 a.m. We had a leisurely breakfast, after which our waitress offered us coffee in to-go cups so we could enjoy them as we made the short walk to the parks. We easily made it in time for Disneyland Park's 9:00 a.m. opening.
JUST DON'T SKIP IT!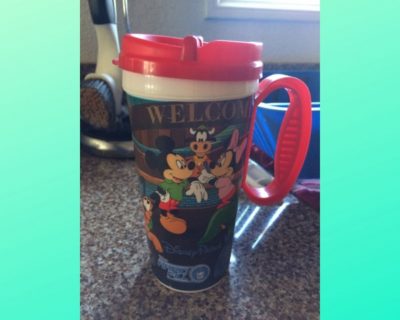 A resort refillable mug from Walt Disney World
Whatever you do, don't plan on going to the parks on an empty stomach! If you try this, you'll probably find your stomach growling uncontrollably around lunch time. Touring Disney parks takes a lot of energy, and you and your family will be much happier if you eat that most important meal of the day before you head out.
What do you do for breakfast when on your Disney vacation? Let us know in the comments or on Facebook or Twitter!
Did you like this article? Make sure to share it with your friends! Check below for easy ways to share!  
Want to visit a Disney Destination? Contact The Magic for Less Travel for more information and a free, no-obligation quote.