This post may contains affiliate links for your convenience. If you make a purchase after clicking a link we may earn a small commission but it won't cost you a penny more! Read our full disclosure policy here.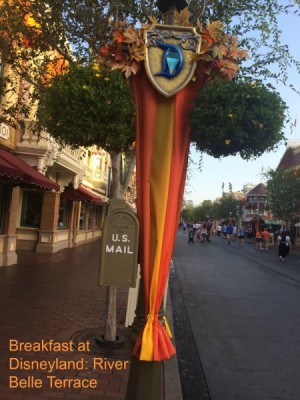 Fall decorations for the 60th anniversary
On a very hot Southern California day, my family found ourselves in Disneyland Park's Adventureland near lunch time. In order to avoid crowds, we usually head for a counter service lunch around 11:00 a.m. We find that the lines are shorter and it's much easier to find a table at that time.
We decided to eat at River Belle Terrace, since we were very close to it's Adventureland entrance. (There is also an entrance on the opposite side of the restaurant, in Frontierland.)
Imagine my surprise when we walked in and encountered a very long line. One glance at the menu explained things to me: we weren't early for lunch. We were late for breakfast! A friendly Cast Member explained to us that breakfast was served until 11:30 a.m.
We hopped in the line, which was moving fast despite its length. And while we waited we got to watch Cast Members deftly pouring and flipping Mickey Mouse flapjacks!
There are two seating areas here. On pleasant days it's lovely to eat on the patio that overlooks the Rivers of America. But today was sweltering, and we opted to eat in the air conditioned bliss of the interior. This is the restaurant where Walt Disney used to have breakfast most Sunday mornings, so it was fun to imagine him sitting in a corner eating some Mickey Mouse flapjacks!
We found a table and dug in. I ordered the Build Your Own Yogurt Parfait. It sounded like it would be a refreshing, light option on such a hot day. I grabbed a plan container of yogurt and took it to the fixings bar. This was disappointing. I expected to find fresh fruit. Instead, I found golden raisins, trail mix, apple topping that resembled apple pie filling, and strawberry topping that was like a slightly runny jam. Instead of a refreshing, somewhat healthy parfait, I wound up with something suspiciously like dessert.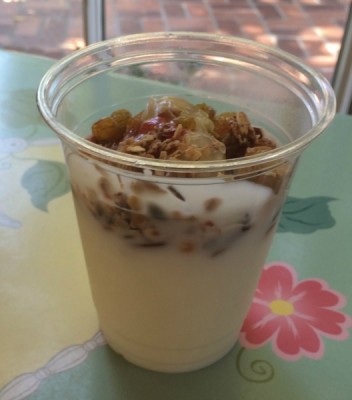 Build Your Own Yogurt Parfait
Which brings me to my daughter's entrée. She ordered the Cinnamon Roll French Toast, and I can't say that I blame her. It came with scrambled eggs and a choice of either bacon or sausage. I took one look at her plate and knew she wouldn't finish it. But she sure gave it a try. I managed to sneak a bite of her bacon (crispy and hot) and the French Toast, which was absolutely delicious. The cream cheese icing drizzled over the top really put it over the edge. Once again, this was much more of a dessert than a breakfast, but hey, we're at Disneyland.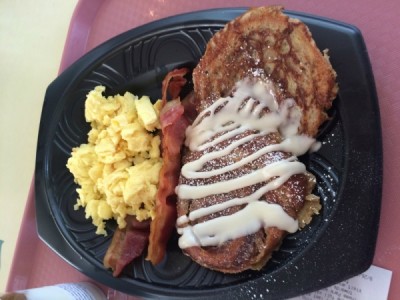 Cinnamon Roll French Toast with Bacon
My husband ordered the Mark Twain, which was scrambled eggs, county style potatoes, a side of either bacon or sausage (he chose the bacon) and a biscuit smothered in gravy. He declared that it was hearty and tasty.  Since there were chopped bell peppers and onions in the potatoes, he declared that he was the only one at our table who had veggies with his meal!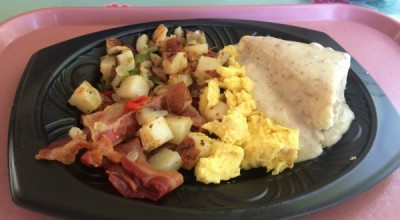 Mark Twain with Bacon
So, how did we like our accidental breakfast? Everything was tasty even though the parfait was not what I expected. My daughter thought that having something so sweet for lunch was a great early birthday treat. And my husband enjoyed our break in the air conditioning. All in all, a successful part of our Disneyland Park day.
Have you ever stopped at the River Belle Terrace for breakfast? What is you favorite dish and why? Share your thoughts in the comments or on our Facebook page.