This post may contains affiliate links for your convenience. If you make a purchase after clicking a link we may earn a small commission but it won't cost you a penny more! Read our full disclosure policy here.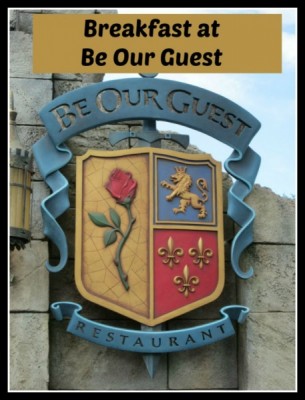 Starting a Magic Kingdom day with breakfast at Be Our Guest is a good way to enjoy some Beauty and the Beast atmosphere while fueling up for touring the park!  We've had lunch and dinner at Be Our Guest on previous trips, and for this vacation we opted for breakfast.
The Be Our Guest Restaurant
The Be Our Guest Restaurant is one of the most popular restaurants at Walt Disney World, and it is located in the Magic Kingdom's Fantasyland.  Dinner is a table service meal, though breakfast and lunch are quick service meals.  Reservations for all meals are highly recommended.
There are wonderful details to notice throughout the entire restaurant.  It's worth taking the time to go slowly and see how the Beauty and the Beast theme is woven in nearly every nook and cranny.  Linger in the hall with the knights, and you may hear their chatter!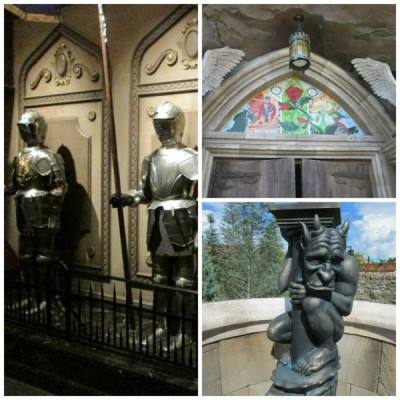 Be Our Guest has three dining rooms, and guests can choose which room to sit in for breakfast and lunch.  Guests are escorted to a seat for dinner, but a room can be requested.
The Grand Ballroom, done in Baroque style with high ceilings and gorgeous chandeliers, has a view of falling snow out the window!  We decided to sit by the window for breakfast, a perfect setting for a hot Florida day.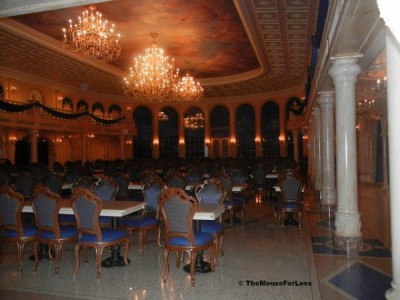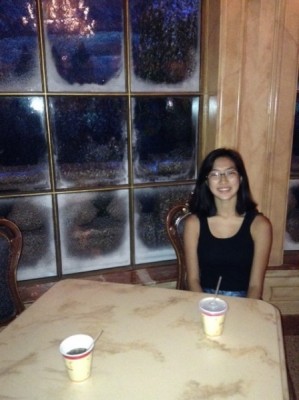 The West Wing is home to the Enchanted Rose and the portrait of Beast.  It's our favorite room because of the atmosphere and details.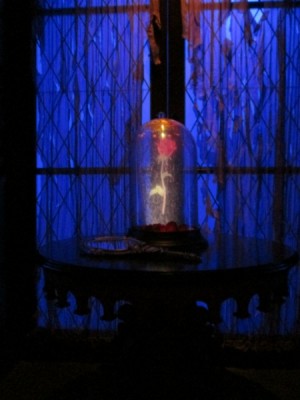 Belle's Library, the Castle Gallery, is highlighted by a dancing Belle and Beast statue.  I think this is the perfect room for a princess who favors Belle!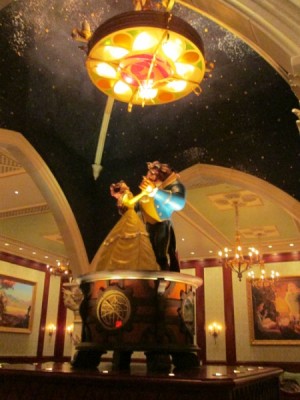 The Breakfast Experience
We made reservations for 8:10, which allowed us to get into the Magic Kingdom before park opening.  None of the attractions were open, but getting into the park early usually allows for good photo opportunities in a nearly empty park.  We were finished eating in time to go straight to attractions when the park did open.
For the Be Our Guest breakfast and lunch, guests can pre-order their meals thirty days before the reservation date.  We decided to do this, and it was convenient!  Upon arriving to the restaurant, we were escorted to a terminal where we scanned our Magic Bands.  The touch screen displayed our order, we paid for the meal at the touch screen, and then we selected our table.  The magic of the Magic Bands led our server straight to our table with our order once we were seated.
Our Food
All breakfast meals start with assorted breads and pastries.  I noticed that whether you're a party of two or a party of six, everyone seems to get the same assortment.  This was a lot of food for two of us!  It was a shame we couldn't eat it all.  If you were to bring a ziplock bag and had a way to carry your leftovers with you in a stroller or backpack, this would be a nice way to not waste the food and have a little snack later in the day.  The pastries were delicious!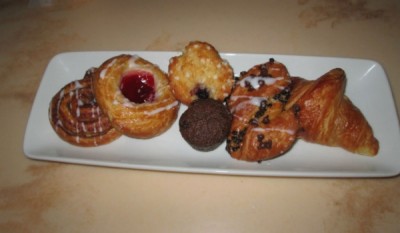 My daughter ordered the Croissant Doughnut, a fried doughnut with banana and caramel sauce served with cream and chocolate ganache.  It came with sliced bananas and a fruit bowl.  If your system doesn't mind a jolt of sugar to kick off your day, this is a Magic Kingdom Breakfast of Champions!  I took a few bites, and it was downright good!  The banana slices covered with the sauce were a nice touch, and I would have been happy with just bananas and sauce in a bowl.  The doughnut itself was made of melt in your mouth deliciousness!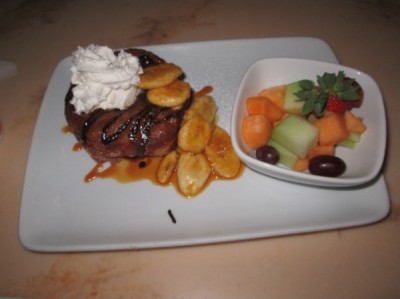 I was hoping to order a crepe, but there wasn't one on the adult menu.  This surprised me, as it's a French inspired restaurant.  I had no worries, though, as the Assorted Cheese and Meats Platter quickly caught my eye.  My platter consisted of Alpine smoked ham, Serrano ham, Soppressata, Brie cheese, orange marmalade, figs, and a hearty slice of baguette.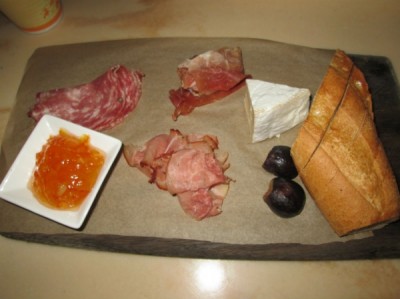 The meats and brie were flavorful.  It would have been nice to have one more type of cheese on the platter.  I have to confess that this was the first time I ate a fresh fig.  It was worth trying, but not a favorite.   Grapes, instead of figs, would have been a welcome addition to this meal.  On the other hand, the orange marmalade was scrumptious and added a nice fruity touch to the breakfast!
Have you had breakfast at Be Our Guest?  Share your experience in a comment below.