This post may contains affiliate links for your convenience. If you make a purchase after clicking a link we may earn a small commission but it won't cost you a penny more! Read our full disclosure policy here.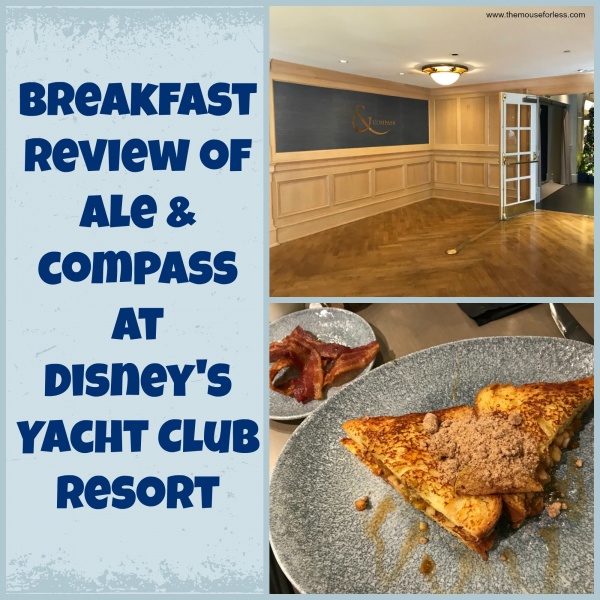 You all may remember that one of my sleeper favorite places for breakfast at Walt Disney World was the former Captain's Grille. So, I'll admit, that I was one of the few that wasn't super excited about the refurbishment that was taking place earlier this year. I knew with the name change that the menu was likely changing too. Which meant that my favorite dish likely wasn't going to stay. And I was right. (I'll miss you chocolate waffles.) But I was still willing to give my favorite breakfast place a try, so I did so recently.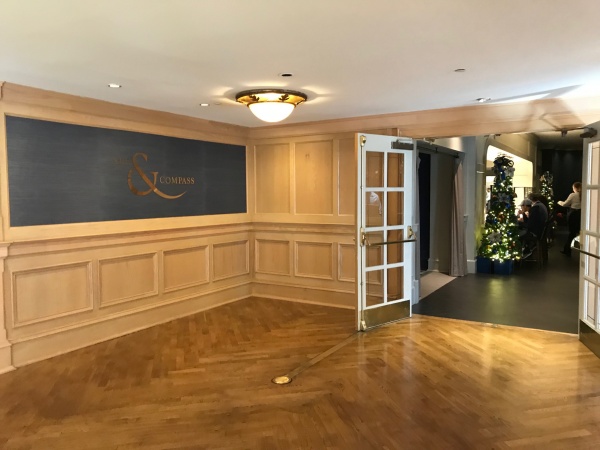 My first impression of the new redesign of Ale & Compass was that I liked the refreshed look. The addition of blues and grays was a nice upgrade. It made the restaurant look a little more refined and less convention-y. It felt calm and certainly more modern. It's amazing what a little carpet and paint can do! The restaurant also added more seating with the removal of the buffet area.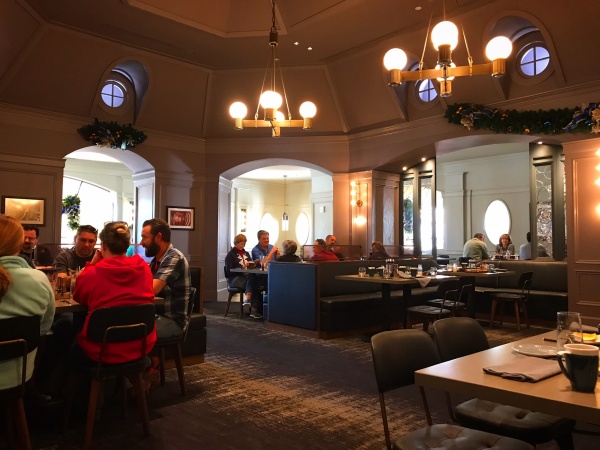 Sitting down and looking at the Yacht Club restaurant's breakfast menu, initially there wasn't a lot that spoke to me. I saw an option for a blueberry bacon pancake, but I'm not a big blueberry fan, though the concept sounded interesting and I bet my husband would love it. There are certainly some interesting concepts on this menu.
Finally, I saw something that I thought sounded delicious. The Salted Caramel-Apple French Toast. Ok Ale & Compass, now we're talking.
I also ordered a coffee, which was yummy. It was a good perk up.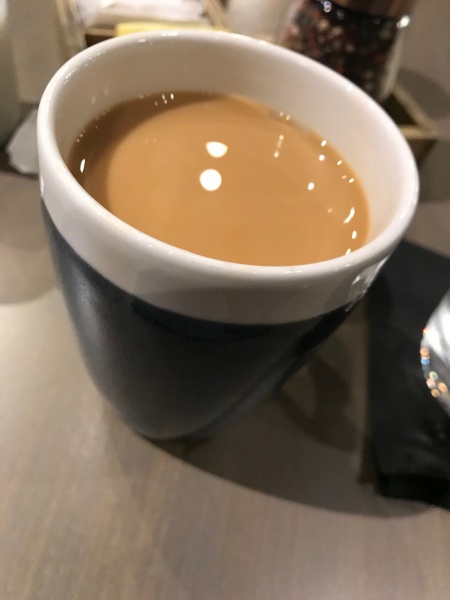 The french toast was delivered to me and it looked amazing. It wasn't a pie filling type apple filling. Instead it seemed homemade. The apples were a little tarter than I was expecting, but it was a nice mix with the sweet flavors of the french toast.
Speaking of the actual french toast, it was perfect. It wasn't soggy and was grilled in just the right manner.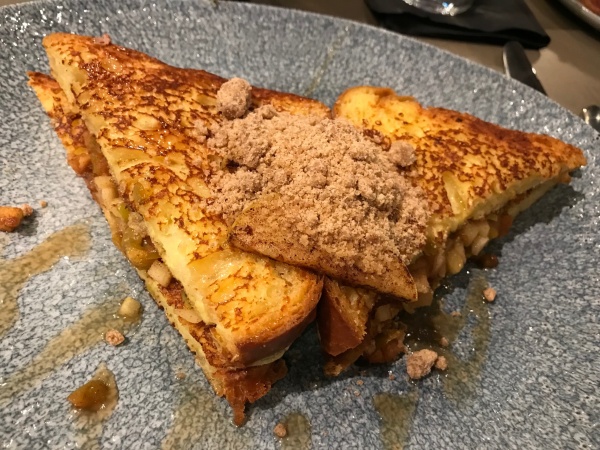 While I did appreciate the brown sugar on top, I would have liked to have seen a little more caramel sauce drizzle too.
The best part about this french toast is that it didn't require any extra syrup. It was certainly sweet enough without.
The dish is served with either sausage or bacon, so of course, I chose bacon, which was cooked the way I like it – crispy!
Overall, while it isn't my favorite breakfast dish that's been served at this restaurant, it is a good choice and I will be back again for it in the future. So, Ale & Compass, you're officially still on my list.
Are you looking forward to trying Ale & Compass? Have you already dined here yet? What did you think? Share your thoughts in the comments.
Did you like this article? Make sure to share it with your friends! Check below for easy ways to share!
Incoming search terms:
https://www themouseforless com/blog_world/breakfast-review-ale-compass/